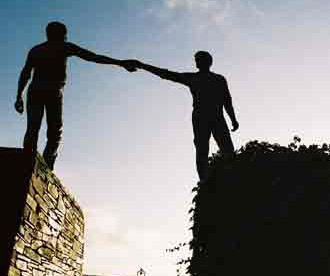 RECONCILIATION
Part 2
While I was writing about reconciliation, a woman contacted me and asked for forgiveness for something she did and she wanted a renewed contact. I became very happy and I have forgiven and want to renew the relationship. I was also thankful to the Lord and this was another proof that He wants reconciliation and He is working on the hearts of people.
I wrote a lot about the role of the father last time. A lot of the same things are the same for mothers. I have lately had contact with adults who were adopted as children. The original mother might not have wanted the child and looks upon the child as a mistake. If this is spoken over the child, it becomes like a curse. It might be very difficult to be reunited with the biological parents even if we have seen tear-dripping television programs about this. It's great when it happens and it is a success, but every adopted person needs to forgive their parents and thank God that they gave them life. You might have to brake negative words and negative inheritance, bless your biological parents and turn them over to God. Many adopted children have problems with rejection. They are actually born with it. I just delivered one who had this in her luggage.
As Christians I think we should be quick to forgive and quick to reconcile. In Paul's letter to the Romans 12:18 it says that we should live peacefully with one another if it is possible. I know that there are times when people close their hearts and refuse to reconcile and we can only forgive and bless them. Sometimes the Lord will give us an idea to do something in order to soften the other person. It is often necessary to talk about the reason for the conflict, but is should be done in a loving atmosphere. If love and forgiveness are not there, a new conflict might arise and reconciliation might seem even more difficult. If wounds are not totally healed or if there is some pride, it might be very helpful with the help of a third person. Humility and forgiveness are keys in the process of reconciliation. One doesn't need to prove one's rights all the time especially if one is secure in God. I do not mean that we should take the blame for something one hasn't done, but allow the Lord to be our lawyer of defense. If we defend ourselves, we stop God from defending us and He is doing it so much better than us. Romans 12:19 says that the revenge belongs to the Lord. We must trust the Lord and understand that God is righteous. He is for us and not against us Many Christians do not have their identity in Christ and lack understanding of the fact that Christ has made us righteous by His work on the Cross. If we are lacking this identity, we might easily become self-righteous and assert ourselves. I recommend you to imagine the devil as the accuser in court and Jesus as your defender. He cries out: Not guilty! The punishment is already paid!
Reconciliation is needed everywhere, both in families, in politics, at work, in the church, absolutely everywhere in society. To be reconciled doesn't always mean to agree. It's fantastic to be reconciled without agreeing. That means that one respects the other person, but have completely different views and opinions. Many Christians are making a mistake when they aggressively try to convince the other person and refuse to listen. I am not saying that one should compromise, but one should meet people with love. I am afraid that a wrong attitude might push a non-believer away from God instead of to Him. I really believe that one should try to avoid discussions as far as it is possible. One can say what Jesus means to you and what He has done for you and if the other person wants to discuss, you might say something like this: "This is valuable to me, but I can't convince you." The devil loves to discuss. Try always to come with a "I" message without pointing fingers.
All of us will make mistakes sometimes when it comes to communication. I have unfortunately been angry and upset because of a system and that has hit the wrong person. I believe that we should ask for forgiveness even if you do not know the person. I have done that. Some people find it difficult to ask for forgiveness and excuse themselves by saying that they have asked God for forgiveness. What about the person you have wounded? I seriously believe that we should contact the person we have caused problems. We can read in Ephesians 4:26: Be angry and do not sin; do not let the sun go down on your wrath." This means that the Lord wants us to make up as soon as possible. He wants a quick reconciliation. He is warning against bitterness and relentlessness.
I started by writing about those things happening in the childhood. Many years might have passed. If you are still wounded or bothered by things happening many years ago, I want to say that it is never too late with reconciliation. I know of people dying in peace since they had a reconciliation with a son or daughter or someone else close to them. I also know of people who didn't want any reconciliation, but they regretted this bitterly when the person they couldn't forgive, died. The Bible says that sorrow might corrode on bones and marrow. Many people are very sad when reconciliation isn't possible. It is not good for neither the soul nor the body and it can be a hindrance for the Holy Spirit to flow through you.
It might take time before your emotions are healed when you are hurt. You have forgiven in obedience to the Word, but it still hurts. I recommend people to forgive every time it hurts. It is only the Lord being able to heal wounds and He can also remove the pain from the memories. Come to Him with your pain and He has promised to comfort and to heal. He will fill you with His love and no matter what people think, He loves you and He is for you. I know from experience that the more I trust His love, the easier it is to forgive others and my wounds get healed more quickly
I finally will mention all the discord and division within the Body of Christ. The Bible writes many places that we should love our brother. It naturally means our sister as well. I recite from 1.Jon 4:20-21: "If someone says: "I love God", and hates his brother, he is a liar; for he who does not love his brother whom he has seen, how can he love God who he has not seen? And this commandment we have from Him: that he who loves God must love his brother also. This is far from the norm in all churches. Some people get wounded since the pastor was in his own thoughts and didn't see them. Others get jealous because another person gets to do something they wanted or God had given gifts of the Spirit to someone else and they wanted to operate in those gifts. Others have personal disputes and love is not predominant. It is quite normal that one church group talk badly about another church group. It is quite common today to talk about unity. I would rather use the word reconciliation since I can't be in unity with churches that believe something very contradictory to the Bible. I believe that I am one with all those receiving Jesus as their Savior and Redeemer. I cannot be one with a person not believing that Jesus took my sins on the Cross. By saying that, I do not think that we have any right to talk bad about others believing differently. I recommend many religious communities to ask for forgiveness for the "dirt" they have thrown at others. Today there are churches praying together with Muslims, Christians and Jews at the same time. To whom do they pray? Allah or God? Maybe they think that's the same.
AGREEMENT AND RECONCILIATION ARE TWO DIFFERENT THINGS.
Mother Else