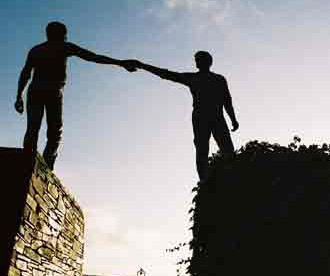 RECONCILIATION.
Part 1
I will write about something that the Lord is concerned about and since He is, I am also. Reconciliation has always been important, but I think it is more important than ever since many of us believe that Jesus is coming soon for His bride. Forgiveness and reconciliation are two words that belong together. The Bible has written quite a lot about this and I will refer to the Word of God.
When I read the Old Testament, I saw that a gift was often used as a sign of reconciliation. You can read Genesis 32:20 and 1.Sam.26:19. When you accepted the gift, it could be a sign of forgiving the person causing you problems. Today it could easily be taken wrongly. It could be a sign of corruption or making the person soft. I know of people finding it difficult to ask for forgiveness and they might come with a flower or another gift instead. I will gladly receive flowers, but not instead of asking for forgiveness. If there has been a conflict, I often find it necessary to talk about it in order to clear any misunderstanding. Even I might have hurt the other person without knowing it. I will say thank you to a gift, but not as an excuse. It seemed in the Old Testament that a gift was a sign of reconciliation and a sign of peace. It might mean that today as well, but I take it as a sign of being coward.
In the Old Testament God reconciled Himself by bringing Israel back from Babylonia. (Is.40-55)
To reconcile actually means to repair a broken relationship, to make what has been destroyed, whole. When sin entered the world, the close contact between man and God was broken and it was a big gap between God and man. This gap was not closed before Jesus took all the sins of the entire world and reconciled humanity with God. That doesn't mean that everybody becomes Christian and a child of God, but everybody can come to God if they recognize Jesus as their Redeemer. Jesus is the way to God. Jesus says that no one comes to the Father but by Me. I do not believe that any of us can have a more important relationship than with the Triune God. Many are saying that they think there is a god, but they do not have a relationship with Him. They do not understand that He is standing with open arms, ready to receive as many children as possible. He wants to have a living daddy/child relationship with His children.
Have you been reconciled to your Heavenly Father?
Many people have not had a good and close relationship to their earthly father and that could be a hindrance in building a close relationship to their heavenly Father. I do feel that God wants to restore broken relationships in families and that is very important in the times we live in. I will continue with the child/ father relationship. The father might not have been physical present and an important part has been missing in the life of the child then. I believe that a child needs both a mother and a father and I am not for homosexuals to adopt children.  I understand that homosexuals want to have children, but what is the best for the child? Today we have a lot of divorces and many children live with only one of the parents. Some live one week with the father and one week with the mother. It might function well, but God had not intended it this way. The child needs both sexes for their own development, but also as role models for their own future marriage. Some fathers are so tired when they come home from work that they do not want to get involved in the lives of their children. The child doesn't have a close relationship with the father then. Other fathers might use alcohol or drugs and even violence might be part of their every-day life. The child might fear their own father. A few are also sexually abused. That creates fear and shame. I believe that God has created a man to make his family secure. He is supposed to be the protector. Children who feel unprotected, become insecure. I write about fathers since we call God a father, but the same thing goes for mothers. I write about these things because if there hasn't been any conflict, there is no reason for reconciliation. Did you daddy keep his promises? If he didn't, you might wonder if God will. Some fathers are used to punish their children. Is God there to punish them? I might come with many more examples, but I think you understand the problems.
God is often compared with the earthly father, consciously or subconsciously.
To be reconciled doesn't always mean that one should spend a lot of time together even if that could be the case. How do we get reconciled? One doesn't get restored by pretending that the bad things haven't happened. When you have experienced bad things, ask the Holy Spirit to help you to work your way through them. One is not supposed to keep the pain or anger, but ask God to heal you and help you to forgive. I want to emphasize what the Bible says about forgiveness. Forgiveness, healing and deliverance are three key words. In Matthew 6:14-15 it says that God will not forgive us unless we are willing to forgive others. In Matthew 18:21-35 we read about a servant who was himself forgiven, but he was not willing to forgive. He had to pay a high price for that. Peter asked Jesus how many times he should forgive his brother and Jesus answered: Seventy times seven. That is 490 times. In verse 35 Jesus says that if you are not willing to forgive your brother from your heart, you will be punished. In Mark 11:6 we again read that if we do not forgive, our Father will not forgive us. In Luke 17:2-3 we read about forgiving a sinner. Also Paul writes about restoration. We read about that in 2.Cor.2:7-8. I recite Ephesians 4:32: Be kind to one another, tenderhearted, forgiving one another, even as God in Christ forgave you." We read hear that we are forgiven and looked upon as sinless in the eyes of God because of Christ. Everything I have been writing about is about forgiving those who have done something wrong towards you. In Matthew 5:23-27 it is written about those having something against us. It says that if you think of somebody having a grudge against you, go to that person and be reconciled before you lay your offering on the altar. I really haven't heard many preach about this. We are therefore not advised to ignore the thoughts about us from others. We are supposed to try reconciliation even if we haven't made a mistake.
Back to the father-relationship. You might not have a father that have been a good father, but he has given you life and you can thank both him and God for that. Ask God to help you to forgive whatever mistakes he has made. You might have to do it 490 times since your emotions might need time to be healed. I believe that you should go to your father at one time or the other and tell him that you have forgiven him. He might not understand that he has made any mistakes, but you have a right to describe your own feelings without accusing him. Meet him with a loving and forgiving attitude. I will not come with any advice about the frequencies of your future visits. That depends on so many things. I wish you all the best.
BE BLESSED IN YOUR RECONCILIATION JOURNEY!
Mother Else