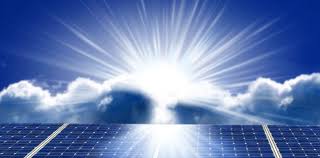 SOLAR ENERGY.
Don't worry. I am not entering into the business of energy nor do I mean to advertise or sell solar energy. You know by now that I am using pictures and symbols to describe spiritual truths and this time I use the sun and the energy coming from the sun. I am living in a housing complex where they have changed all the outdoor lamps with solar energy. It has actually become brighter and that's good since the sun is going down earlier and earlier towards the evening.
The sun is very central when it comes to bring light and warmth into this world. It is created by God. In some religions they worship the sun, but we should worship Him who created the sun, God, the Creator of all life. I will start by pointing out a great difference between God and the sun. Most of the time I will use the sun as a positive comparison with God, but this time I cannot to do that. Too much sun is dangerous. It can burn the skin and create skin cancer. We are therefore highly recommended to use protective creams for our skin, but too little sun, might give lack of D-vitamin. That means that we should have the right amount of sun. I really do not believe that we can get too much of God. We are not supposed to become spiritual hermits isolating ourselves from the world. No, on the contrary, we are supposed to bring God into the world and present our Lord for the people in the world.
I understand that solar energy is built on energy coming from the sun. We find it on the top of the roof, but now there are factories collecting the energy and sell it. In order to get sun, we must be where the sun is. In order to be with God, we must be where He is. I do know that some of God's energy moved into our being when we were born again, but we need to be with God and His people to charge our batteries. When we talk about energy, we talk about plus and minus. A known preacher, Reinhard Bonnke, once had a campaign called: from minus to plus. We must choose to be on the plus side. The devil is representing the minus side in my mind and God is representing the positive forces. There will always be a war between these two and we are blessed to be on the victorious side. In the society we talk about charging the batteries. We must put our cell phones to charge and many other things need charging as well, but we human beings also need to be recharged. If we work on the minus side and do not take time with God, we might easily get exhausted. Jesus went aside to be with His Father and we need to do the same. We need His strength and we need to hear from Him. He is our joy. We can worship Him and His Word is a lamp for our feet. I have met people who have spent a lot of time with the Lord and it is very visible. They reflect His power and light. I do want people to stop me and ask what's difference with me. I wish I could answer them: "I have been with the Lord."
We are supposed to reflect the light from the Father!
We have to protect ourselves from too much sun since the rays are coming into our skin and too much is dangerous, but the sun-rays from God are also coming into us, but they are healthy and not dangerous. I would almost say that they are necessary for living. Are you marked by Jesus?
When I write about energy, I do not think of electricity. I do not even think about feeling better by being in the sun or being with God. That could be the result, but not the only purpose. God has created all life and we are filled with His life, love and power when we are with Him. Many years ago I was sitting in a chair and I couldn't get up because of a supernatural power. I asked God what this was and He said that I got to sense a tiny bit of His enormous power. I do not think that we really understand how much energy that was used when God created by speaking a word or when Jesus was raised from the dead and the huge stone was rolled away from the grave. We have that supernatural power on the inside of us. We are talking about powers stronger than death. If we are believers, we have access to that power and I pray that God will give us a revelation of this power. Jesus left us with a commission saying that we should do greater things that He did. I cannot heal a fly, but in His power I can convey healing to those in need. I need faith and revelation of Jesus and His power in order to do that. I am on my way, but God has to do more with me in order for me to see the healings I am longing for. I have seen some, but I want to see so much more. I can become so busy with others or something else, that I forget to sit in the sun, being close to God. I do get energy from the Word, praise and worship and just being in His presence. I will also get energy from being with other believers loving Him. I have sensed an enormous power when many are gathered praising Him. The Bible writes that one takes thousand and two takes ten thousand. That means that two people can win over many more of the enemies than one can. Just think how much we can accomplish when we are many!
When we talk about solar energy, I understand that it can be stored. I also think that we should keep as in a storage what we read and experience with God. It shouldn't be like those who proclaim that they have been to a very strong meeting, but they do not remember what the speaker talked about and what the essential message was. Everything that we receive from the Lord, should be kept in order to use it when necessary. I have listened to stories from people being persecuted and in prison. They were so thankful to the fact that they had memorized parts of the Bible. That became their strength and they could also lead other prisoners to the Lord. I have unfortunately seen people receiving great prophesies, but they have not written them down and they forget them. Write down those prophesies that sanction in your spirit. It would also be good to memorize certain Bible verses. You can use Bible verses as a base for your prayers and you can pray forth the prophesies.
We couldn't use solar energy in the dark if it wasn't stored.
The sun is giving us light and warmth. So does God. When the sun is shining very bright in the beginning of spring, I see dirt and dark spots more clear than ever. With more light, the easier it is to reveal the dark and everything that belongs to darkness. I recently watched a very anointed woman on television and right afterwards I watched a secular program together with another person. I was a guest there and couldn't turn the television off. It wasn't anything really bad in the program, but it was such a contrast to the anointed one.
If you light a candle in a dark room, you see quite a lot of the room. It doesn't take much light in order to see and in order to brake the dark. Can you imagine this world without the sun or this world without God? It would be very dark and very evil.
LET THE SUN WARM YOU AND SEEK GOD AND HE WILL FILL YOU!
Mother Else