A LITTLE LEAVEN PERMEATES THE ENTIRE DOUGH.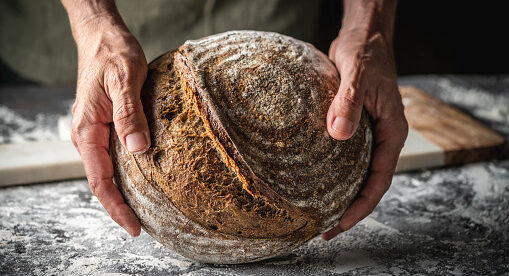 A LITTLE LEAVEN PERMEATES THE ENTIRE DOUGH.
Part 2
No human being is perfect. Jesus was the only person who was without sin. That was the reason why He could become the perfect lamb that was slain for our redemption. Every born-again Christian has a perfect spirit. If Jesus should come back right now, we would go with Him even if we had some wounds and some spots in our soul. We read in Philippians 2:12 that we should work on our soul's salvation. That's a life-long process.
You cannot see the leaven inside the dough, but we see the result. The dough is growing and becomes bread or other bakery with yeast. I believe that the apostle Paul is talking about the hidden sin, the things we cannot see, but both God and the devil can see it clearly. I know of Christian, married leaders that have had children with other women than their wives. It could even happen when they have great campaigns. I am sometimes surprised and wonder why God allows these things to happen before He intervenes, but I have to trust Him for right judgment. If we know that a brother or sister is living in sin, the Bible says that we should correct him or her in love. It is not love to let it pass without doing anything. It says that we should take more people with us if they do not listen to us. I do believe that such confrontations should be prepared in prayers and with great wisdom and humility. If you come with a judgmental attitude, you might be met with resistance and defense. Show the other person that you want the very best for her or him. It is always the best to get rid of sin.
Many of those seeking for the truth might come to New Age first. When they get saved and meet Jesus, they meet the Truth and understand that New Age is not the truth. That means that they have to get rid of demons they have gotten through their involvement in New Age. The devil is good in copying and it could therefore look almost the same for some time. The key is: From which source have you been digging? If it doesn't come from The Holy Spirit, it is the wrong source. The lines can be very thin and difficult to detect. When one is born again, one has a spirit that is pure and perfect, but the soul might have two parallel rivers with two different sources. We have a lot of this in the Body of Christ. It is not only from those with a background from New Age, but it could be demons lying in the family or demonic powers from trauma and assault. People can have been involved in the occult or come from another religion. These demonic powers are like leaven, but many are ignorant about their existence. Christians cannot have demons are many saying. Christians cannot be possessed since that means that one's spirit is influenced by demons as well. No, we can have demons in our soul and body. Jesus often demanded a spirit to leave before He laid hands on people for healing. We are supposed to do the same as Jesus. How do you interpret Mark 16 saying that the first sign of a believer should be to drive out demons. It should be the first sign following a believer. Are you afraid of demons? Do you forget that Jesus has won a victory over them? Jesus has also given us His authority.
       Be brave!            
Why do we stay here on this earth after we get saved? I can assure you that it is much better in heaven. You will know why if you read Matthew 28:19: "Go therefore and make disciples of all nations, baptizing them in the name of the Father and of the Son and of the Holy Spirit, teaching them to observe all things that I have commanded you; and lo, I am with you always, even to the end of the age." We are calling this the Great commandment. We are called to tell others about Jesus. The Gospel is simple, but it is not a cool thing. I have heard preachers describing Jesus as cool, but they do not mention sin nor the fact that the devil might resist your decision. He wants to bring you back to the kingdom of darkness.
We have a lot of wrong Bible-interpretations today.
I was reading the Bible when I was a child and when I was young, but I didn't hear anybody preaching about Jesus as a healer or deliverer. I grew up with thinking that I was saved through the baptism I received when I was a baby. Some preachers are saying that you do not need to confess your sins since Jesus took all our sins on the Cross. How do they interpret 1.John 1:9? Others are saying that everybody is saved since Jesus is the Savior of the world. Quite a few are saying that there is no hell since God is a good God. It is also popular to say today that everybody is blessed by their own faith. It means that it doesn't matter what you believe in. Paul is warning us against seductive spirits and he is saying that we will see a lot of that in the last days. We are having a lot of false prophets and many wrong interpretations of the Bible. This can really be called leaven. I got a picture of a dough of bread. It couldn't raise and was not eatable.
All religion is like leaven. It might look nice, but doesn't have any power. Jesus was very strict towards the pharisees.
LET US SEEK THE TRUTH IN THE WORD!
Mother Else