WE ARE WELCOMING THE YEAR 2022!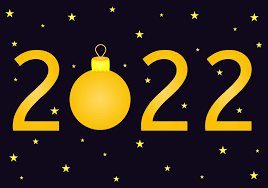 We are welcoming the year 2022!
I have been listening to different prophesies for 2022. They are not identical and I will therefore refer to some of them and also add some of my own thoughts. It doesn't need to be contradictions even if they are different. Some might be global and others might be for the local congregation. Other prophesies are meant for a specific country or a region or for a specific person. It is important that you know for whom the prophesy is spoken to. The Bible is also saying that we should test everything. You must not swallow everything blindly. Prophesies should be in accordance with the Word of God and should sanction with your spirit.
The leader of the church I go to is speaking about a break-through for 2022. We have been praying for revival and increase and for a break-through. I believe that all revivals start with our selves.  We must be hungry for more of God and we must be willing to go through a cleansing process. God resists the proud and gives grace to the humble. (1.Peter 5:5) I do not dare to have God against me and I therefore choose to humble myself. I believe that the pastors in my church expect answers to the prayers that they have prayed for a long time. We can therefor look forward to the year ahead.
We must be blind and deaf if we do not see that the world around us becomes darker and darker. The pandemic has soon lasted for two years and fear is spread through media all the time. Many are living in isolation and many do not dare to meet family and friends. People are fighting about vaccination. Some is for and others are against. There are places you cannot enter without a vaccination-passport. Even churches have closed if you do not carry a vaccination-passport. I recently heard about a country where those who were not vaccinated had to stay at home. It looks like we are getting closer to a society of control. "The big brother is seeing you." I do not want to say that corona is not serious. I myself got quite sick a year ago, but we Christians should not be afraid. Jesus is saying; "I am with you every day." The Lord has promised us His help. We Christians must be spreading light and hope to this dark world. Read Isaiah 60.
I heard a week ago a prophesy about keys. The person had a huge key. He prayed for keys that could be used to solve problems over countries. He and his wife prophesied over countries in Europe. We are maybe praying for keys to solve our own problems or those of others. I ask for keys when I have counselling. Every person is unique and I need different kind of keys. Every door has its own key. We might find an universal key in a building complex. I think that the universal key in the Body of Christ must be love. People are covering themselves if they are not met by love.
I attended New Year's celebration I my congregation this year. It was said that we are another year closer to the end time and to the return of Jesus. When can none of us know for sure. The preacher was mentioning five words for the coming year. The first one is hope. We Christians must cling to the fact that we have hope and we have to spread hope to this dark world. The second word was do the right things. We must lay down our own ambitions and listen to what God wants us to involve in. Jesus Himself only did what the Father told Him to do. Praise and worship were the third words. Our worship should be lifted to a higher level. It gets more and more important to praise God and the devil doesn't like to be in the presence of worship. Praise and worship is a mighty weapon in warfare. The fourth word was the gifts of the Spirit. We have received these gifts and we can choose to give them back to the Giver and allow Him to use them in the right way. It was mentioned that God will do things in a different way and things will not look the same way any more. The last word was counterfire. We should oppose the works of the devil. When he does something, we should do the opposite. Then we have a lot to do. The two Bible verses mentioned were: Isaiah 33:15-18 and Isaiah 43:18+19. It was also mentioned that we would see miracles that we hadn't seen before and new people would enter the kingdom of God.
The most important thing that can happen in the year ahead is our relationship to the Lord. He is longing for a closer and intimate relationship with His children. Our Christian faith is built on a relationship, not on theories and activities. Many are feeling lonely, but we Christians can all the time have contact with the Father, Jesus and The Holy Spirit. There are no restrictions and we can come at any time. Jeremiah 33:3 says that we can cry unto Him and He will answer us. Do you believe that? Many pray without expecting an answer. Do you answer your children when they call on you? Yes, I naturally do. That is just as natural for God to do the same. We are His children.
What do you think will happen during 2022? I do not know. God has not revealed the details for me. I generally believe that the dark will get more dark and the light will shine brighter. The source of light is living inside of us and we can decide how much light we will let out during this year. Sometimes we have to go through the winepress in order to be healed, get rid of our flesh and demons. It will be more room for Jesus then.
BE LIGHT DURING 2022!
Mother Else