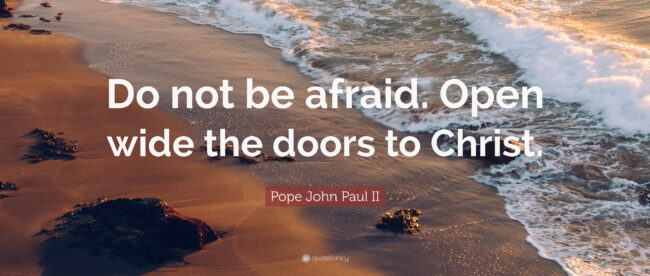 DO NOT BE AFRAID!
I want to start this year by quoting from Isaiah 41:10 "Fear not, for I am with you. Be not dismayed, for I am your God, I will strengthen you. Yes, I will help you, I will uphold you with My righteous right hand."
There has recently been a great increase in the numbers of people getting sick from corona and that has lead to more and more restrictions in more and more countries. Those that have refused to take the vaccines have been punished in many ways even if many fully vaccinated get the last variation of corona. The mass-media is spreading fear and propaganda all the time and many are afraid and are isolating themselves. We must be thankful for the fact that the new variation of the last corona is giving less serious symptoms. Several are saying that the symptoms are like a light flu. How much energy do you use in following the information on TV, radio and in the newspapers? It is not wrong to have some information, but if you spend more time to read about corona than you do to read the Word and to pray, you need to change your focus.
Isaiah continues to write about fear in the same chapter, verse 14: "Fear not, you worm Jacob, your men of Israel! I will help you, says the Lord And your Redeemer, the Holy One of Israel." Why do we fear when the Lord is saying that we should not fear? It must mean that we do not trust the Word nor the living God. Is it sure that God will help me and protect me? I once had eye-contact with a tiger. He was behind a plexi-glass. The Lord said to me: "The glass is like My blood. You can stare at the enemy and he looks at you, but he cannot reach you because of the blood." The 14th verse says that the Lord helps us and redeems us. In counselling I often meet people finding themselves in insoluble situations. We, who are having God as our Father should never be in insoluble situations. We can read in verse 18 that God will open rivers in desolate heights and fountains in the midst of the valleys. He will make the wilderness a pool of water and the dry land springs of water. This is impossible for a human being. We are today singing a song and it says that God is making a way where there is no way.
God has created heaven and earth and nothing is impossible for Him.
Many are recommending us to read psalm 91 in these days. We had a swine-flu in 2009 and I was leader for an activity center in Norway then. 100 patients belonged to the center, but everybody was not there at the same time. The patients were either physical sick or psychological sick. I read psalm 91 every morning and declared the center as a free zone for both the patients and the employees. Some of them had sick members in the family, but they did not get sick themselves. I called psalm 91 for the vaccination. We need it just as much today. We cannot stay far away from the Lord if we want His protection. No, we must dwell in the secret place of the Most High and abide under the shadow of the Almighty. Then we can say; "Lord, You are my refuge and my fortress; My God, in whom I will trust. He has promised to deliver us from the snare of the fowler and from the perilous pestilence. We are not supposed to fear the terror by night nor of the arrow that flies by day. It says that even if thousand men fall on your side and ten thousand at your right hand, it will not come near you. No evil shall befall you. Read psalm 91 every day.
When Jesus left His disciples to go to His Father, He promised His disciples to be with them every day to the end of the age. He will be with you and me as well.
In Matthew 6:25 Jesus is saying: "Do not worry about your life, what you will eat and what you will drink; nor about your body, what you will put on. Is not life more than food and the body more than clothing.?" The Lord refers to the birds and they neither sow nor reap, but the heavenly Father feeds them. Jesus says that we human beings are more valuable than the birds. In verse 27 Jesus says: Which of you by worrying can add one cubit to his stature?" In Matthew 6:33 we read this well-known verse: "Seek first the kingdom of God and His righteousness, and all these things shall be added to you." We can clearly see that God cares for all aspects of our lives, but we must seek Him first. Some people only come to God when they are in a crisis, but He wants us to come to Him every day and bring to Him all aspect of our life.
                                    Be an every-day Christian!
Many people have experienced rejection or some traumatic experiences when they were children or young people. This might have caused fear or a feeling of not being protected. Many are describing a daddy who was not there for them. They might have lacked love and security as a child. Fear might have come through experiences or maybe it runs in the family. We read I 1.John 4:18 that there is no fear in love and perfect love casts out fear. I often pray for hurt people and I often ask the Lord to come with His perfect love, the love that loves in spite of and not because of. The best medicine we can have is His unconditional love. Your daddy in heaven loves you and desires the best for you.
GO TO DADDY GOD WITH YOUR FEAR AND ALL YOUR NEEDS AND HE WILL ANSWER YOU FOR HE CARES FOR YOU.
Mother Else