THE WORD WILL KEEP YOU ON THE RIGHT TRACK.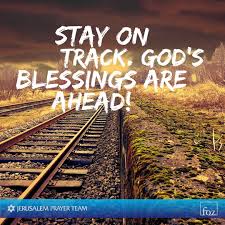 THE WORD WILL KEEP YOU ON THE RIGHT TRACK.
When I talk to family and friends, many are saying the same about 2021. They say that the Lord has encouraged them to spend more time in the Word. The Lord has also talked to me about that. The Word has always been important to me, but I had started getting a little lazy and less disciplined at the end of 2020. I have confessed that as a sin and I have repented and changed. The Word of God is our spiritual food and we are not supposed to fast from this kind of food. Many are fasting in the beginning of a year, but the Word of God we should eat more than ever.
When my children were small, I compared the Word of God with the natural food we eat daily. Most of us eat three or four meals a day. When we do not eat nor drink, we will eventually die. The same is with the Word of God. That is the food we need to live a daily life as Christian. Every person needs to get rid of poison and slag from their bodies and that is why we daily go to the toilet. We really need to do that spiritually also. You might ask The Holy Spirit at the end of the day if there are things you should confess or people you should forgive. It is good with a daily cleansing. Some people go around with guilt feelings all the time. That does not come from God, but from the devil. The devil wants to remind us of old sins and put on us guilt and shame. A daily visit to the spiritual toilet is healthy and will keep the devil away.
Psalm 119 describes the importance of The Word. It starts by saying: "Blessed are the undefiled in the way, Who walk in the law of the Lord." It continues to say that you get he more blessed if you seek the Lord with your whole heart. In verse nine it says that a young person keeps pure by taking heed according to The Word. Some people find it difficult to read the Bible, but I want to point to verse 18 then. It says: "Open my eyes, that I may see Wondrous things from the Law." I believe that we should read the Bible together with The Holy Spirit. He is our Helper. In verse 34 the psalmist is asking for understanding to keep the Law. We read in verse 50 that the Word has given life and in verse 72 it says that the law of Your mouth is better to me than thousands of coins of gold and silver. Many of us have heard verse 105 saying that the Word is a lamp to my feet and a light to my path. That means that we do not need o walk in darkness. We might not see far ahead, but far enough to know where the road is and how we should walk. In the psalm it says that the Word of God is true, righteous and eternal.
We read in James 4:3 that we ask, but we do not receive because we ask amiss. I really believe that the more we know the will of God that we get to know through the Word of God, the more answers to our prayers will we receive. We can read a lot about praying in the Bible. It says that that we should pray in a right way, but also inthat warning seriously.  faith. We do not pray out in an empty space, but we pray to The One saying that nothing is impossible for Him. Nothing is impossible for the one praying in faith.
It says in Hosea 4:6 that people are destroyed for lack of knowledge. We should therefore search for knowledge, but it should be right knowledge. Today we have so much wrong knowledge. A lot is based on lies. A lot of prophesies are also wrong. If the prophesies do not happen, it does not come from the Lord. Some prophesies are conditional, but I believe that all prophesies and sermons should be tested. They did that in Berea. They knew that everything should be based on the Word of God. The Bible is warning us against false prophesies in the last times so we should take that seriously, but without fear.
The Word can heal. We read in psalm 107:20 that the Lord sent His Word and healed them. We read in Matthew 8 about a centurion in Capernaum. He had a servant at home lying sick with great pain. Jesus offered to come home to him to heal the boy, but the centurion said that he was not worthy to have Jesus come to him. If you just say a word, he will be healed said the centurion to Jesus and that was exactly what happened. The Word has power in itself and it does what it was sent to do. We humans are often making easy things difficult.
In Hebrew 4:12 we read that the word of God is living and powerful, and sharper than any two-edged sword, piercing even to the division of soul and spirit, and of joints and marrow, and is a discerner of the thoughts and intents of the heart. We undermine the power of the Word.
In John 14:23 Jesus said: "If anyone loves Me, he will keep My word, and My Father will love him and We will come to him and make Our home with him. " We cannot say that we love Jesus and stop reading the Bible. If you say that you love me, but do not like to listen to me, is something wrong. What I am saying, is based on who I am. The Word is based on Who God and Jesus are.
I want to finish by showing you Isaiah 55:11. It says that His Word shall not return to Him void and it shall prosper in the thing for which the Lord sent it.
TO WHOM ARE YOU SENDING HIS WORD AND WHAT DO YOU WANT THE WORD TO DO?
Mother Else