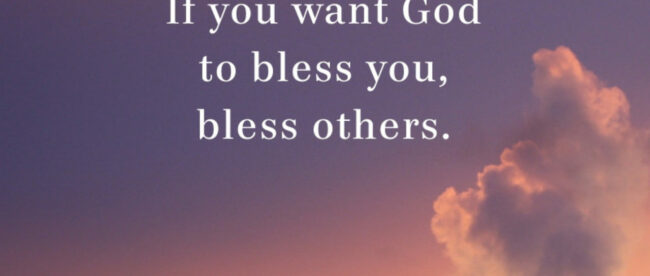 WE ARE CALLED TO BLESS!
We need to understand how much we are blessed before we start blessing others. We may start with Ephesians 1:3 where we read that we are blessed with every spiritual blessing in the heavenly places in Christ. It continues to say that we should be holy and without blame before Him in love. We have received the right to be the children of God. In Christ we have redemption through His blood, the forgiveness of sins, according to the riches of His grace. We have obtained inheritance and we are sealed with The Holy Spirit of promise. We do not need to do anything else than receiving the gift that the Lord has offered us. In order to become a child of God, we need to understand that we are sinners that are lost if we do not accept Jesus as our sacrificial Lamb.
I am reminded of the story about the unforgiving servant in Matthew 18. He had himself received a lot of grace, but when another servant asked for grace, he refused to help and demanded that he paid everything that he owed him. When the original master heard this, he got angry and punished the unforgiving servant and made him pay back all his debt. We must never forget what the Lord has done for us. He has paid all our debt and carried our sicknesses on the Cross. The chastisement for our peace was upon Him.
In the first five books of the Bible we read a lot about blessings. You should read Deuteronomy 28. There you read about blessings and curses. The chapter starts by saying that we should diligently obey the voice of the Lord our God and carefully observe all His commandments. Then we would be blessed in the city as well as in the country. The fruit of your body should be blessed as well as the produce of our ground, the increase of our herds and the increase of our cattle and the offspring of our flock. What we are baking is also blessed. When the enemies come against us, they have to flee on seven ways. We are also blessed at work. In verse 12 we read that the Lord will open His good treasure. He will give the land rain in its season and bless the work of your hand. You will be able to lend to others, but we do not need to borrow. In verse 13 it says that the Lord will make us the head and not the tail. If we do not listen to His voice and obey His commandments, the curses will come to us and we can read about them in the same chapter.
Why do I write so much about the fact that we are blessed? Because I want us to be thankful. When I think about the fact that Jesus deleted all my sins, I get thankful and my heart gets soft when it comes to others. I am clear and say that sin is sin, but I can show a lot of grace. I want you to read Matthew 5:44. We read there that we should love our enemies and those who curse us. We are encouraged to do good to those who hate us and pray for those who persecute us. It says that our Father will send rain over the just and the unjust. It is not so difficult to love those who love us. Once I was in India, several Muslim and Hindi people came forward for prayers. This was new to me at that time and I asked The Holy Spirit what I should do. I received this word about raining over the just and the unjust and then I could freely pray for the Muslims and the Hindis.
I do not want you to misunderstand. I do believe that we should say stop when somebody hurts us in words or deeds. We are teaching our children to say no or say that this is my body when an adult wants to misuse them. This theme is a little difficult. What should we allow and when should we say stop? Jesus was very angry in the Temple when they used the Temple to sell their goods. I do believe that we should say to a person that we get sorry or hurt when that person says or does things that make us feel bad. We are called to forgive, but that doesn't mean that we must spend time with the person hurting us or takes all our energy. I have been in situations where I could bless someone that hadn't been so nice to me and it led to something positive. I believe that we should be guided by The Holy Spirit when we must say stop or explain our feelings and when we are led to bless in spite of the actions of the other person.
We read in Romans12:19 that the revenge belongs to the Lord. I heard that a well- known preacher had been exposed to many false rumors about himself and he was very upset and sorry. He wanted to defend himself by writing letters to several people and to the person starting the rumors. He sat down and prayed before he wrote one of these letters and he received a picture from the Lord. He saw that God's hands were tied behind His back and the preacher asked what it meant. The Lord said that as long as you defend yourself, I cannot do anything. Do we believe that the Lord is for us and not against us?
I will quote Romans 12:20: "If your enemy is hungry, feed him, if he is thirsty, give him a drink; For in so doing you will heap coals of fire on his head."
We must never forget that Jesus died for all people and God loves everybody and wants every person to come to Him. We as children of God are blessed. Can we afford not to bless others? By so doing, we are saying that we want to do something good for another person. Ask The Holy Spirit to give you ideas how you can bless those closest to you, your neighbors, your working place, your school, your church and the area where you live.
BLESS AND DO NOT CURSE!
Mother Else