DO NOT LIE TO ONE ANOTHER, BUT LIVE IN HONESTY AND OPENNESS!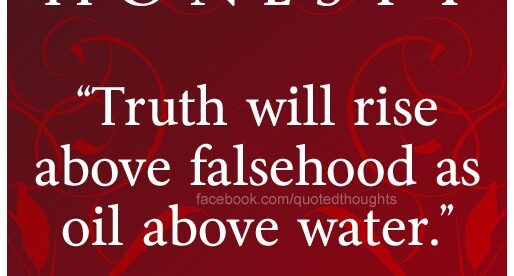 DO NOT LIE TO ONE ANOTHER, BUT LIVE IN HONESTY AND OPENNESS!
We read in Colossians 3:9 that we should not lie to one another, since we have put off the old man with his deeds and have put on the new man who is renewed in knowledge according to the image of Him who created him.
When I was a child, I thought that Christians were honest and that I could trust those going to church, but today I unfortunately know that this is not true anymore. I get sad every time when I discover that a sister or brother is lying. I get even more sad when I find out that Christian leaders are lying.
Why do we lie? Some are lying when it comes to money. One can for example decide to withhold important information about the shortcomings of a house one is selling. The opposite result could be that the house wouldn't be sold or go for a much lower price. The seller might know that the buyer would spend a lot of extra money, but still he keeps quiet about the truth. I know of well-known Christians saying that everything is allowed when it comes to money-affairs. On the pulpit they might preach another message. They might preach about a high moral. I do not buy that if it isn't practiced in their own lives.
One might lie to get certain benefits.
Another reason for lying is to give a nice picture of oneself. A person might only say nice things about himself and show only the positive sides. You can do that for a short time, but another side will occur after some time. It is therefore important that you have spent a great deal of time with your husband or wife-to-be. I am doing counselling almost every day and I listen to that person's feelings or that person's view on an issue. When it comes to a marriage problem, it is important to talk to both parts. A person will easily put the blame on the other person or be depressive and think that everything is caused by oneself.
A bad self-image might be the reason for a person lying.
The way you look upon yourself might not be the same way others see you. I am sure that God sees you with different glasses than you do if the picture is bad. You might easily lie to hide your weak tendencies. It is quite common for Christian leaders to exaggerate. I once heard that 3000 people had been present at a meeting with 30 participants.  I know because I was there. When I was in India, I was forbidden to take pictures in certain places. The reason was that preachers from the West had taken pictures, manipulated them and used them to collect money for their own church or business.
   To exaggerate is the same as lying.  
Fear might be the most common reason for lying. People are afraid for the consequences if they are telling the truth. I might use an example from a job interview. You know you are pregnant, but you try to hide that when you apply for a job. If you are asked to describe your weak spots, do you tell the truth? I was applying for a job as a leader of a rehabilitation center. I wrote that I had ten thumbs. I wanted to say that I was not very handy and didn't know if I should do some practical work. They should not hire me then. I got the position and they trusted in me since I had been honest. I would rather hear the truth even if it is negative than a false lie.
 Fear might be a strong reason for lying.
When people are under pressure in a court case they would often lie. Maybe they think that would give them a milder punishment. They might also put the blame on somebody else. To accuse another person is quite common already as a child. When one of the parents ask: Who has done this? Every child might say: Not I. God is sometimes using me in relational conflicts. I experience even among Christians the tendency to accuse another person. I have done the opposite and taken the blame for things I haven't done. That is also a form of lying and I have stopped doing that.
Why are we Christians so afraid of admitting our wrong doings? We read in 1.John 1:9 that if we sin, we should confess our sins and the Lord is faithful and just and He will forgive us our sins. We get rid of the sin as soon as we have confessed it. That should give us courage to be honest.
I mention in the headline that we should be honest. I do not think that you should tell everybody about everything in your life, but many Christians live behind more or less thick facades. Maybe you think that it is easier to be accepted if you put on a façade. Some Christians might become out of touch with real life. They go around smiling and say: "It is victory, always victory!" We do know that the Lord conquered the evil and carried our sicknesses, but still we might get problems and should not deny that. If we cannot admit our problems, the Lord cannot help us with something that do not exist.
To deny reality is also sort of lying.       
IF YOU ARE A CHRISTIAN, FOLLOW THE ONE WHO IS THE TRUTH!
CELEBRATE A BLESSED CHRISTMAS WITH HIM WHO IS THE REASON FOR CELEBRATING!
Mother Else