Build the kingdom of God here on earth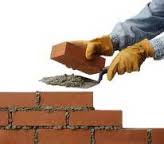 BUILD THE KINGDOM OF GOD HERE ON EARTH!
Part 1
Why do we Christians live here on earth when it is much better to come to heaven? The apostle Paul also asked himself the same question, but he chose to stay here since he knew that God needed him here. What would this world look like without a single Christian here? The devil would rule alone then and the world would be full of evil and darkness.
We are called to rule and reign.
When God created Adam and Eve, He gave them an assignment. They unfortunately brought sin into this world, but the assignment is the same. We are supposed to rule in this world and to bear fruit. We are created to have both physical and spiritual children. I have spiritual children in many countries. That doesn't mean that I have prayed with everybody for salvation, but I have a role as spiritual mother. They are sharing their lives with me and I can listen and be a tool in the hand of God for healing and deliverance. Since my calling is to be a mother, I can both give birth and educate them.
I just returned from an apostolic and prophetic conference in Rome and they talked about building God's kingdom here on earth. We are praying that His will be done and His kingdom come on earth as well as in heaven. What is heaven like? I seriously do not believe that we can imagine how it is there, but we do know that there is no sin there, no sorrow and no tears. We are so influenced by earthly circumstances that we can't imagine what paradise is like. God is perfect love. He gives us His unconditionally love here, but we can only receive it in parts. There we live in it to the fullest. The more that we can receive His goodness here, the more we can convey that to others. My daughter is going to malls and on the streets to pray for people with pains in their bodies. She is very careful to say that it is Jesus Who is the healer. Some of them will get to know Him since He is making them well. About seventy percent are healed.
It is His goodness that should drive people to repentance.
Neither God nor people can force anybody to receive Jesus. Everybody has a free will, but when people experience God's goodness, God becomes attractive. I do not want to get close to anybody whom I cannot trust and that goes for God as well.
When we convey the goodness of God, we are building His kingdom here on earth. Who has an influence today? Those spreading the love of God and those creating a positive change in a person's life as well as in a larger group or nation. That isn't always those in high positions. David, the shepherd-boy, won over Goliath in a supernatural way and with very simple weapons. No one had expected that, but he had faith in One greater than himself and when He is with us, everything can happen. Our weapons are divine and have power to perform great things.
Many Christians are lazy and live a life of indifference. They might live according to the words in a song saying: That what is happening, is happening. Many things are happening with us and others because we haven't done what we were supposed to do. We are called to rule and reign. The devil is a thief and he is lying. We are often allowing him to steal and we might listen to his lies. The Word of God says that we should resist him and be firm in the faith. (1.Peter 5:9) In James 4:7 it says that we should resist him and he would flee from us. We are having authority over the devil in the name of Jesus.
When Adam and Eve sinned, the world came under the power of the devil, but another Adam has appeared, Jesus Christ and He has given us the right to take back what the devil has stolen. He has given us His name, His blood and His Word. We are living in a spiritual war here on earth, but we need to know how to keep the evil one away from God's territory and how to captivate new territories. All of God's children and all that belong to us belong to God. He has placed us in His kingdom and we have received the blessings and His promises.
In heaven there is no sickness since there is no sin. There isn't any devil there and we are called to bring heaven down to earth and therefore we can with boldness pray against sickness. Jesus took our sicknesses on the Cross and we do not need to carry what He has already done." Lay hands on the sick, and they shall recover," says Matthew 16. I really sense in my spirit that the Lord wants to convince us that sicknesses come from the wrong source and has nothing to do with His kingdom. Jesus deleted the power of sickness on the Cross. There is no condemnation for those who are suffering. They are highly loved by God, but He wants us to start fighting the devil's attack on our body and soul. We must first know the truth before we can fight. It's not wrong to go to doctors and to take medicines, but I think we first should go to the Doctor over all doctors. If a regular doctor is speaking against the Word of God, we must first listen to the Lord. Ask Him to give you a word from the Bible to stand on and use that as a medicine. If you take another medicine, pray over them and ask them to function as they should and not to give you side-affects. What does this have to do with building the kingdom? We must first build His kingdom in our own lives before we start with others. When I write this, I sense the Father's love for His children. He says: I love you and want to convey My knowledge to you in order for you to receive it. I want you to know that I have never wanted any human being to have any pain or sorrow. I hate sickness and I want you to look upon it as an enemy. I am suffering when you suffer and I will come with more power for healing in the days to come. You cannot heal anybody, but I can and will. Trust Me and I will do it, says the Lord. This came while I was writing and we can all receive it and look forward to what is coming.
In order to build God's kingdom, we must build relationships. None of us can do everything by ourselves. Each and every one of us has our small place in the kingdom. We must know what we are called and equipped for. None of us is called to live alone on an island. We are connected with the rest of the body. I have spiritual sisters and brothers all over the world and I belong to a big family. Most people come to Jesus because someone has told them about Him. In many cases it has started as a friendship-relationship. One trusted the person testifying and that led to the fact that the person wanted to receive Jesus. God loves people and we should never look upon people as a mere target for evangelization. We must meet them with real love.
In most churches we communicate by looking at the person's back in front of us. The first church met in the homes every day. We are not building the kingdom of God by going to meetings. We might build our inner man if the meeting is good, but what do we do with what we have received?
I will continue with this them next time. In the meantime:
GREET SOMEBODY, INVITE THEM HOME AND CALL YOUR NEIGHBOR. In other words:
BUILD RELATIONSHIPS!
Mother Else