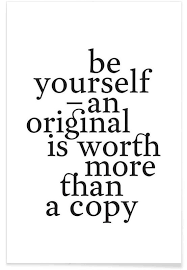 BE YOURSELF!
Why do I choose this tittle? I first of all ask The Holy Spirit to give me a tittle every time. Another reason is the fact that I see so many people trying very hard to please people. They want so badly to be accepted. I could just say that they have to stop doing that, but I will go deeper into the subject.
Every person is unique and every person is created by God. Yes, I do know that we are the product of an intimate relationship between a man and a woman, but I still believe that God has created every person on the earth. No one is here by a coincident. God has a purpose for every person. We have thousands of flowers, fishes, birds and animals, but no one is like the other.
All my friends are different. We are all having a need for love, warmth, food, water and a closeness to other people. These are common needs. We are having an even greater need for a relationship to God. He wants a relationship to His children and that's why He sent His Son, Jesus, as a sacrifice free of sins, to open a way for people to once again have a relationship to God. This was closed because of the fall of man.
We human beings do not look alike. We have different abilities and different likes and dislikes. A man and a woman are created as physiological different and their brains function differently. The devil tries very hard today to say that we are the same and denies the fact that we are created in the image of God as a man and a woman.
I believe that God wants a mother and a father to help their child to develop its dreams and abilities. I have two daughters and they are very different and they had very different interests. I asked God to help me to support them in their choices and to help them become the person God had created. I remember that the devil once tried to bring one of them out her calling and I became like a lioness.
When you have received Jesus in your heart, you have become a child of God and that's when you really can become the person the Lord had planned you to be. I hear people say things like:" I am nothing." That´s a lie. I recently read about a dad to a child with Down Syndrome. He said that his child was a blessing and a miracle. All people are valuable. Stop talking negatively about yourself. Look in the mirror and say: " I LOVE YOU." Matthew 22:37-39 says that we should love others as we love ourselves. Jesus loves you and He says in Romans 8:35 that nothing can separate you from His love. Why should you avoid loving somebody that He loves.
In the Body of Christ there are many members. Do you know what you are created for? When do you feel that you function well? Some people love to cook and make cakes and sweets .I have heard people wanting to do this for the entire congregation. Fantastic. Do not think that this isn't spiritual. You are a blessing. Some people are called to have a profession in the secular world. Some mothers want to stay home with their children. They might say that the children are more important than an expensive car. Others love to travel and they are often called to become missionaries. Maybe you are called into businesses to earn money for use in the kingdom of God. I know auditors and others in economy that feel called to help Christians to use their money in the right way. God has given artistic abilities to some people and these gifts can become a blessing in the kingdom of God. Some people are called to show mercy and help people practically. I was blessed by these people when I broke my foot and sat sick for a long time after I had corona. I am called to help people spiritually as well as mentally and God has given me the gifts I need for that.
Some people are visionaries and they will easily start an activity, but the visionary person needs people around him or her watching over the details. When you build something, it is important that every stone is put in the right place at the right time. In a church we need the five-fold ministries and the nine gifts of the Spirit. Ask the Lord about your gifts and what place you have in the Body. One part is linked to another part. We are dependent on each other. Do not compare yourself with others, but become secure in your own position. Some envy those being seen and heard, but think about our physical, the vital organs are not seen, but we die without the heart for example.
We will find a lot of controlling spirits both in the world, but also in the Body of Christ. Some use prophesies to control others. Some parents make their children choose a vocation they couldn't have themselves. Pastors force people to do things in the church without asking God to show him the right people for the different tasks. Sometimes we need to do things outside our calling, but that should be only for a short time.
Some people are very social, others are more quiet. What is natural for you? You should not be one nor the other if it is built on fear. The Lord has made me more and more secure and I do not need so much confirmation from others then. I do receive positive critique, but not if it comes from the wrong source.
BE SECURE IN THE LORD AND IN YOURSELF!
Mother Else