ARE THE INVISIBLE WORLD INVISIBLE?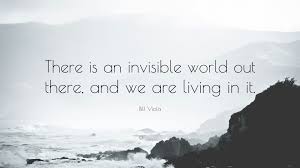 ARE THE INVISIBLE WORLD INVISIBLE?
For whom is the invisible world invisible? There are lot of things that we human beings cannot see with our eyes. Next question is: What do we mean when we say the invisible world? I think of the spiritual world that is influenced by God and the devil. There are lot of things in the ocean as well as in the atmosphere and in our bodies that are invisible, but that is not what I will write about today.
                          I will write about the spiritual reality
Most of the Christians have not seen Jesus with our physical eyes. We have read about Him and we talk to Him, but we haven't seen Him. I had heard that Jesus revealed Himself to Muslims and I got a little jealous and asked Him if He could reveal Himself to me as well. The answer was: "you believe in Me without seeing Me." Yes, I have a relationship to Jesus based on faith. My faith comes from all that I have heard about Jesus and what I have heard is based on The Word of God. I am not a Christian following a religion. No, I am having a relationship with God, Jesus and The Holy Spirit. I have not seen any one of them, but they are very real to me. I pray to God in the name of Jesus and He answers me. I am not praying to something dead. They are very much alive and The Holy Spirit id here on earth helping me. Sometimes I physically feel The Holy Spirit. I talked to another woman today and we shared our physical experiences with The Holy Spirit. We had both experienced getting like a coat of The Holy Spirit over us when we entered ministry or like a wind knocking people to the ground. God wanted to show me some of His power some years back and I could not move for a long time. He said that He had much more power than what I experienced. "Your physical body could not take that", He said. I have not seen any part of the Deity, but I have felt it very strongly. I also know that He is real through all the answers to my prayers.
In Mark 5 we read about a man with a legion of demons. The demons recognized Jesus and they asked Him to send them into the pigs when they had to leave the possessed man. A legion means two thousand demons. Jesus did that, but all the pigs drowned then. The devil is not spiritual blind and the demons recognize eah other and they also know what comes from God. I have written this story before, but I want to mention this again. I was supposed to visit a patient in a psychiatric hospital. When I opened the door, I had a long corridor in front of me. A woman came running out of her room at the end of the corridor shouting to me: "Get out, you are not supposed to come here." I knew that this was a spiritual confrontation. Once and a while I experience that similar things happen and I know that these people are influenced by demons then since I haven't opened my mouth and I smile.
Have you ever wondered why some people are drawn to each other and others are the opposite? We often talk about chemistry, but I also think that it often has to do with the spiritual world. Christians with the same gifts of the Spirit will often be drawn to each other. They want to share their experiences and they use the same spiritual language. People with the same demonic powers will also have a tendency to be drawn to each other, but it could be the opposite as well. If two people with controlling spirits meet, they might end up with an argument. If you are insecure and have a low self-image, you might become a victim of controlling spirits. We are often saying that opposite characters are drawn to each other. We have such an example in the Old Testament. It is Ahab and Jezebel. They both worshipped Baal, but Ahab was a weak man, but his wife Jezebel was strong and she ruled over her husband and she even threatened to kill the prophet and he was hiding under a bush. I have similar couples in counselling sometimes, a weak man ruled over by his wife. The spirits are the same.
There are wars everywhere. You will find that in marriages, in families, on the job and in the church. In the letter to the Ephesians 6:12 it says that we do not wrestle against flesh and blood, but against principalities, against powers, against the rulers of the darkness of this age, against spiritual hosts of wickedness in the heavenly places. I have lately experienced that a spirit of division is very active. It destroys marriages and creates wars between sisters and brothers in the body of Christ. Some Christians spend more time defending their views instead of focusing on the commission given by the Lord.
Criminals or people depending on drugs and other things might say: "It is a voice telling me to kill or to use drugs or play with my money. They know that there are demons behind their life-style.
We do not see the demons so often, but we see the result of what they are saying and doing.
We Christians need to become spiritual awake. We should lift our spiritual eyes and see what Jesus has done for us and who we are in Christ. We also need to see the play and tactics of the devil. The sixth chapter in Ephesians describe the armor of God, but we have also received spiritual weapons; the name of Jesus, His blood and The Word of God.
GOD WILL GIVE YOU POWER OF SIGHT!
Mother Else