A CHILD IS BORN AND A SON IS US GIVEN!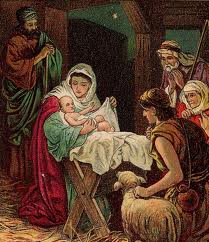 A CHILD IS BORN AND A SON IS US GIVEN!
We are coming very close to the Christmas season now and that is a time for Christians to put Jesus in the center. I am so happy that you came to earth, Jesus and I am so happy that you left the glory in heaven with your Father and came down to us. I do not quite understand how you could change into a little seed entering the womb of Mary, but accept it as a miracle. I am also thankful to Mary for being willing to carry Jesus in her womb in spite of meeting contempt. Most people would believe that she had a sexual relationship with a man. Many, even today, do not believe that she had conceived by the Holy Spirit. It seems so easy to reject what one cannot understand.
Back to the title. It is taken from Isaiah 9:6. I quote the entire verse: For unto us a Child is born, unto us a Son is given; and the government will be upon His shoulder. And His name will be called Wonderful, Counselor, Mighty God, Everlasting Father and Prince of Peace." This is one of many prophesies about Jesus. God had planned that Jesus should come to earth as a human being and many prophets wrote about this years and years before it actually happened. The devil knew that Jesus could be dangerous for him and he used king Herod. When He heard about the birth of Jesus, he wanted to kill him. In order to be sure to get him, he killed all boys from two years and down. God didn't want Jesus to be killed and He sent an angel to Joseph, the husband of Mary. The angel came in a dream and warned Joseph and he took the baby and Mary to Egypt. They stayed there until Herod was dead. We can read in Hosea 11:1: "When Israel was a child, I loved him and out of Egypt I called My son."
In many countries we celebrate a season of advent four weeks before Christmas. Advent means that something we have been waiting for is coming. I t is waiting for something of great value. I find this difficult since Jesus has already come. He came about 214 years ago and I celebrate the fact that He came and I am thankful for that, but right now I live in an advent season for His second coming. He is coming back to get His bride, all of us who are saved and washed in the blood of the Lamb. I can light candles and sing songs as a preparation for Christmas, but spiritually speaking: It is totally wrong for me.
Jesus has come, but will also come again.
I am sorry to say that many do not know why we celebrate Christmas. They see Santa Claus, gifts, candles and a lot of good food. We have a lot of traditions connected with Christmas. We might see Jesus as a sweet little child in a manger or he might not be mentioned at all. In English He is part of the word Christmas, but that is not so in many, many other countries. How can we bring Jesus back to Christmas in order for people to understand why we celebrate this season? I know India quite well and I know that they evangelize at Christmas more than at any other time. I spoke to a pastor from there yesterday and he was going to give out thousands of tracts and the title was: Why do we celebrate Christmas? India is not a Christian country and it can be dangerous to evangelize some places but it seems that the opposition is less around Christmas. Other religions have a lot of festivals and they accept that the Christians have theirs. The Indians sing carols and invite neighbors to different events in the church.
Christmas is Jesus!
Many think of food, gifts and happy times with their family during Christmas. We are becoming a little more generous during this season. Many churches and organizations collect food and money and some are arranging a party for those who sit alone on Christmas Eve. Lonely people might find Christmas to be a difficult time. They might think of what and who they are missing. I wish these lonely people could find Him who says: "I will never leave you, nor forsake you." We all need to be reminded of the fact that He is not far away, but lives in us who believe. Jesus wants to have a relationship with us and we can talk to Him always, night and day. We might feel alone even when we are with other people, but with Jesus we do not need to feel alone.
Isaiah 55 has following title in my Norwegian Bible: God's Messiah-kingdom gives salvation without payment. In other words: It is free. It goes like this: "Ho! Everyone who thirsts, come to the waters; and you who have no money, come buy and eat. Yes, come, buy wine and milk without money and without price." This can be compared to John 4:14 where Jesus says to the women from Samaria: "But whoever drinks of the water that I shall give him will never thirst. But the water that I shall give him will become to him a fountain of water springing up into everlasting life." The woman didn't understand what Jesus meant and many are those who do not understand this today as well. I believe that Jesus is talking about the spirit living in us who believe. In our spirit we have the source to all life. We so easily identify with our mistakes and the negative. We allow our emotions and thoughts to rule our life, but we must take authority over them and make them come under the dominion of the Word of God. That is the truth and they make us stable.
It was written that Jesus is the Prince of Peace. Jesus is also the Truth and He is not so peaceful that He compromises. If people want Him to compromise with sin, He won't. We read in 1.John 1:9 what we should do with sins: If we confess our sins, He is faithful and just to forgive us our sins and to cleanse us from all unrighteousness." When we are washed white as snow, we get peace by the Prince of Peace. He has taken our sins, but He doesn't stop there. He also says that we should throw all our worries on Him. (Matt.6:25—34) When I look around me, I think I have to throw quite a lot of worries on Him. What a huge sack on Him! We must be careful in order to avoid taking the worries back. We think that we must help the Lord and we try to solve problems that are too big for us. Jesus wants to give us peace and worries represent the opposite. We must understand the fear and anxiety come from the wrong source and the Lord wants to free us from that. If we do not understand that, we can easily identify with fear and anxiety.
                          Jesus is the Prince of Peace. He gives us eternal life!
When Jesus was born, He was born in a stable. It was extremely simple, but the whole universe knew that something big had happened. An angel appeared to some shepherds in the field and lots of angels came down and started singing: "Glory to God in the highest and on earth peace, good will toward men." (Luke 2:14) A star was standing still over the place where Jesus was guiding the shepherds and later the wise men to come and honor Jesus.
A king was born, a king giving His own life in order to save humanity from eternal death.
ALL HONOUR BE TO THE LORD AND CONGRATUALTIONS WITH YOUR BIRTHDAY!
Mother Else