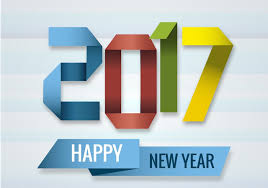 2017 IS YOUR YEAR!
I believe that you are curious about the meaning of this title. You should continue to read and you will know what I mean.
I started to search on the net for words from well- known prophets. I wanted to see what they said about 2017. I do not quite know what I had expected, but I did discover that they emphasized different parts of the Bible. They didn't contradict each other, but they had totally different head-lines. None of us need to doubt the fact that we live in serious times and many of us believe that we live in the last days. That doesn't mean that we should say when Jesus is coming back for His Bride. I do believe that many bad things might happen around us and during the last days we have heard about terror in different parts of the world. That creates fear and insecurity, but some people make up their mind and say that fear should not rule their lives. That would give the enemy victory they say. I am now coming close to the point of my head-line.
You and I are not responsible for what happens around us, but how do we react to it and what do we do about it?
God said to me that the year ahead will be decided by our doings. We cannot change the entire world, but our own lives. Should your life be ruled by fear? Are you supposed to stop travelling? Are you supposed to avoid all places where many people are gathered? You might not dare to use a bus or metro to the job any more. Maybe you do not dare to visit shopping centers or enjoy great concerts. Some people are afraid of watching the news since there are mostly bad news. Others are going on the internet looking for all the bad news all the time. It almost becomes a mania. We human beings are different and everybody doesn't have a strong psyche. That depends on the genes and what we have experienced in life. I seriously do not believe that we primarily should fill our lives with the negative nor do I believe that we should be totally ignorant about what is going on around us.
Our everyday life should not be ruled by fear.
We Christians have a Bible saying 365 times that we should not be anxious, nor fearful. We read several places in the Bible: "Fear not, for I am with you!" One example is Isaiah 41:10. The only reason why we do not need to fear is that God is with us. Since we are children of God, we are never alone unless we turn our backs to Him. We are having a Father who is almighty. I have heard children fighting about their daddies. They would fight about who is the strongest and the most kind etc. We can boast about a Father who is almighty and who has created heaven and earth. Nothing is impossible for Him and nothing is impossible for those who believe. (Matthew 19:26 and Mark 9:23) Faith will be a key word for you and me during 2017. Faith and security are the opposite of fear and insecurity. Our faith should first and foremost be built on God, His character and power. It is also faith in the fact that His Word is true and it is applicable today. You should also have faith in yourself and the abilities He has created you with and the gifts He has given you. One also needs knowledge about the weapons God has given to His children. All of these elements will be important in managing our everyday life. Our faith or our lack of it will decide the outcome of 2017.
Psalm 91 is one of the psalms in the Bible creating faith and confidence. The conditions for the rest of the psalm is that we dwell in the secret place of The Most High and abide under the shadow of the Almighty. That means that we are very close to Him. That psalm mentions things that should not strike us like pestilence and arrows that flies by day, nor the terror by night or if a thousand fall at your side or ten thousand at our right side it should not come near us. Verse 10 says that no evil shall befall us and no plague should come near our dwelling place. God also promises us a long life at the end of the psalm. I believe that we should read this psalm often and we will believe the promises and that will influence the decisions we are making during 2107.
I am not afraid of travelling around in the world since I believe that The Holy Spirit will guide me. God is normally the One telling me to go to a certain place. If not, I ask Him for permission. When I order a ticket, I always ask The Holy Spirit to be with me and to guide me by peace. I do try to live by the prayer "Your will be done, on earth as it is in heaven." (Matthew 6:10) That doesn't mean I always do the right thing. Sometimes I sin and there are times when I follow my own will, but most of the times I try to live by the guidance of The Holy Spirit since I do know that will bring joy and peace. I do not have a life without attacks and resistance. We are still living in a world with lots of darkness and Satan is not thrown into the Hell of Fire yet.
I mentioned that faith is a key word to success. I believe that love is another word. I recommend you to read 1.John and the fourth chapter. You will see a lot about love. In the 18th verse it says that perfect love casts out fear. We really need perfect love during 2017. Where do we find it? Will our loved ones have it? Maybe our pastor? You might find love there, but only the Lord has perfect love. His love is perfect and unconditional. He has given His life for you. He loves us with an eternal love. That doesn't disappear if you have a bad day. The more of love, the less fear. In psalm 23 we read that goodness and mercy shall follow us. Maybe there should be times when we stopped for a while to receive it. One way is to be with our Father in Heaven. We might worship the Father and Jesus or just be quiet in their presence. You might read the Word or just talk to them. When we read the Word, we see that the Bible is full of promises. When we believe these promises and act on them, we honor our Lord, but we are also allowing Him to fill us with His love. He wants only good things for us. I cannot mention love without referring to 1.Corinthians 13. It ends by saying that love is the greatest.
Once and a while I meet people with a bitter root. They are spreading a bad atmosphere around themselves. They might also be revengeful. We read in Romans 12:19 that the revenge belongs to the Lord. Our duty is to forgive and to bless. We are the ones deciding if we should be bitter or if we will walk in love. This year becomes what you and I choose to do. There are quite a lot of circumstances that we can't choose, but we have the power to choose what we do with the circumstances. God has predetermined certain things for this year, but a lot is dependent on your choices. What kind of 2017 do you want?
LET JESUS BE IN YOU AND YOU IN HIM AND USE HIS PRINCIPALS. THAT GUARANTEES YOU A GOOD 2017.
Mother Else