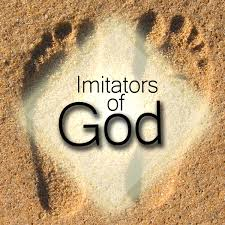 BE IMITATORS OF GOD!
I want to start by quoting the letter to the Ephesians, 5th chapter and the first and second verse. "Therefore be imitators of God as dear children. And walk in love, as Christ also has loved us and given Himself for us, an offering and a sacrifice to God for a sweet-smelling aroma." I received an inner picture from God. I was rather surprised. It was about a group of people in the jungle. It was dark and one couldn't see much and there were many trees and branches. It could be quite dangerous because of possible snakes and small and big animals. One really doesn't want to step on the wrong thing and one wants to see the dangerous animals before they smell you. The important person was the leader, the local guide. Everybody in the group needed to keep their eyes on the leader. He was equipped with a weapon. It was not room for anybody to go on their own. Everybody on the narrow path kept close to each other and they followed each other one by one while they kept their eyes on the leader.
I felt this picture was a good comparison with our Christian walk, especially during these days. We are living with a lot of darkness around us and there could be something dangerous everywhere. It is therefore very important to keep one's eyes on the Leader. Who is He? Jesus. In the jungle they sometimes have a helicopter watching over the group. Do you know that we always have somebody watching over us? We have a Father seeing the dangers before we see them ourselves. The Holy Spirit and the angels are there as serving spirits for us. I do not think that we know of all the times that we have been saved from "lions and snakes". I presume that you understand the symbolism. In the jungle people stay close to each other. Some Christians think that it is only them and the Lord, but that isn't the will of God. Jesus is the head, but all of us has a part in the body.  All parts are dependent on the blood that has life in it and each part needs to be connected to the rest of the body. This comparison isn't quite satisfying since we as children of God have both the Life and the Blood in us, the life and blood of Jesus, but we need the rest of the Body.
I want to show you more places in the Bible, referring to us as imitators. You can look up 1. Peter2:21. The previous verses write about unrighteous suffering. It says that Jesus was suffering even if He was innocent. He has given us a good example and it says that we should follow in His footsteps. I believe that the leader in the jungle also risks his own life so he can save the rest of the group. I think that human beings are very vulnerable when it comes to being treated unjustly. We really need to follow Jesus. We must forgive and forgive and leave the revenge to God.
We cannot follow anybody unless we keep our eyes on the person.
The next Bible verses are 1. John 2:6 and John 15:4. The first says that if we abide in Him, we must walk like Him. The second one says that we cannot bear fruit unless we abide in Him. It is quite natural. An apple-tree produces apples. I do know that some non-believers can do good deeds, but all people are created by God and have some of Him in them. We Christians have the life of Jesus in us and that life should flow through us and from us. We cannot produce the fruits of the Spirit without being in Jesus. What are the fruits of the Spirit? You can look up Galatians 5:22 "The fruit of the Spirit is love, joy, peace, longsuffering, kindness, goodness, faithfulness, gentleness and self-control." We are talking about real fruits and no imitations. We have just started a new year. Will your branch be full of Jesus-fruits?
Back to the comparison with the guide in the jungle. I mentioned that he had weapons in his hand, but in the jungle it is dark and the path is narrow and the leader is also carrying a torch. He needs to see where he walks and there are always a danger of snakes and different animals in all sizes. He uses it to light up the darkness. When I "saw" the torch for my inner eyes, I was reminded of psalm 119:105. It says that Your word is a lamp to my feet and a light to my path. We must first and foremost have our eyes fixed on Jesus. Then we must have something lighting up the narrow path we walk on. We have the Word of God to do that. It doesn't say that it will shine many miles ahead, but just for the moment. We need it all the time then. Christians shouldn't play blind man buff.
Quite a few people ask me many questions and some think that I am an oracle. What are they supposed to do? What does God want them to do with their life? With whom should they get married? Maybe they should move to another place? The do not enjoy their church, but where should they go? The questions are many. I always ask them if they have talked to the Lord about these issues? Have they been seeking Him? Have they found a Bible verse to guide them? One can't always find a verse as a direct answer, but one can ask The Holy Spirit to guide one's decisions with peace. I might come with some more questions and we will always end by praying together. I want to bring them to Him holding all the answers. (not me).
I mentioned earlier that the leader of the group had a weapon. Each member of the group might also have something to defend themselves with. We Christians have been given weapons by God. What did Jesus do when He was tempted by the devil in the desert? He said: "It is written!" The Word of God is one weapon. The devil knows the Word and it is an effective weapon. Jesus has also been very generous since He has given us permission to use His name. I am not that kind that you can use my name when you go to the bank. The devil knows that he was conquered by Jesus and we can therefore use His name in faith. You can say: "You Satan is not allowed to steal my son being tempted to use drugs. Release him in the name of Jesus." "Cancer, I command you to leave my sick mother in the name of Jesus. She is bought with His blood." I could have used many more examples, but you understand what I mean. In the Book of Revelation 12:11 we read that they overcame the devil by the blood of the Lamb and by the word of their testimony. That means that both the confession and the blood of the Lamb can be used as weapons. If you agree with the lies of the devil you might not have any victory. If you had been in the jungle, you run a risk of being eaten by a wild animal. We know that God watches over us and especially the new born babies, but He does expect us to use the weapons when we grow older.
I have not talked about Jesus as a Teacher, nor as a Healer. I didn't write about all the times He drove out demons, changed people, fed over 5000 out of almost nothing, raised people from the dead etc. I have used the picture from the jungle this time, but we should naturally be imitators of Him in all areas.
FOLLOW JESUS!
Mother Else
THERE WILL NOT BE A NEW WRITING BEFORE THE END OF FEBRUARY, DUE TO TRAVVELING.