RESIST THE DEVIL, STEADFAST IN FAITH.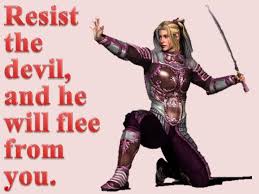 RESIST THE DEVIL, STEADFAST IN FAITH.
Part 1
I have lately met people complaining about difficult situations and they say that they cannot do anything about it. That could be right in a very few cases, but the Bible gives solutions most of the time and we can focus on solutions instead of the problems.
I'll refer to two Scriptures: James 4:7 and 1. Peter 5:8+9. It says that we must be awake. I am just now reading a book saying that there is a daily conspiracy against us. This is going on underneath the surface. In 1. Peter we read that the devil goes around as a roaring lion seeking whom he might devour. A roaring lion can be both seen and heard and therefore I am not so afraid. I am much more afraid when he comes sneaking, dressed in religious clothes and might look like an angel. I think that a roaring lion might be when he uses women and children in prostitution and slave-trade. It could also be within the criminal world. I have lately seen a lot of tragedy among those who are dependent on different money games. The devil tempts them with easy-earned money, but all of a sudden they have a lot of dept. That could in the worst cases lead to suicide. We can really say that the devil has devoured them then.
When I look around and see the different churches and what is happening in the Body of Christ, I get shocked over all the deceiving spirits. One thing is that many are departing from the importance of the Word of God. Others are only reading the Old Testament in order to identify with the Jews. Others are saying that we should not read the Old Testament. There are quite a few saying that the Islam Allah is the same as our God. We can also talk about a false emphasize on grace meaning that we do not need to confess our sins. 1.John 1:9 does not exist. Christ dealt with everybody's sins on the Cross. Yes, He did that, but we must confess them. The Lord is gracious, but also pure and righteous.
The lesbians and the homos want to remove everything from the Bible that says that sex with the same sex is sin. Today we should only talk about love. What is right for you, is right. What a lie!
Quite a few Christians do not know nor understand so much about the occult. They might think it is all right to practice yoga, meditation and other things from the occult world. I have many times seen preacher on television encouraging people with demonic manifestations. They think it is The Holy Spirit and ask them to continue. The gift of discernment is needed more than ever. No one is perfect, but way too many preachers minister through two sources, the occult and the Holy Spirit. The sources are often mixed and it is difficult to know what is what.
I once asked the Lord why so many preachers were falling in sin or ministering from two different sources? The answer was that they hadn't been delivered in their soul and body. Demons might hide and some choose to hide until the preacher is quite known. They do the most harm then. Way too many Christians do not believe that a Christian can have demons. They certainly can't have demons in their new-born nature. Others say that everything is ok when they get saved. They refer to 2. Cor.5:17. It says: " Everything has become new." I didn't get a new body when I got saved, nor did I lose my former life with all bad and good experiences.
Many Christians do not want to talk about the devil. I wanted to pray for a problem that was described by some people present. Another person protested and said that the Lord would take care of that. Yes, it is the Lord who saves, heals and answers our prayers, but we are called to pray and use the authority given to us through His name. We did pray for the problem and have seen fantastic results.
Many Christians accept sickness and death without doing anything about it. They might say: "The Lord giveth and the Lord taketh." The Lord doesn't take your child in cancer. He is not making your teenage boy to a drug-addict. The Lord doesn't steal your money, nor does He send thieves into your house when you are on vacation. The Lord doesn't start conflicts in your family nor does He start division in your church. The Lord is not spreading false rumors about you and your family. The devil is using people and he will often use people close to you. That will cause the greatest damage.
Many are fighting people and make conflicts to a human conflict and not a spiritual one. Ephesians 6:12 says that our battle is not against flesh and blood, but against principalities, against powers, against the rulers of the darkness of this age and against spiritual hosts of wickedness in the heavenly places. It continues to encourage us to put on the whole armor of God. I come back to that. It is interesting that the Bible encourage us to battle against spiritual forces that many Christians ignore or say do not exist. I believe that we must learn more about the tactics of the enemy. We are right now having the world championship in football. As soon as a team know the opposite team, they study each player and the entire team. What kind of formations and tactics do they  use? We must do the same in our Christian walk.
WE DO NOT WANT TO LOSE, BUT WIN!
Mother Else