JESUS HEALS AND RESTORES THE ENTIRE HUMAN BEING.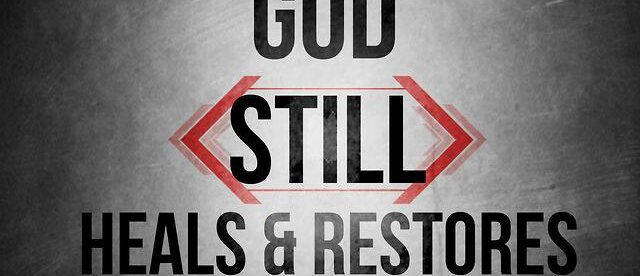 JESUS HEALS AND RESTORES THE ENTIRE HUMAN BEING.
We read in 1.Thessalonians 5:23 that every human being has a spirit, soul and body and we read in Genesis 1:27 that we are created in God's image. God is three, God the Father, Jesus and The Holy Spirit. When Eve and Adam were tempted, they opened up for sin and they could no longer live in the perfect Paradise. The intimate relationship with God was broken. I believe that God was longing for a relationship with the people that He had created and Jesus got to be the solution for the problem. Jesus carried all the sins for all the people and in Colossians 2:14 it says that He wiped out the handwriting of requirements that was against us. He nailed it to the Cross. Jesus was the perfect sacrifice for our sins and He opened a way to the Father if we receive Jesus as our sacrifice and Savior.
            Our broken relationship with God was restored with Jesus.
When we are born again, we receive a new nature, the nature of Jesus moves into our spirit. Some people are saying that everything is new, but we do not receive a new body and we do not get rid of our past history. The pain from the past do not disappear automatically, but God can help us with the pain both in our soul and body.
Jesus made healing and restoration possible for the entire human being on the Cross.
Some churches pray for physical illnesses, but they do not talk about wounds or problems in the soul. Other churches do not believe that Jesus heals today. There is no education about that. I didn't know about divine healing before I was in the middle of the thirties and I had been in a church my entire life. When my youngest daughter was born with a sickness, I got desperate for help and I was asking many people if they knew somebody believing in divine healing. When I finally got in contact with somebody, my daughter got healed from more than one sickness. The doctor examining her before she was starting school was asking about the different sicknesses and I could gladly say that she was healed.
I could give you many places in the Bible describing how Jesus healed, but start with Matthew 4:23. It says there that He preached the gospel of the kingdom and healed all kinds of sickness and all kinds of disease among the people. It doesn't say that something was too big or too small or too difficult. The Bible is also saying that God both can and will heal. What is hindering us to get well then? I do not really know, but sometimes I believe that it has to do with the person we pray for. Maybe something should be broken in the blood-line. Maybe the person hasn't forgiven somebody? We read in Matthew 6:14+15 that if we do not forgive, our heavenly Father will not forgive us either. Another reason could be lack of faith in the person praying or it might be something hindering in the spirit world. Daniel had to wait for three weeks because of the prince of the kingdom of Persia. It was not God waiting to answer. Honestly, I do not have all the answers.
I believe that the Lord also heals wounds in the soul. It might be curses and inherited sickness in the family. Some families are known for poverty, alcoholism, certain sicknesses etc. We read in 1.Peter 1:18 that curses in the families can be broken and in Galatians 3:13 we read that Jesus has redeemed us from curses. He has bought us free.
Some people have been brought up in insecure families. One or both parents might have been drinking or maybe one or both parents were sick. In some families there is a lot of quarrelling and other children have been exposed to incest or other forms of encroachment. Some parents do not understand that wrong words can become like curses. Such words can be broken many years after they have been spoken. Can God do something about your negative history? He cannot say that it hasn't happened, but He can come with His Spirit into your wounds, pain and memories and He can heal and deliver you and change the negative and fill you with positive and true words. God is only good and He loves you and His love can melt knots and bitterness. I see these things happening almost daily.
Jesus did also another thing belonging to healing and restoration. He delivered people from demons and ties binding them. In Matthew 4:24 it says that Jesus delivered those that were demon-possessed. We read in chapter 8 about the demons entering into the pigs and the pigs died. One-third of His ministry is about deliverance and I cannot understand why so many Christians are against deliverance then. We read in Mark 16 that delivering is the first sign of being a believer. Are you a believer? Evil spirits cannot be in the spirit of a Christian, but in your sol and body.
      Jesus has made it possible to deliver all people from demonic influence.
RECEIVE EVERYTHING JESUS HAS DONE AND WILL DO FOR YOU!
Mother Else