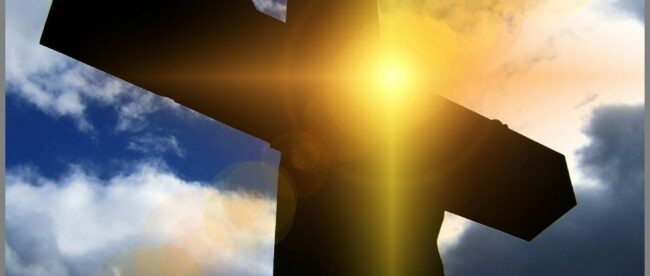 IT IS FINISHED!
We have just finished celebrating Easter here in Scandinavia. We are often sharing Communion on Maunday Thursday. Jesus instituted the Communion when He ate the last Easter meal with His disciples. He said that the bread was His body and the vine His blood. We are not eating His body, nor do we drink  His blood, but it is a symbol of His suffering for our sins. He gave His body for our sake and His blood was running for our sake and the vine is like His blood. Jesus was saying to His disciples: "This is My blood of the new covenant, which is shed for many." In the 1. Letter to the Corinthians 11:17 and forward we read more about the Communion.
On Long Friday we are celebrating the sufferings of Jesus from the time when He was betrayed until He died on the Cross. Pontius Pilate wanted to set Him free, but the mob wanted Jesus to be crucified and the murderer Barabbas to go free. The tradition was that a prisoner was released during the time when they had a feast. The prophet Isaiah prophesized 700 years before about the crucifixion of Christ. My favorite verses in the Bible are: Isaiah 53:4+5 "Surely He has borne our griefs And carried our sorrows; Yet we esteemed Him stricken, smitten by God, and afflicted. But He was wounded for our transgressions, He was bruised for our iniquities; The chastisement for our peace was upon Him, And by His stripes we are healed." Long Friday is a day of suffering. It might be the most important day in our history. That was the day when we got the solution for all our sins. Jesus was the only spotless lamb in a human form. He was willing to suffer for our sake even when He was innocent. The devil thought that he had won, but in reality he had lost. He didn't understand the victory that Jesus won on the Cross. I do not believe that we totally understand it either. Do we understand His pain? Jesus felt that even the Father had left Him. He felt totally alone. The Father never left Him, but that was His feeling. Darkness came all over the earth for three hours and the veil of the temple was torn in two and the sun was darkened. Do we understand the powers at work? No, the only thing that I understand is that it was something very strong and the most important event in history.
The next day of celebration is Easter Sunday. It was said that it was the first day of the week. Mary Magdalene went to the grave. She saw that the stone in front of the tomb was taken away. She is running to Simon Peter and John since they also were on their way to the grave. She thought that somebody had stolen Jesus. In the grave they could see the linen clothes of Jesus and Peter and the other disciple ran to the grave. They started to remember what Jesus had said about rising from the dead. Mary stood right outside the grave when two men dressed in white appeared inside the tomb. They asked her why she was crying. She explained. In the same moment, Jesus appeared, but she didn't understand that it was Jesus, but she finally did. He said: "Do not touch Me for I have not been to My Father yet." He asked her to go to the brothers and explain that He was going to His Father, My God and your God. It was hard for them to believe, but Jesus finally revealed Himself for the disciples as well. Thomas, one of the disciples wasn't there the first time that Jesus appeared and he said that he had to see His marks in His hands and he had to put his finger in His side. When Jesus came back, He allowed Thomas to do so.
Jesus stayed on earth for 40 days. He revealed Himself to more people and He together with the disciples several times. He performed many miracles, but very few of these have been written down.
Time was coming close for Jesus to leave this earth. He said that they should not be sorry, but they should be waiting for The Holy Spirit to come and when The Holy Spirit came, they should receive power to be His witnesses In Jerusalem, in all Judea and Samaria and to the end of the earth. Then He was lifted up and a cloud took Him away before their eyes. They continued to stare up toward heaven when two men dressed in white apparel. They said: "Men of Galilee, why do you stand gazing up into heaven? This same Jesus who was taken up from you into heaven, will so come in like manner as you saw Him go into heaven. " They went with some other believers and they waited for The Holy Spirit to come. It is written that they were about 120 people waiting and praying in one accord and The Holy Spirit came ten days later.
We understand that the resurrection of Jesus was a great miracle. He broke the power of death. We read in Colossians 2:14-15: that He wiped out the handwriting of requirements that was against us. Jesus had removed that and nailed it to the Cross. He had also disarmed principalities and powers and made a public spectacle of them. He was triumphing.
JESUS TOOK OUR SINS, HE BORE OUR SICKNESSES, HE BROKE THE CURSES AND HE WON AN INTERNAL VICTORY OVER SPIRITUAL POWERS.
It is on account of what He did on the Cross, that we can lay hands on the sick and have faith for healing. It is because of Him that we can declare people free from sin when they confess them. It is because of Him that we have power over the devil.
LET US FUNCTION IN THE POWER OF HIS RESURRECTION!
Mother Else