GOD WANTS US TO BE WELL AND ENJOY OURSELVES.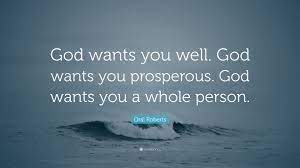 GOD WANTS US TO BE WELL AND ENJOY OURSELVES.
I want to start with the third letter of John and the second verse. John is writing this to Gaius who was a leader in the congregation. He was a close friend to John and he was one of the disciples of Jesus. He is writing like this:  " Beloved, I pray that you may prosper in all things and be in health, just as your soul prospers." John continues to honor Gaius for the way he lives his life.
Some people do not want to become Christians because they think that their life would be very boring then. They think that their life would be full of laws and regulations and they would not feel well. WHAT A DELUSION. This must come from wrong teaching, demonic thoughts or things we Christians have said or done. We are the only letter none -believers can read except for the Bible.
The last verse of psalm 23 goes like this: "Surely goodness and mercy shall follow me all the days of my life and I will dwell in the house of the Lord Forever." This is a verse that God often reminds me of. Sometimes I feel that I do not stop long enough to receive the goodness and mercy that God talks about. I do not understand all the times that God has protected us from having an accident. I think especially on this when I am out driving. In the verse before in the same psalm we read that He prepares a table before me in the presence of my enemies and He anoints my head with oil and my cup runs over.
             When the Lord gives us something, He does it so it runs over.
Some of you want to say that you have not seen nor noticed that. Maybe you feel that you live in poverty and lack. We must never forget that we have an enemy and maybe that you do not expect it or lack faith for it. I have had to brake curses over my life that came from my family after I got saved. Jesus dealt with curses on the Cross and has given me authority to confirm what He already has done.
What more did Jesus do on the Cross? He carried the sins of the entire world on Himself, everything you and I and everybody else have done and will do. I do not think that we understand the pain He suffered. Sin is separating us from God and that was why Jesus became the sacrificial lamb for the whole world. We could once again have communion with God. That communion was broken when Eve and Adam sinned. What a joy to once again come close to the Father and experience His love. He loves us unconditionally and must be the only One loving us without conditions.
                      The One loving you, wants you to be happy and content.
If God wants us to be well, He doesn't want us to be sick and Jesus did something about that on the Cross. He carried all our sicknesses and in His wounds we are healed. (Isaiah 53:5) Why do we get sick then? That is a good question. Sickness exists in this evil world. Sin is also existing in this evil world. Certain diseases run in the family and some might be caused by wrong food or lack of exercise. Sinning is also opening for the attacks of the devil. If you cannot forgive somebody, that is also opening up for the devil. Many times we do not have an explanation. We might have gotten it from somebody else or one gets sick all of a sudden. Some believe that God gives us a sickness to punish us, but that is not true. Jesus would not have carried it on the Cross then.
Does God want us to be rich? Matthew 6 writes that we should not lay up treasures on earth, but in heaven. It also says in the same chapter that we should not serve two masters. We should not serve God and mammon. In Matthew 6:33 it says that we should first seek the kingdom of God and His righteousness and then all the other things will be added to us. It doesn't say that we should seek for poverty, but money should never be our first priority. Some people never stop working in fear of not having enough money. Some seek money for buying expensive things.
                                      What is important for you?
In India I could hear poor children laugh and rick people quarrel and act as they were unhappy.
I believe that God wants us to love each other. He wants children to grow up in harmonious families. I have several times "heard" God say that He was suffering when children were suffering. He really wanted the best for them, but He could not change the parents or other people in authority against their will. It could be drinking too much, quarreling or any kind of abuse. When a person seeks help for a bad childhood, God can both heal and deliver.
                  God wants children to grow up in safe environments.
We find a lot of envy and gossip in the body of Christ and that has nothing to do with God. That comes from our flesh and demons are often behind such things. God wants us to follow Him and where He is, there is love and peace. Many are saying that it is difficult to find a spiritual home where one can feel safe. That grieves the heart of God since He wants His children to live together in love and harmony. We Christians are suffering from this and it hinders the world to get saved.
LET US RECEIVE THE LOVE OF GOD AND GIVE IT TO OTHERS!
Mother Else