GOD LOVES TO SEE HIS CHILDREN HEALTHY.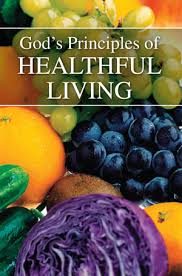 GOD LOVES TO SEE HIS CHILDREN HEALTHY.
Some people think that they are sick as a punishment from God. I do not believe that. You can read Matthew 7. Jesus is wondering if a father would give his son a stone when he asks for bread or if he would give his son a snake when he asks for fish. That would only happen if the father was mentally sick. Don't you think that the love of our heavenly Father is much greater? I think so. I believe that God is love and that He has love. We read in Romans 8 that we have received The Spirit, giving us the right to be called the children of God and we can call God: Abba, Father. He wants the very best for us. In the third letter to John, the second verse we read that it is desirable for us to be healthy and to prosper.
God is good and wants us to be well and happy.
We must have a right picture of God. His desire for us to be healthy is so strong that He sent His only Son to earth to take our sins and sicknesses. Some of you might say: "No, now you go too far." "Just look around and see how people suffer and die of sicknesses You cannot say that He has taken our sins either. The world is full of sins." We are both right. "That's impossible," you might say. This world came under the dominion of the devil when Adam and Eve sinned. That's the reason why sin and sicknesses exist, but read Isaiah 53:4+5 and 1.Peter 2:24. They say that Jesus carried our sins and sicknesses He took them with Him to the Cross. God is hating sin and we could not have come to Heaven if we hadn't accepted Jesus as the Lamb that was sacrificed for us. When I pray for sick people, I can do this in confidence knowing that Jesus has already taken them. I also choose to accept Jesus as the atonement for my sins. It seems that it is easier for people to accept that Jesus has taken our sins, but more difficult to accept that He also took our sicknesses.
I do not deny that sicknesses exist, but Jesus has the solution.
Jesus said that He only did what the Father told Him to do. A lot of His ministry circled around healing and deliverance. He was also teaching. God wants to see His children well and free.
        God's children can be limited by the devil and by sicknesses.
We read in Matthew 8 that Jesus was healing all sicknesses. Jesus can heal all sicknesses and He will heal all diseases. I refer to the leper in Matthew 8 saying: "Lord, if You are willing, You can make me clean." Jesus touched him, saying: "I am willing; be cleansed." The man got immediately well.
God wants to heal.
Some churches pray for physical healing, but not the ones in the soul. Others emphasize counselling. Some do not pray for the sick at all. They are not loyal to the Word of God then. Mark 16 says that we should lay hands on the sick, and they will recover. We cannot heal anybody, but the power of God in us can. If you are a Christian, you have the resurrection power and the healing power in you. When you lay hands on somebody, you transmit that power. Since powers can be transmitted, we should not allow everybody to lay hands on us.
We read in James 5 that we should confess our sins to one another in order to be healed. We can also read in the same chapter that we should call on the elder when we are sick and he should anoint us with oil in the name of the Lord. Paul had so many miracles that he finally took handkerchiefs and aprons from his body to lay on the sick and diseases and evil spirits left them. The same thing might happen today. I have prayed for both handkerchiefs, napkins and other pieces of cloth and heard that people recovered. We must have faith for what we are doing.
Jesus said that whatever we ask in His name, will we receive. We must understand the importance of the name. It is not a formula, but contents a mighty power and authority. I listened to a preacher yesterday saying that he had prayed for 400 people before he got any results. He was asked about the difference between then and now. Today he experiences healings almost all the time. He answered: "I hadn't understood what authority it was in the name of Jesus", he answered. When you drive out demons, you must know that you are the head and not the tail and you must know that the spirits must obey Jesus in you. They got conquered when Jesus proved Himself to be a conqueror on the Cross.
God said: "Be light" and there was light. I also believe that we can talk to the diseases and they will disappear. Maybe we first have to command a spirit to leave an area in our body before we speak to the symptoms. We must be led by the Holt Spirit no matter which method we are using.
I am not against doctors and medicine, but before you lean on them,
GO TO THE DOCTOR OVER ALL DOCTORS!
Mother Else