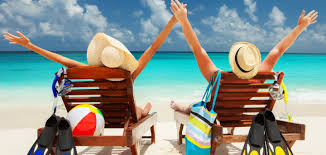 IT IS ALL INCLUSIVE.
I recently heard a story that is the reason for this head-line. A couple went abroad to celebrate their 30th anniversary. They had bought a trip with everything included. In the beginning they didn't know what that really meant, but they understood more and more that everything was included and they took what they had paid for. They were wearing a token on their arms showing that they had the rights for "all inclusive". They had never done anything like this before and they thought it was quite exiting.
This was a Christian couple and Ephesians 1:3 became very much alive to them. We read there: "Blessed be the God and Father of our Lord Jesus Christ, who has blessed us with every spiritual blessing in the heavenly places in Christ." You and I are blessed with all spiritual blessings. Have we understood that it is all paid for? We are free to serve ourselves with all the good diches. We read in psalm 23 that God prepares a table for me in the presence of my enemies and He anoints my head with oil. My cup runs over. Many of us have been living under a poverty curse and we allow the devil to come with sicknesses and problems without exercising any resistance. God is not stingy. I cannot defend all of the preaching of Glory Theology, but I do believe that God is good and He wants us to be well. In Glory Theology they have talked about luxury of houses and cars. That seems wrong, especially in poor countries. Paul says in 1. Timothy 6:6 that godliness with contentment is great gain. I do not believe that we Christians should strive for luxury when we know of sisters and brothers living without food and water. In the first church they shared everything and I believe that we should have more of that attitude. Let me go back to the head-line.
What did Jesus do on the Cross? He took our sins and our sicknesses. He became a man of pain in order for us to have peace. In His wounds we are healed. (Is.53:4+5) Jesus has made it possible for us to be well. Sicknesses came after the fall of man. I understand that this is difficult to understand when one is sick, but the truth will set us free. I am not against doctors and medicines, but Jesus has already carried our sicknesses to the Cross. We read in James 4:7 that we should resist the devil and he will flee from us. We can command the sicknesses to leave and proclaim Is. 53:4+5.
We can grab hold of what Jesus did on the Cross!
One of His many good diches is health.
When this couple went on their trip, they paid for their travelling as well as for their stay. They paid for a ticket back and forth. Our ticket to Heaven is already paid for and there is no return ticket. We also know how we get there since we know the Way. Jesus is saying: "I am the way. the truth and the life." Many do not understand that Jesus has paid the price with His own blood and they therefore do not receive Him as their Savior.
Are you suffering with fear, restlessness depression? 2.Timothy 1:7 says that God has not given us a spirit of fear, but of power and of love and a sound mind. In Romans 5:5 it says that God has poured out His love in our heart. We have love. You might not feel it, but it is there. The opposite of fear is love and peace. Jesus says in John 14:27: "Peace I leave with you. My peace I give to you; not as the world gives do I give to you. Let not your heart be troubled, neither let it be afraid." Peace is a good dich we can eat of. Jesus has paid the price. It's all included.
Jesus says that He has given us faith and without faith we cannot please God. (Heb.11:6) We need faith to believe that God exists and to trust the promises in the Bible.
Back to the Ephesians saying that we are blessed with all spiritual blessings. In Deuteronomy 28 we can read about our blessings. Our children should be blessed, what we grow, our animals, what we bake and cook should be blessed. We are promised victory over the enemy. If you follow Jesus, He will open the windows of heaven over you. Our hands and the work of our hands should be blessed. We are promised enough money so that we can lend to others. We are head and not the tail. We are supposed to go forth and not back-wards. These promises we can remind the Lord of and we can proclaim them.
We are talking about good diches. I believe that God wants us to eat healthy food. He says that we can eat everything, but everything isn't useful. (1.Cor.6:12) Food is part of the blessings. Some eat too much and become sick. Others are thinking too much about diets and they move into fear. Our food and drinks should be enjoyable and useful.
THE LORD IS SAYING: COME AND EAT OF ALL MY BLESSINGS!
Mother Else