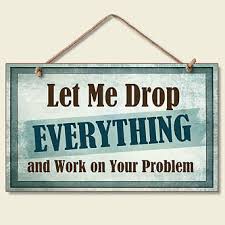 DROP EVERYTHING.
I am sure that you are wondering what will be coming. Even I am not quite sure, but I do have an idea behind the title. I recently came in a situation where I had to drop all my plans. I all of a sudden got sick. There were many plans connected with the main plan. I was supposed to go both to Norway and Poland and I had several commitments in Norway. It was not too difficult to drop all the plans, but it led to the fact that the Lord started talking to me about the willingness to drop everything and hold on to Him alone. I got a picture of a rope going from the earth to God. I saw that I was holding on to the rope with both my hands. One caan't hold on to anything else if one is going to use both hands. We must be willing to let go of everything that might be our false security now.
Children might have a special toy, doll or bottle that they hold on to before they go to sleep. It represents some sort of security. We adults might have money, things, medicine, position, people or alcohol and drugs in the worst case. These are only a few examples. Does our world fall apart when we lose money or our favorite vase? For some it does. I recently lost my purse with cards and money for a vacation. A woman reminded me of Nehemiah 8:10. It says that the joy of the Lord is our strength. The loss stole energy, time and money, but these things are not my security. The devil is the one who steals, but the Lord didn't stop it. I think He wants to see how we react. My first reaction was negative, but the word from Nehemiah helped me to turn the situation around and take back my joy and my strength.
Do you remember the story about the rich man in the Bible? We can read about him in Luke 18:18. The man to whom Jesus talked thought he followed the commandments and lived the way he should. I spite of that, Jesus asked him to sell all he had and give to the poor. Jesus continued to say: If you do so, you will have treasure in heaven; and come, follow Me." The man became very sorry because he was very rich. The man left Jesus. It doesn't say that Jesus was running after him. No, He let him go. I do understand that it is difficult to give everything one has, but this rich man did understand the importance of collecting treasures in heaven. He didn't understand the blessings of following Jesus, both for now and in the future. I do not think that he has had a revelation about the Father's love either. Maybe he thought he had to fix life on his own. This man was holding on to the rope with just one hand. That is dangerous. You can fall then. I guess you understand my symbolism. When we continue to read in Luke 18, we can see the reaction of people listening to the story. They asked: "Who can be saved? Jesus answered: "The things which are impossible with men are possible with God." Then Peter got curious since he had left everything and wondered what would happen to him and the other disciples. Jesus said: " Assuredly I say to you, there is no one who has left house or parents or brothers or wife or children, for the sake of the kingdom of God, who shall not receive many times more in this present time, and in the age to come, eternal life." God is not stingy, but rewards those who follow Him unconditionally. Yes, the key is to follow without any conditions set. We are not coming with a long list of what we want in reward for following Jesus. The disciples dropped everything and we are His disciples today. There must have been something so attractive with Jesus that they were willing to leave everything else. Jesus is the same yesterday, today and for ever more. Many are waiting or refuse to become Christians because they think that life will be boring or they think that they must do something that they really do not want. That confirms that they do not know Him. To follow Jesus is not boring.
I have never had it so exiting as when I have been out on mission trips and especially to other countries. Many are paying a lot for trips with extra excitement, but I travel on reasonable mission trips and experience a lot. One thing is that I myself can bless others with the Word and prayers, but I experience so much spiritually as well as personal. I get to see places where few people have been, get to eat exiting food and get to meet many different and exiting people. All of the experiences aren't pleasant, but exiting. I have seriously been in danger as a missionary. I have been in areas with malaria and other diseases and once I came to a railroad station in India in the evening without being met by the person I should. This is rather dangerous, also since I am a woman. What did I do? I had a choice between a nervous break-down or holding on to God with both hands. I cried unto the Lord and reminded Him of His promises. I took a rikshaw far out in the countryside and God protected me. He has promised to be with us at all times.
I wrote some months back about how we use our money and time. What is most important to us? How do we make our priorities?
Everything that is more important than God is an idol.
I know that some of you think that I am exaggerating, but I stand for that. I know of people who are afraid of making decisions in fear of people's reaction. They might be ruled by fear of men and the opinions of people are more important to them than what God thinks. Others are not following their calling in fear of losing a well-paid job. Money comes before the calling then. I could write many pages about this and so many things from everyday life can become idols. When you think about idols, you think about other religions, but it could be things from your daily walk. We live in a time of cleansing and preparing the Bride for the Bridegroom and things are brought into light to be seen and destroyed.
We must get rid of the idols in our life.
Some people constantly talk about old sins, their own or those of others. I recently heard a woman talking about what her husband said twenty years ago. He had confessed it long ago, but she kept on. One seriously hadn't forgiven then. I work with the past of people, but confessed sins are washed away with the blood of Jesus. We must live in confession and forgiveness. I often use a spiritual sword to cut off the past because the past will often draw people back to old things. Drop the past. It is gone. Â If we have wounds from the past, they can be healed and if demons have had an entrance through those wounds, get rid of them. We only go back to the past to get healed.
Use the rest of the year to get rid of everything that is unessential or steals your energy.
DROP EVERYTHING AND FOLLOW JESUS!
Mother Else