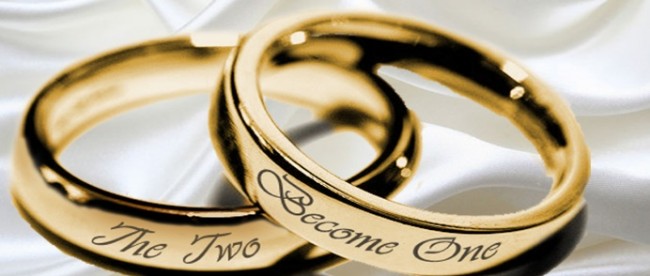 MARRIAGE
Part 2
I refer to last teaching where I emphasized the preparation before the wedding, seeking help for one's problems and making plans for a future together. One must go in the same direction and must have the same faith even if there should be points one disagrees with.
This time I will keep to the marriage. Two individuals have come together with different history and maybe different backgrounds. Everyday life has started and I mentioned a couple of conflicts already in my last writing. If one has had a good communication before marriage, one can avoid quite a lot of problems that might occur in the marriage. One big issue is the question about having children. If one doesn't want that, the question about birth-control will pop up. Should one of them get sterilized? Age is an important issue in these matters.
If one of them or both should work is another issue. It might be part of the first one. Should we have children? If you want children, it might be natural that one of you stays home when the child is small. This depends on what kind of economy the couple have and what kind of social support the country has for parents. It is the woman who should be home, you might say. In many cases that might be right since I do believe that the man should be the main provider, but it depends on education and the desires of the parents. There are men that would prefer being home with children. I recently talked to a couple. They were both doctors and they shared their work. Both they and their three children were satisfied with that. I do not believe that we should give the government the full responsibility for the upbringing of our children. I do not believe in a neutral upbringing. I think we as Christians should let our children get to know Jesus. We cannot force them to follow Him as adults, but I think most people would like to follow Him if they get to know Jesus as a loving friend as a child. I have unfortunately met people turning their back to Jesus because they have been beaten in the name of Jesus or threatened in other ways. This creates a wrong picture of God and Jesus.
We read in the Ephesians 5 about the order in the family. We should submit to each other, honoring Christ. The man should be the head, but he should love his wife as Christ loves His bride, the Church. The man should leave his mother and father and be joined to his wife and the two shall become one flesh. In chapter 6 we read that the children should obey their parents. "Honor your father and mother that it may be well with you and you may live long on the earth." The fathers should not provoke the children to wrath, but show care. The children should be trained in the Lord. This sentence that the man is the head has very often been misunderstood and some interpret that to suppress the wife. No, it says that he should love his wife and be willing to give his life for her as Christ did for the Church. I have provoked some pastors in certain countries when I say that the man should leave his mother and father. Some countries and India is one of them are practicing the opposite. There she has to leave her mother and father and move to his family. In arranged marriages she doesn't know her husband nor his family. It isn't always like that, but often. The parents should practice love and care towards their children and that doesn't create rebellion. In our human nature we might want to oppose rules and regulations, but that's something else. Children need borders.
Many have misunderstood the role of the women in congregational life. I keep to Galatians 3:28. It says that in Christ there is no Jew nor Greek, slave nor free or male nor female. We are one in Christ. I can therefore freely travel to different countries and churches, using the gifts God has given me, the gifts of the Spirit. I humble myself for the leadership and come in love, but I believe that the Lord has called me and given me the necessary tools for the task.
I have met quite domineering women and weak men in some countries or in certain areas of a country. That is not God's orders. The roles have been twisted. God once told me that a man should protect the woman and he should take the initiative. She should be the receiver of his love. Biologically she is created to receive. Domineering women can use control and that is witchcraft. Weak men will often be fearful and they have not taken their place as men. .Both domineering women and weak men need help. I have been to families where the sons have been bound by their mother and that can strongly influence their marriage in a negative way. It is written that the man should leave his mother and father and stay with his wife. Unhealthy mother/ son relationships must be broken. Sometimes they are demonic. Domineering mothers might also run their daughters and their sons-in law. I have counselled quite a few couples being denied living their own lives. There are times when one needs to put the foot down, gently, but decisive.
Nobody has a right to control me when I am an adult.
I want to show you Titus 2:15. There are different translations. Some say that we should not allow anybody to despise us or being stepped on or looked down on. We must remember that we are children of the Almighty God. A daddy doesn't want his children to be treated badly. Our Father in Heaven doesn't want His children to be treated unjustly. This is also important to remember in a marriage. I have lately gotten questions about how much violence or bad treatment a woman should tolerate in a marriage. I really asked the Lord about this since the Bible doesn't say anything specifically about this theme. I feel that His answer was as follows: Talk to the man about his actions and how it affects you and maybe the children. If you cannot do this alone, take a person in authority with you, maybe one from the church. If the man is willing to repent and stop his bad behavior, you should be with him in the process of deliverance, healing and maybe therapy. If he isn't willing to stop with alcohol, drugs or bad behavior towards his wife and children, she is free to divorce him. She must protect herself and the children.
How do we talk about our spouse? If you live in a difficult marriage, ask for advice and help as soon as possible. You should talk to someone who doesn't talk to others about your problem. You should not talk negatively about your wife or husband to many people. You two are one and you are indirectly talking about yourself since you are one. If you are only seeing negative things with him or her, take a piece of paper and write down positive sides as well. Nobody is only bad.
Paul often started his letter by thanking the Lord for a person. Maybe you should start thanking God for your spouse? You have chosen him or her. Yes, but I didn't know him or her well enough. That's why you should have read my first chapter about this subject. Take a lot of time to get to know each other before you get married.
MARRIAGE IS A COVENANT AND IT SHOULDN'T BE BROKEN EASILY.
Mother Else