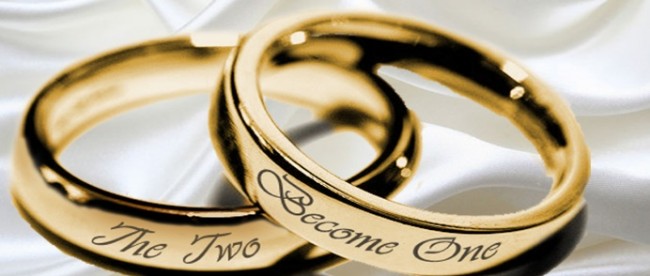 MARRIAGE.
Part 1
I have recently been asked to host seminars about marriage counselling and to counsel married couples. I just arrived from Ukraine where I had seminars about marriage and I counselled quite a few couples. Pastors from different churches saw this as a need for their churches.
I always started by talking about the rucksack that each part carries with them into the marriage. This was like a teaching from my book where I clearly separate soul and spirit and where I describe how problems from the past can influence the present and the future. I said that the future wife or husband should not be the one to fill the void of love from mother or father or be the one to heal the wounds from childhood. I recommended those who were not yet married to seek help for their problems before they got married. I loudly mentioned some of the lies that the devil frequently comes with.: "When I get married, my problems will disappear." If my partner isn't saved, he or she will get saved when we get married." Many women have married drug-addicts thinking they will save them. That has many times led to a disaster. We read in 2.Cor.6:14 that we should not be unequally yoked. What communion has light with darkness? It is therefore unbiblical to marry one who is not saved if you yourself is a born again Christian. I am sure that there are times when this works, but the Bible doesn't recommend it.
How well do you know the person you are getting married to? I believe that it is very important to know each other well. If you do not communicate before you get married, you most likely will not communicate after you get married. Are you aware of God's plans for your life? Seek Him and ask Him to show you His plans and His calling for your life. His plans for you must fit the plans He has for your partner. If you are called to be a missionary, you can't get married to one who doesn't want to move away from his or her hometown, but you might argue and say that you are both Christians. It doesn't help because one has to give up God's calling for his life. You are supposed to become one and must have the same goal for your lives. You are supposed to walk together on the same road.
Do you want to have children and how many? What is important to you? Who is going to work? Maybe both of you want to work, but how are you going to use the money you earn? Where do you want to live? You should be together in different circumstances. Do you want to go to the same church or do you want to go to separate churches? This is a real problem to some couples. It is recommendable to talk about the different love-languages before you get married. What is most important to you? Words or physical communication, gifts or time together? This is only a couple of examples.
Why do you want to get married? Many churches are teaching not to have sex before marriage. I agree with that, but many are unfortunately thinking that they must get married as soon as possible so that they can have sex. The purpose for marriage is sex then. That's a bad base for a lasting marriage. Marriage is much more than that. Some pastors think that it is difficult that I talk about Jesus as the Bridegroom. I believe that they think about a bridegroom in sexual terms. Sex is part of a marriage. There is no doubt about that, but it should not be given so much focus. I believe that those who pray together, stay together. I recommend couples to seek the Lord together before marriage. Does He bless your marriage or does He see some warning signs? He knows what is best for you.
I often compare the earthly marriage with the heavenly one. That is prepared over a long period of time. The bride should be without spots and blemish and must have white clothes. In 1.Thess.5:23 it says that the God of peace should sanctify us completely and our spirit, soul and body should be preserved blameless at the coming of our Lord Jesus Christ. A bride to be is thinking a lot about her dress, but we have already received the dress of righteousness. We do not pay a penny for it. We are not supposed to limit the number of guests either. Everybody is invited, but must be dressed properly, in the clothes washed by the blood of Jesus.
When you get married, you make a pact. That is not done easily. Many do not understand the seriousness of a contract. There are both one and two divorces even among Christians. There are times when a divorce is necessary in order to save oneself and the children, but many are made without seeking help neither from God nor a counsellor.
Now we will go back to those getting married. In the beginning everything is fine and you are happy, but then some problems arise. It is fall and she says: "It is cold and I am freezing. You open the window every night and I am afraid of getting a cold." "I am on the verge of dying of heat," says he." Do you really mean that I should get sick because of you?", she says. "I always ignore my own needs for yours", he says. This is maybe how your first quarrel starts. Quite a few couples sleep in separate rooms because of this problem or if one is snoring. There might be a solution to put on more clothes or reduce the room temperature without having the window open.
If you have different needs, stop accusing each other and find a solution.
During my seminars I talked quite often about coming with "I" messages. "When you say that your mother is making better food, than me, I feel sorry and take it as an accusation. When you do not kiss me when you come home, I do not believe that you love me any more." You could have said things in a worse way. "You do not love me any more. Maybe you have another woman." Do you see the difference? When you say that he doesn't love you any more, that might be a lie. When one is married, one knows each other's strong and weak points. When one gets hurt, it is easy to shoot a poisonous arrow into the weak spot of the other. The other shoots back and the quarrel has started and a wall has started to build up between you. The Bible has a good advice in Ephesians 4:26: "Do not let the sun go down on your wrath." In Scandinavia that might be very early. Many couples do not practice this advice and they go to bed, back to back and the atmosphere is very tense and none of them can sleep. What about asking for forgiveness? "But I haven't done any wrong you might say. You could at least turn around and say: "Let us talk about our discussion. I love you and I can't sleep like this." What about bringing the problem up to the Throne-room? The Holy Spirit is called our Helper. We should not confess things we haven't done, but we should live in humbleness and forgiveness.  Continue next time.
LOVE EACH OTHER WITH A PASSIONATE LOVE!
Mother Else