DO YOU LOVE YOUR COUNTRY?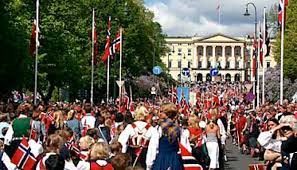 DO YOU LOVE YOUR COUNTRY?
My question is coming now because Norway is celebrating its national day on the 17th of May and I am Norwegian. On that day I am more Norwegian than any other day during the year. I celebrate the 17th of May no matter where I am in the world. I am actually quite emotional on that day. It is enough with a verse from the national hymn or the tunes from a brass band and I might start crying. I must have some positive memories since I react so emotionally on that day.
Some people have to start that day very early in the morning. Those playing in the brass band might be playing from 6 o'clock in the morning. They play outside hospitals and old-age homes later that day. Those we call "russ" might have been celebrating the entire night or they start early in the morning. That is the last class of high school or junior college in USA. When I was russ, I was picked up by a lorry four thirty in the morning. We drove around picking up every student and the teachers at the end. We were invited to one of the students for breakfast. I belonged to "Christian Russ" and we had a great party without alcohol. I was actually up all night, but it was pure fun.
All schools are forming a procession and the brass band is in the front of the procession. All schools have lots of Norwegian flags as well. Some have a choir. If you live in Oslo, you walk through Karl Johansgate, the main street of the city. The other places have a little different program. Most schools are having a program in the afternoon with games and where they sell ice-cram and hot-dogs. Some families are gathering for either breakfast, lunch or dinner, but many go out to watch the parades. People get dressed up on that day and you will see many dressed in their national customs. It is not a day with a lot of alcohol, but a day with thanksgiving for the fact that we live in a democratic country without war.
Norway was occupied by Germans during the last world war. It lasted from 1940 to 1945. Many families lost some relatives and the Jews had to flee to Sweden or they got killed. We lacked food and the food we had could only be bought with ration cards. I believe that those who haven't experienced war, might not quite understand the after effects of war. I was borne towards the end of the war, but I can get a cold shiver through my body when I hear a sound of sirens. My mother got a pneumonia when the war ended because she cried loud and was so happy. This explains a little about the pressure they had lived under for five years.
Are we supposed to forget or to remember? We Norwegians should not go around hating the Germans of today. This generation had nothing to do with the war, but we must not forget that 6 million Jews were killed. We seriously do not want something similar to happen again. I believe that some of the enthusiasm for 17th of May comes from the war. Norway has also been under both Denmark and Sweden and we are willing to fight for our independence.
I have lived in Sweden for many years and I have travelled as a missionary to many places in the world. I love people and I believe that Jesus loves everybody no matter nationality and color of skin, but on the 17th of May I am very Norwegian.
I have asked God what He thinks about countries with their borders contra a global thinking. He was very clear about clear borders for each country. He wants us to love our country, pray for it and fight for it. Heaven is our final home, but He wants us to have our identity in our country here on earth. I am stupid enough to say that we won when a Norwegian won a competition on skis. I do not even know how to do it. My Swedish friends want the Swedes to win. That's ok. We do not need to fight because of that. Let us say: "May the best win."
If the Ukrainians hadn't had a deep love for their country, the Russians would have won the war a long time ago. I do know that a great part of the world have helped, but I know the Ukrainians and they love their country and they are willing to die for it.
The Bible says that we should pray for our king and the leaders of out country. God is a God of order. He is not for anarchy. In the Old Testament we read about wars between different groups and nations. I believe that God wants peace and He wants us to have peace with each other, but if somebody attacks our country, I believe that we should defend ourselves and fight back.
God loves everybody and I believe that we should take of refugees that have fled from war. I do not think that God wants them to take over a country with other religions and another belief system. Refugees should be treated with love and respect, but they must follow the rules and regulations of the country. It is good if they learn the language if they plan on staying.
It is easier to live in some countries than others. Some are ruled by a dictator and others are struggling with poverty or persecution. God want us to pray for our country.
LET ALL OF US SING: YES, WE LOVE THIS COUNTRY!
Mother Else