ARE YOU PREPARED FOR THE WEDDING?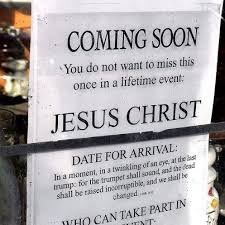 ARE YOU PREPARED FOR THE WEDDING?
I can hear some of you protesting, saying: I am not going to get married. No, maybe you are alone and you are happy about that or you are desperately longing for a partner, but have none. Others are already married and have no thoughts of a second one. It isn't really an earthly wedding I am thinking about, but the heavenly wedding, the one I think is coming soon. I will compare it with the earthly one and I might mention some points that should be in place before the wedding. One should know the person, both should be saved, one should love the person and one should be committed. Be open with each other and decide to pray together. If you are prepared for your earthly marriage, there might be less divorces.  Since this is not the main purpose of the writing, I will stop here. I know that many Satanists pray against Christian marriages so we must know that there is a spiritual battle going on. We must fight and win this battle in the Spirit.
I have lately been reminded of the story about the ten virgins in the Bible. Five had oil ready for their lamps and the five foolish ones didn't. They had lamps, but no oil. They were all supposed to meet the Bridegroom, but He delayed and they all went asleep. At midnight a cry was heard: Behold, the Bridegroom is coming. The foolish virgins wanted oil from the wise ones, but they refused and while the foolish virgins were out to shop oil, the Bridegroom arrived and the five wise ones went with Him. He didn't open when the foolish ones knocked on the door, but said that He didn't know them. You can read this story in Matthew 25:1-14. I find this story to be very serious and it is like a wake- up call for all of us to be ready when He comes. We really do not know when Jesus is coming back for His Bride. I haven't gotten all the interpretations of this story and I can't tell you exactly who belong to the wise and who belong to the foolish ones but I am convinced that we talk about the heavenly wedding. I want to prepare people for the wedding. Many are calling themselves Christians, but they do not have a personal relationship to the Lord. Many are asleep and they do not care about the things going on neither in the world nor in the Body of Christ. I want to be one crying out:
He is coming, the Bridegroom is coming!
How does a bride act and what kind of preparations does she make before the big day? A bride is in love. She is really looking forward to the day and she sometimes counts the days. If both of them live in the same place, they most likely spend a lot of time together. If they live far away from each other, they write letters, send mail, chat and use the mobile. They really want to be together. If that wasn't the case, they shouldn't get married. Your partner to be has the highest priority in your life at this time. A little warning: Don't forget God. Does our Bridegroom, Jesus has that in our lives? I wish that my answer would be yes, but it isn't always so. This is one of the reasons for writing this sermon both to you and me. I wrote that the bride to be is in love. I believe that is the key word. We have lost some of the first love for Jesus. When we were newly saved, we might be so happy to be with Him and we were so thankful that He had deleted our sins, cleansed us with His blood and opened a way to the Father. Some of that first excitement might have faded. Jesus loved us first and His unconditional love has been poured into our heart.  (Rom.5:5) If we think that we must put ourselves together in order to love the Bridegroom, we can easily become religious. We cannot love Jesus with our own strength, but He has given us His love that we can love Him with. Our decision is to give Him time and space in our life. A bride to be will never think: Do I really need to be together with my fiancé again? I was with him on Sunday. That's enough. Many Christians go to church on Sundays and some think that's enough. They think they have done their duty then. You are not having a love-relationship to Jesus then, but one of obligation. Jesus Himself has promised to be with us every day. (Matthew 28:20) He is living in us and He says that we have living water within us and that will never dry out.
We are having His love in us, to Him, ourselves and to others.
A bride is thinking a lot about the dressing she is going to wear in the wedding. If you are borne again, you have already received the dress as a free gift. They are white because Jesus has washed them for us with His blood. He has given us the shining clothes of righteousness. We read in a story from Matthew 22 that a man had entered without the right clothes for the wedding and he was thrown out of the feast. The first part of our preparation is to receive Jesus as our Lord and Savior and allow Him to wash away our sins. We are not saved by good deeds, but by grace. (Ephesians 2:8+9) You are not getting the right wedding clothes by giving to the poor.
Another part of the preparation is the invitations. Whom should we invite? How many should we invite? I have a surprise for you. Everybody is invited to the heavenly wedding. Everybody on the entire earth. Only the clothes of righteousness decide if you would be allowed to participate. Some say that they do not want to think about Jesus before they get older or they might have a lot of other excuses. No one knows when Jesus is coming for His bride and it might be too late then.
I think that all of us should invite guests to the great wedding. We do not want to have a small exclusive wedding, but a huge one. We want all the prepared places to be full. This is a time where we should be busy sending out the invitations. I have several times been thinking: What would I have done if I got to know that I had 24 more hours to live? I believe that I had been running around telling people about Jesus. I can assure you of the fact that I hadn't cleaned the house. We must tell people to allow Jesus to wash away their sins and to let Him dress them in white. These dresses cannot be bought through good deeds, but they are bought with a high price, bought with His blood. Many wonder how the invitations should look like. We should also come with the invitation in the right package. How do we present Jesus to people? Is He a cool guy or is He a mean judge? Jesus is full of grace and mercy, but the enemy doesn't like for us to change territory and it could cost to become a Christian. In some countries it costs a lot.
If you are not a Christian believer, I would say: Say yes to Jesus. Allow Him to wash away your sins and make Him Lord in your life. Say yes to the wedding and dress yourself in the white, righteous clothes.
To the saved ones, I would say: Get to know the Bridegroom better. Be ready when He comes!
GOOD LUCK WITH THE PREPERATIONS!
Mother Else