WHAT HINDERS MY PRAYERS TO BE ANSWERED?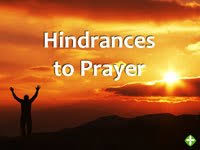 WHAT HINDERS MY PRAYERS TO BE ANSWERED?
I am now touching on a subject where I myself do not have all the answers. I am bold enough to write, trusting God to help me and I believe you will have some questions answered, but not all of them.
Some answers are obvious. I believe that most Christians understand that God do not answer prayers that are not prayed according to His will. I refer to James 4:3. It says that you do not receive because you pray amiss. It refers to worldly lust. The disciples asked Jesus: "Teach us to pray." I also believe that we need to be taught more about praying. Jesus told His followers that they shouldn't use vain repetitions. They would not be answered because of their long prayers. It was after that that He taught them to pray "Our Father". That prayer is first and foremost addressing the Father. His name is to be sanctified. After that we should pray that His will and His kingdom should come down to earth. I think that this is a secret. We are often used to come with a list of orders, almost like a list for shopping. No, we are coming to a holy and almighty God, seeking His will and desperately praying for His will to fill the earth. His will and His kingdom should expand in us, through us and around us. Then comes a time to ask for daily bread. That means our daily needs. I am referring to Matthew 6 and we can also read there that our Father knows our needs before we pray to Him. He is not ignorant of our needs. The prayer continues by saying: "And forgive our debtors, as we forgive our debtors." In verse 15 it says that if we do not forgive the trespasses of others, we will not be forgiven either. I really have a need for my sins to be forgiven.
Lack of forgiveness can be a hindrance for your prayers to be answered.
One is actually disobedient if one doesn't forgive and it comes in the category of sin. When I start forgiving, I do it in obedience to Him and His Word. I might have to forgive the same thing many times since my emotions might have difficulties in forgiving. I recommend that you forgive every time you receive a negative thought or emotion about the person hurting you. When you forgive, you are not saying that what was done was ok. No, on the contrary, you forgive in spite of the wrong things done. We forgive trusting God to be a righteous God and the revenge belongs to Him. In Mark 11 it says that we should not pray before we have forgiven and made up with the person you have something against. In Matthew 5:23 it says that we should lay down the gift for the altar and make up with the person having something against us. Here it refers to the feelings of the other person. I believe that we should do this before we pray also. Unsolved conflicts can hinder our prayers to be answered. I believe that this is done more often than we think.
Unconfessed sins can be a hindrance for our prayers to be answered.
Sin is one of several openings for the devil in your life. Jesus has taken our sins, but 1.John 1:9 is saying that we should confess our sins. Some people think that that time is over. I do not. I believe that the Word of God is for today. I know that some people accuse a person for being sinful when he or she doesn't get well when they are prayed for. That might be a very wrong conclusion, but ask God and He has promised to answer you.
It does say in Mark 16 that we should lay hands on the sick and they should recover. Do we believe that? I believe that faith is a key. It says in Hebrew 11:1 that faith is the substance of things hoped for, the evidence of things not seen. Faith doesn't have an opening for doubt. Hope does, but not faith. If we believed that people would get well when we laid hands on them, they would get well. It doesn't even say that we should pray, but lay hands on them. There is nothing mystical about our hands, but we have an enormous power living in us, the resurrection power. That's the power that raised Jesus from the dead. I practice laying hands on the sick, but I do not always have the faith, but I do it in obedience.
Lack of faith and doubts are hindrances for answers to our prayers.
We can read in James 1 that when one is doubting one is like a wave tossing back and forth by the wind. Such a person cannot expect to receive anything from the Lord. He is double-minded and unstable in all his ways. How do we get faith? In Romans 10:17 it says that faith comes from hearing and hearing from the Word of God. Preaching based on the Bible creates faith. I also believe that testimonies about miracles and healing create faith. We must get faith for the things that seem impossible. I also think that we need a right picture of God. We must see God as a loving Father who takes care of His children and will give what He has promised. Jesus said in Matthew 7:11: If you then, being evil, know how to give good gifts to your children, how much more will your Father who is in heaven give good things to those who ask Him" God is always for us and not against us.
We read in Philippians 4:6 that we should come to the Lord with supplications and thanksgiving. Another place it is written that we should thank God for answering our prayers before we see the answer. I believe that every time we thank Him, we bring the answers closer.
The Lord has lately said to me that I give up too soon. He wants me to pray and give thanks until the result is there. We can read about this in Luke 18. It describes a widow waiting for her rights, but the judge was not a good one. She was after this judge until he gave her what belonged to her. Luke 18:7 writes this: "And shall God not avenge His own elect who cry out day and night to Him, though He bears long with them?"
If we are going to pray effectively, we must know to whom we address our prayers. We pray to God, but we war against the enemy. God wants to answer us because He loves us, but the devil wants to hinder the answer to our requests. We have gotten the authority to command the devil to leave the territories he has destroyed or taken possession over. We do this in the name of Jesus. We must know that Jesus has conquered the evil. James 4:7 says that the devil must run from us when we resist him.
The Bible says that one takes thousand, but two take ten thousand. That tells me that we can do much more when we are more people. We need to be in one accord then. If we shoot arrows in different directions, we cannot expect to get any result. On the Day of Pentecost they were all in one accord.
There is power in our words. If we pray about one thing, and then start confessing another thing, we might not see any answer. Watch your tongue!
We read in Matthew 18:19 that we will receive what two of us have agreed on. We read in the Old Testament that they went seven times around the walls of Jericho in order for the walls around it to fall. We can also make prophetic declarations and actions in faith.
SEEK THE LORD AND PRAY IN FAITH!
Mother Else