ARE YOU ABLE TO ENJOY LIFE?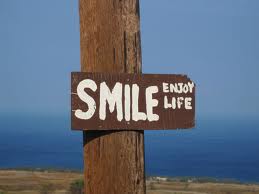 Some of you will be offended and surprised by my title. You might think that I talk about sinful pleasure. No, I don't. I just asked if you could enjoy it. To enjoy something has in many Christian circles a bad connotation. It is often thought of as sexual sins, too much alcohol or a way of living where I and me are in focus. One can get a fantasy of parties with lots of gourmet dishes and where one can drink as much as one wants of all kinds of drinks. The entertainment might be very sinful. I didn't ask if you could satisfy yourself in all kinds of sinful ways, but if you could enjoy life.
Who has created life? It is really God. I really do not believe that I stem from monkeys. I do not think that I look like one. No, I believe that the Creator has created everything that has life in them and He has created you and me. One day I talked to a young man who wanted to help people and preserve nature. He was a veterinarian and a very nice guy. I asked him if he knew the difference between him and me. It was quiet and I answered him: "You are worshipping creation. I worship the One Who has created it all. Many people want to preserve the nature, but they often forget the Creator.
What do we do with the life that the Lord has created?
Many are so busy doing things that they forget everything around them. I seriously believe that many are doing things in order to be more loved, maybe subconsciously. The Lord loves us with an eternal love and nothing can separate us from His love. (Rom.8:35-39) We cannot do a thing to be more loved by God, but we humans can change our love and attitude according to what is said and done.
The Lord has created every one of us. What do we do with what He has created? Do we live in an intimate relationship with the One Who has created us? Are we grateful? How do we use the life that He has given us? I really believe that each one of us is created for a special purpose, but I can't find any place in the Bible where it is written that we should run from one place to another, breathing heavily and with the tongue sticking out. On the contrary, the Bible is full of words about peace and joy and in psalm 23:5 it says that the Lord prepares a table before our enemies. In 3.John 2:2 we read: "Beloved, I pray that you may prosper in all things and be in health, just as your soul prospers." I believe that it should be spirit instead of soul, but translations can be discussed. What is more important now is that we see that God wants us to be well and content. It is also written that we should be healthy. It is much easier to enjoy life when we are well. I, at least, think so. I actually find it a little difficult to write about this theme when I think about those of you who are sick. I really understand that it is difficult to enjoy life when pains and discomfort rule your body or soul. That is again a confirmation for me: God does not want us sick. It comes from another source. God has created our bodies and He wants us to use what He has created. When I was a child, I was very limited in how much I could use my body and some of that is still hanging over me. The Holy Spirit and I are still working with that in my life. He has created us to walk and run. He has created us to function and to enjoy it. When I listen to athletes describing all the joy they have, I think of the One Who has made them able to do what they do. I am fully aware of the fact that a lot of training and for sure some pain goes along with the joy, but I believe that the joy is greater than the pain. We are not created to sit passively in front of television or the computer for hours at the time. We are created to move. When I think of how the different parts function together, I am impressed.
Do you enjoy eating? Food gives life. All kinds of food is not good for us, but without food and drinks, we will for sure die. When I pray for anorectics, I usually take authority over the spirit of death. Those denying themselves a proper meal, are usually having a tendency to punish themselves. The Lord said that He would make a table before the eyes of our enemies and He gave Peter a vision of a lot of good food that Peter thought of as unclean.
     Good and healthy food and drinks give life and joy!
Many of us combine eating with a relationship with family and friends. Food and a party belong together.
I know many people who love to take a walk and to pray at the same time. They are out enjoying the nature using their body and talking with their "Daddy" at the same time. It is not hard to pray then.
       The Lord wants us to enjoy being together with Him.
Many people are unfortunately experiencing that as a duty and as something one has to do, but what can be more fulfilling than being in His presence. I really do not know what that should be. He wants us to relax in His presence. We do not have to stress or find the right words or look for the right posture of the body. We can just be with Him Who loves us and wants the best for us.
Are you thanking God for all the beautiful things He has created? He has created everything in order for us to enjoy it and it is also useful for us. Do you take time to admire the sea and the mountains or a small flower when it presses its way through the melting snow? When I watch movies describing animals or nature, I get so impressed by the Creator. He has really thought of the least of details. I recently watched an "animal film" and we could see how each animal was created for the specific environment he lived in. You can't come to me and say that the world is created by accident. That is the most stupid thing I hear from people.
I once stood admiring the view and I thought the Lord said to me: "This is created all for you to enjoy." I love to travel and I love to see new things. Some people are afraid of travelling, but I really enjoy it.
The Lord has lately spoken to me about enjoying life. He really doesn't want us to do, stress around and look at every activity as something we have to do. He wants me to enjoy small details as well as the great things He does for me. I have lived far too long in a religious "must-do-world". I believe that there are certain things we should and must do, but in my life there has been an unbalance.
To enjoy life is very anti-religious, but very divine.
Are you taking time to listen to music, read a good book or admire a piece of art? Maybe you have a desire to perform yourself. What is hindering you? Not God. I know that Jesus will soon return. I know that people must be saved. We need to go out to win the lost for Christ. I know what Mark 16 says that we should do, but we must have a balance in our life. Too many are driven by fear and being afraid that God will be angry at them. That is a wrong motive. We should be driven by love and not fear.
THANK GOD FOR LIFE. ENJOY IT AND YOU WILL DISCOVER THAT IT IS EASIER TO GIVE LIFE TO OTHERS THEN.
Mother ElseNå tror noen av dere at jeg er «ute og sykler». Gud vil vel ikke at vi skal være nytelses-syke. Nei, jeg spurte ikke om det. Jeg spurte om du kunne nyte livet? Det å nyte har i mange kristne sammenheng vært negativt betonet. Det blir ofte forbundet med seksuelles utskeielser, overdreven bruk av alkohol eller et egoistisk levesett der jeg og meg står i fokus. En kan få forestillinger om fester der en har masse med utsøkte retter og hvor en kan drikke så mye en vil av alt mulig. Det er også lagt opp til fornøyelser som kan spille på syndige lyster. Jeg spurte ikke om du kunne gjøre hva som helst for å tilfredsstille dine lyster. Jeg spurte om du kunne nyte livet.
Hvem har skapt livet? Det er i sannhet Gud. Jeg tror ikke noe på at jeg kommer fra apene. Jeg synes faktisk ikke at jeg likner på en. Nei, jeg tror på Skaperen som har skapt alt som har liv i seg og som har skapt deg og meg. Jeg snakket en dag med en som ville ta vare på naturen og også ville hjelpe menneskene på jorden. Han var vegetarianer og var en veldig hyggelig ung mann. Jeg spurte han om han visste forskjellen mellom han og meg? Det ble stille og jeg fikk svare: «Du dyrker det skapte, men jeg dyrker Han som har skapt alt sammen.» Det er mange i dag som vil bevare naturen og det er ikke noe galt i det, men vi må aldri glemme hvem som har skapt naturen og alt som har liv i seg.
Hva gjør vi med det livet som Herren har skapt?
Mange er så opptatte av å gjøre at de glemmer alt omkring seg. Jeg tror mange gjør så mye fordi de da kanskje tror, muligens ubevisst, at de blir elsket mere da. Herren elsker oss med en evig kjærlighet og ingen ting kan skille oss fra den. (Rom.8:35-39) Vi kan faktisk ikke gjøre noe for å bli mere elsket av Gud, men vi mennesker kan nok forandre vårt syn på andre ut i fra hva de sier og gjør.
Hva gjør vi med det livet Gud har skapt? Han har skapt hver og en av oss og hva gjør vi med det livet? Lever vi i samfunn med ham som skapte oss? Lever vi i takknemlighet til Han som skapte oss? Hvordan bruker vi det livet Han ga oss? Jeg tror absolutt at hver og en av oss er skapt med en spesiell hensikt, men jeg ser ikke noe sted i Bibelen at vi skal løpe fra en aktivitet til en annen heseblesende og med tunga ut av munnen. Derimot er Bibelen full av ord om fred og glede og i salme 23:5 står det at Han dekker bord for oss framfor våre fiender og i Johannes tredje brev, det andre kapittel skriver: «Du elskede! Jeg ber om at du må ha det godt i alle ting og være ved god helse, slik som også din sjel har det godt.» Nå tror jeg det skulle stå ånd og ikke sjel her, men det kan sikkert diskuteres. I begge disse bibelversene ser vi at Gud vil at vi skal ha det godt. Det står også at han vil at vi skal være friske. Det er mye lettere å nyte livet når vi er friske. Jeg synes i hvert fall det. Jeg synes faktisk det er litt vanskelig å skrive om dette emne med tanke på dere som er syke. Jeg forstår veldig godt at det er vanskelig å nyte livet når smerter og andre ubehag herjer kroppen. Det er igjen en bekreftelse for meg på at min Gud som er god ikke vil at vi skal være syke og at det kommer fra en annen kilde. Gud har skapt våre kropper og han vil at vi skal bruke det Han har skapt. Når jeg var barn, ble jeg meget begrenset i hva jeg kunne gjøre og dessverre sitter en del av det fremdeles fast i meg. Den Hellige Ånd og jeg jobber med dette området i mitt liv. Han har skapt oss til å gå og løpe. Han har skapt oss til å fungere og kunne glede oss over det. Når jeg hører på idretts-utøvere forteller om all gleden de har, tenker jeg på Han som har istandsatt dem til å holde på med det som gir dem så mye glede. Jeg er fullt klar over at det ligger mye trening og smerte bak, men når det ikke blir noe overdrevent, må gleden være større enn smerten. Vi er ikke skapt til å sitte passive foran TV i timevis eller foran datoen uten å bevege oss. Gud har skapt livet i kroppen for at vi skal bruke det. Når jeg tenker på hvordan alle lemmer fungerer sammen, blir jeg imponert.
Nyter du det å spise? Mat gir liv. Ikke all mat er godt for oss, men uten mat og drikke, kan vi dø. Når jeg ber for anorektikere, så tar jeg ofte autoritet over dødens ånd. Mennesker som ikke spiser ordentlig, har ofte en tendens til å straffe seg selv. Herren sier at han dekker bord for oss framfor våre fiender og Han ga Peter et syn av mye god mat som Peter opplevde hørte til det ulovlige. Rett mat og drikke gir oss glede og liv. I mange land kombineres det å spise med det å ha samfunn med andre mennesker. Mat og fest hører sammen.
Jeg kjenner flere som elsker å gå ute og be. De nyter både naturen, beveger kroppen og får snakke med Sin Pappa. Da blir det ikke tungt å be. Jeg vet at det å be kan være en jobb, særlig hvis åndelig krigføring er involvert, men jeg tror at Gud vil at vi skal nyte selv det å be.
Herren vil at vi skal nyte det å være sammen med Ham.
Mange opplever dessverre det som en plikt og noe tungt, men hva er bedre enn å være i Hans nærhet? Jeg vet ikke hva det skulle være. Han vil at vi skal slappe av i Hans nærhet. Vi behøver ikke stresse med å finne de rette ordene eller ha den rette kropps-posituren. Vi kan bare være sammen med Ham som elsker oss og som vil oss det beste.
Takker du Gud for alt det vakre Han har skapt? Han har skapt alt for at vi skal glede oss over det og for at det skal være nyttig for oss. Tar du deg tid til å beundre havet og fjellene eller en liten blomst som stikker opp om våren gjennom snøen? Når jeg ser naturfilmer, blir jeg mer og mer imponert over Skaperen. Han har tenkt på de minste detaljene. Jeg så nylig en dyrefilm og hvert dyr hadde de forutsetningene som skulle til for å leve akkurat der de gjorde. Du må ikke komme til meg å si at verden er skapt på slump. Det er noe av det dummeste jeg hører.
En gang sto jeg og beundret utsikten og jeg mente Herren sa: «Dette er skapt for deg.» Jeg elsker å reise og jeg elsker å se nye ting. Noen er redd for å reise, men jeg nyter det. Det gir meg virkelig glede.
I det siste har Herren talt til meg om å nyte livet. Han vil ikke at jeg bare skal gjøre og stresse rundt, men glede meg over livet, både de små og store tingene. Jeg har levd i for mye plikt og har ikke nytt livet nok. Jeg tror på plikter og ordninger, men det må være balanse.
Det å nyte livet er veldig anti-religiøst, men veldig guddommelig.
Tar du deg tid til å lytte til musikk, lese en god bok eller beundre et kunstverk? Kanskje har du et ønske om å gjøre noe av dette selv. Hva hindrer deg? I hvert fall ikke Gud.
Jeg vet at Herren kommer snart. Jeg vet at mennesker må bli frelst. Jeg vet at vi må gå ut og vinne verden for Kristus. Jeg vet hva Markus 16 sier at vi skal gjøre, men vi må ha balanse i våre liv og altfor mange jobber i frykt for å såre Gud. Det blir feil motiv. Vi skal drives av kjærlighet og ikke av frykt.
TAKK GUD FOR LIVET. NYT DET OG DU VIL SE AT DET ER LETTERE Å GI LIV TIL ANDRE MENNESKER.
Mor Else