It's time for melting ice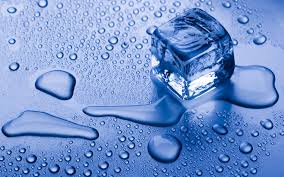 I started crying while I was in prayer some days ago. I had just experienced how a broken relationship between old friends was restored and a lot of misunderstanding was wiped away. We had moved to different places and it was not natural to keep the same tight relationship, but the Lord doesn't want anything that can be interpreted as a division between us. When I prayed for something completely different, I saw how mountains of ice disappeared and how His love should flow between us believers and be a sign for the non-believers. We can read in John 13:34-35 Jesus saying: " A new commandment I give to you, that you love one another; as I have loved you, that you also love one another. By this all will know that you are My disciples, if you have love for one another."
I have personally experienced more disputes and divisions among Christians than among secular people. I have been respected in every job that I have had, but as soon as I started to function in the calling God had given me and using the gifts of the Spirit, people got jealous and they had a need to diminish you. This is especially dangerous if you are new. You are like a feeble plant without strong roots then and we have seen how callings can be aborted and the plant is crushed. I have never dared to disobey God and have therefore continued even with great opposition. When some doors are being closed, He opens new ones. Please do not try to open them with your own strength. It might be very heavy and not always successful.
We read in Rom.12:10: " Be kindly affectionate to one another with brotherly love, in honor giving preference to one another." I have several times written against worshipping idols, known preachers and Christian leaders so I do not think that the Bible talks about that. It doesn't say that only a few should be honored, but we should have that loving attitude toward each other no matter name and title. We should naturally not give honor to sinful behavior and that which is against the Word of God. We should rejoice when others succeed. I am not ashamed when something goes well for me. I know that I am totally dependent on The Holy Spirit and the gifts are given, not earned. Nothing is self-produced.
Do you know that the Word of God is given to us as food and something we should "eat." I received a spiritual picture many years ago, but it is just as valuable today as then. I saw a long table with a lot of delicious food. A lot of Christians were sitting around the table. They were fiddling with the food, dissecting it and after some time, they started throwing the food in each other's faces. The devil was standing at the side of the table and the more they were throwing food, the more he applauded. It is very tragic when we are caught up in small details and use a lot of energy in order to prove that "I am right". I am not talking about other religions. We must have Jesus and His work at the Cross in common. We can only call ourselves Christians when we receive His work of atonement. We must be borne by the same Father in order to call each other sisters and brothers. We must have the same DNA in our spirit.
I am against any kind of quarreling both in biological families as well as in the spiritual ones.
I recently heard a preacher on television getting this question: "How can I persuade my non-believing neighbors that Jesus is the Best? They say that they have met very few Christians saying that life is wonderful. They always seem to complain about something. They do not want to become like them and they do not want to be part of a club of quarreling. We are unfortunately known for that.
I say the same as a Norwegian children's song: " No, no boy, this has to come to an end. "
I seriously believe that I get a picture of "ice-melting" for a purpose. God wants this to come to an end. His Spirit wants to melt the ice. I do believe that we sometimes have tried to use a pickaxe on the ice, but His unconditional love will melt the entire mountain of ice. Only God's love can do that.
In order for ice to melt, it has to get warmer. Environmentalists are talking about global warming. They think that the ice will melt so much that islands will disappear into the ocean. When I pray for people, they might say that they feel heat. I have also experienced that when someone else has prayed for me. That comes from the Holy Spirit and the Holy Spirit is often referred to as Fire. Fire can burn away everything that is burnable. I want everything in me that doesn't have eternal value to be burned away by the Holy Spirit.
I do not believe that all ice-mountains will disappear automatically. I do believe that the Holy Spirit will come through in a stronger way this year and the love between us Christians will therefore increase, but at the same time I believe that we will have to choose to come close to the Fire. We have to choose to read the Word of God, stay I prayer and seek His face. It is in His presence we will experience ice-melting. In order for that process to start for real, we have to confess sins and forgive others as well as ourselves.
Lack of forgiveness both create and preserve ice-mountains.
The Lord says in Romans 12:19 that the revenge belongs to Him. If we are to revenge ourselves, the mountains between us will get even bigger. We are not making mistakes nor is it sinful to get hurt, but we have to bring our wounds to the Lord. We must forgive the person(s) and ask the Lord to heal us. It might be a process, but His love will help us in the process. We must never forget that the Lord loves us and the more we feel secure of His love, the easier it is to forgive others.
A lot of ice-mountains are built on misunderstanding. Wounded people will often hear a negative saying more than a positive one. They are almost expecting something negative and therefore they interpret things in a negative way. It is seldom it is so extreme as it was with a man who asked his wife why she said that she hated him when she had just said that she loved him. This was extreme, but this might happen more often than we think. Our senses perceive selectively. We have an enemy who helps us to emphasize negatively. He increases the negative and diminishes the positive. A lot of marriages are broken because of misunderstandings. They might scream to each other from separate sides of the mountain or they might not talk to each other at all.
Love, kindness and good and clear communication are key words in order to prevent and clear up misunderstandings.
We have a saying that goes like this: "Those who pray together, stay together." I believe that there is a truth in this. It you want God's love to flow between each other, you must remove the hindrances. Take the problems to the Lord. He is an expert in communication. He is not partial. He loves both parts.
What kind of glasses are you wearing today? Are you seeing Jesus in your friend or your sister or brother or are you only seeing his or her wrongdoings and defects? You can choose which kind of glasses to wear.
The Bible says that we should love our neighbor as ourselves. It is therefore very important that we are open for God's love. You must allow Him to just love you. You must love
yourself the way you are, forgive ourselves and allow dry areas to be filled with the Living water and let the ice-mountain melt.
LET HIS LOVE TO YOU FLOW THROUGH YOU TO OTHERS!
Mother Else