YOUR KINGDOM COME, YOUR WILL BE DONE.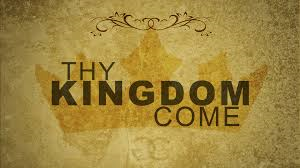 YOUR KINGDOM COME, YOUR WILL BE DONE.
This title is taken from the prayer: "Our Father". It continues to say: "Your will be done on earth as it is in heaven." I believe that God wants heaven to come down to earth or as it is in heaven. We know that there is no devil in heaven and therefore no sin, nor sickness, nor any sorrow. The devil is very active on earth these days and he has not been thrown into the lake of fire yet.
I want to refer to some Scriptures speaking about the kingdom. We might start with Mark 4. The kingdom of God is compared to a seed. It is sown and it grows and one day one can harvest the fruits from what is sown. It was compared to a mustard seed. That is very small, but grows very big. In Luke 17:20 we read about a conversation between the Pharisees and Jesus. The Pharisees wondered when the kingdom of God would come. Jesus answered them by saying: "The kingdom of God does not come with observation; "nor will they say, 'See here! Or 'See there! For indeed, the kingdom of God is within you." When I read that the kingdom is within us, I think of the born- again spirit within us. That spirit is perfect and has contact with an eternal heavenly kingdom that brings eternal fruits.
We are not supposed to build God's kingdom because it has already come, but we are supposed to be spreading it.
Which kingdom do we talk about and to whom does it belong to? We read in Matthew 6:13: "For Yours is the kingdom and the power and the glory for ever." We are talking about God's kingdom. It belongs to Him and it is eternal. When we become His children, we move from one kingdom to another kingdom. In Colossians 1:13 we read that God has delivered us from the power of darkness and conveyed us into the kingdom of the Son of His love. We are no longer in darkness and we do not belong to the kingdom of the devil any more. There are other rules and regulations in the Kingdom of God. Many Christians haven't grasped that truth and they still live as they did before. They might say that Jesus is Lord, but they allow the devil to rule certain areas of their lives.
           We have moved from one kingdom to another.
It says in Matthew 6:33 that we should seek God's kingdom and His righteousness first and then other things will be added to us. I do not think that we should seek His kingdom only when we are desperate and have come to the end of ourselves. No, we should seek it before we seek anything else. When you get sick, pray before you go to a doctor. When you need money, talk to the Lord before you contact a bank. I am not saying that you shouldn't go to a doctor or to a bank, but seek the Lord first. Jesus is our Savior and we choose to be with Him as our Bridegroom. That shouldn't be difficult or thought of as something religious. If you do, you have the wrong picture of Jesus. Jesus loves us and has given His life for us and is saying that everything that is His is ours. If you think that something is difficult, He says that nothing is impossible for Him nor for the one that believes. We should believe in Him. How can we give the kingdom to others if we do not live in the power of His resurrection? We read in 1. Cor.4:20 that the kingdom of God is not in word, but in power.
The same power raising Jesus from the dead, is living in you and me as believers.
I want to encourage you as a Christian to function in the power living on the inside of you. When people see you and me functioning in the resurrection power and see people getting healed and set free, we are spreading the kingdom of God, the kingdom that has come. I am really longing to see more signs and wonders. It should become a normal part of our living. I do want Mark 16 to function in and through us who believe. When it says that we should lay hands on the sick and they would recover, it should be so. I believe that it will happen more and more. God has created us and it isn't difficult for Him to repair what needs to be repaired. We are the ones to repent from our doubts.
Let us encourage each other to trust the Word of God.
Today we see a lot of wars in many places. That does not exist in the kingdom of God. Love is existing there. I am not saying that all Christians love each other, but in heaven there is only love. The Father loves His children and He wants everything good for us. He wants us to love each other the same way as He loves us. He doesn't want us to be weak and accept unrighteous suggestions and rules coming from unrighteous people. On the contrary, we are supposed to resist the devil and he will flee from us. (James 4:7) I believe that we as Christians should say no to unrighteousness much more than we do. That is one way of spreading the kingdom of God. If we allow evil laws and unrighteous behavior, the kingdom of the devil will bloom and we have to stop that. I do not believe in long arguments and discussions, but I trust God to give us words that will brake the defense of the enemy. Words have power in them and the words from God give life. God created the world with a word and we can create changes in the society with speaking words coming from Heaven.
I believe that the kingdom of God first and foremost should function in us and through us in order to function around us. The kingdom of God is within us and the process of sanctification is a life-long process. That means that the kingdom of God must increase within us. Both sanctification, healing and deliverance are important tools in the growth of the kingdom. If you live in a family, God wants His kingdom to come to the family and His will to be done in the entire family. You are supposed to be spreading God's kingdom at your working place, among neighbors and friends. You are the light shining in a dark world. The Bible says that we are in the world, but not of the world. Jesus is sitting at the right side of the Father and we have been commissioned to spread the kingdom of God. We are supposed to go out into the whole world with the Gospel and make disciples. Missionaries are spreading the kingdom, but you can also be a missionary at home. I experience a lot of apathy in the body of Christ. There are so many people circling around one's own navel and how they can get the most out of life. This is not a time for sleeping, but a time to be awake and fight.
The title is: Let Your kingdom come, let Your will be done. We must seek the Lord and ask for His will and plans, not our own. What does He want with your life? How does He want you to be spreading the kingdom? I remind you to first seek His kingdom and everything else will be added.
LET THE KINGDOM OF GOD BE SPREADING WHEREVER WE ARE!
Mother Else