SEE HOW HIGHLY THEY LOVE EACH OTHER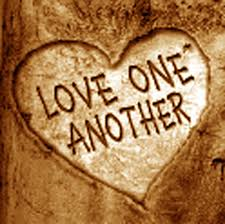 SEE HOW HIGLY THEY LOVE EACH OTHER.
Who is loving each other? Do I write about something in the past, present or future? I really wish that I could say that I write about the status of the Body of Christ today. There are groups and churches that come into this category, but far from everywhere. I will be writing about how it is somewhere positively speaking and how it should be.
You can look up John 13:34-35: " A new commandment I give to you, that you love one another, as I have loved you, that you also love one another. By this all will know that you are My disciples, if you have love for one another." In 1st Thessalonians 4:9 and some verses forward it says that they are taught by God to love one another, but the apostle Paul urge the brethren to increase in loving each other. They were encouraged to mind their own business and work with their hands. They were also told to walk properly toward those who are outside and they should not lack anything then. It was actually Jesus who said in the gospel of John that they should love each other as He had loved them. Jesus had not been to the Cross taking the sins of the world when He said this. He still refers to Himself as the One who loves. The disciples had already seen Him feeding thousands of people. He had transformed water into vine at a wedding, saving "the face" of a butler. Lots of people had been healed and delivered and Jesus had performed miracles. He showed love for children and had grace with a woman caught in adultery and with a woman with five men. His presence changed the people wherever Jesus went.
Jesus showed grace where the law would have condemned.
Jesus did not say that it was ok to sin. We know that God hates sin. Jesus forgave the sinner, but said: "Do not sin anymore."
Is your group or church characterized by a deep love for each other? Do you dare to confess your sins to one of the leaders knowing that no one else than God will know about it? Would you know that you would be forgiven? I have lately met people who said that they have carried secrets for twenty years without knowing to whom they could confide. For these people life was changed after they had confided in me. It could be sins they had committed themselves or sins of others. In some cases forgiveness was needed. Some also needed to forgive themselves. The Lord came with healing and deliverance. Everybody is not called to be a counsellor, but all believers are called to forgive, show mercy and love.
I have before in my writings mentioned that the first church gathered in homes every day. They shared everything and no one was supposed to suffer any lacks. This is the best communism that I have heard about. They took care of widows and fatherless and they gave to the poor. I believe that Jesus cares for every aspect of a human being. It is sometimes very good to organize help and have projects for those without work, homeless people, poor people, hungry people and refugees, but we must not forget to see the individual. If the church is characterized by love, I believe that the Lord will remind each member what to do daily. Maybe you should invite a lonely person home to you or give some money to someone in need. Other might be sick and need someone to shop or make food for them. There might be families with children that need a babysitter in a special situation. Many find it difficult to ask for help and it is therefore important that we offer help under the guidance of the Holy Spirit.
Nobody is supposed to do everything, but everybody is supposed to do something.
It is important to show love through practical deeds. It doesn't help much to say to a brother or sister in need: "God bless you." Maybe you are the blessing. It might be a simple thing that means a lot to the other person. I am not so tall and do not think it is so easy to stand on a chair. I became therefore very happy when a brother offered to change a bulb in my bathroom. Others have offered to pick me up at the airport when I have been on long journeys. Couldn't you have taxi? Yes, I could, but it is so nice to be picked up by somebody who cares for you. The last time this happened they had also prepared some food and we ate together and I could share some of my impressions from my trip.
I recently visited Logos Hope, a ship run by OM and I met a lot of love and care. Around 400 volunteers live on the ship, all saved, and they travel around the world with the Gospel. There was always somebody there seeing you, encouraging you and giving you a hug. I was waiting for somebody the first day and during that short time, three people stopped asking if I needed some help. I am not saying that conflicts didn't exist. That would almost be impossible with so many people from 55 nations living so closely together, but the general atmosphere was full of love and respect. I received several cards with Bible-verses and other encouragements both when I arrived and left the ship.
I once attended a church where many of the members felt very rejected by the leaders. It was very difficult to get friends. I cannot say that I sensed an atmosphere of love. The church had some projects helping refugees and some other people, but
Love is not a project, but a life-style.
I have travelled quite a lot and lived with different pastor families in other countries. The pastor might be very friendly at meetings, but could be chokingly rude to his wife and children. I have been to homes where I really couldn't say: "See how they love each other." I think that a pastor should be the same in church as well as home. That goes for all of us.
When it comes to a church or a Christian group, one should not only look at the deeds, but the entire atmosphere. One knows when one enters a place with a loving atmosphere. Some say that is difficult to make in a large church. I disagree. I once visited a huge church in Brazil. I have never met so much love from the moment I left the car and till I left to go home. It was a rainy day and a man stood ready to company me to the church building with a big umbrella. I was greeted with hugs, kisses and prayers five times before I came inside the church itself. I experienced a very tangible presence of the Holy Spirit during the meeting. I actually sensed a hand on my head that wasn't physical there.
I want us to go to 1.Thessalonians 5 and the 11th verse and forward. It says there that we should comfort and edify one another. One should recognize those who labor in the church and esteem them very highly in love for their work's sake. One is also encouraged to be at peace among themselves. One is also told to warn the unruly, comfort the fainthearted, uphold the weak and be patient with all. To revenge evil with evil is not allowed. The Bible is full of Scriptures talking about love and I would recommend you to read 1. Corinthians 13 and the letter to the Romans, chapter 12.
Jesus is love and He lives in us. We can therefore always draw from His love.
IF WE WOULD BE LIKE JESUS, WE WOULD LOVE EACH OTHER!
Mother Else