WHAT DO WE DO WHEN THE WORLD IS IN CHAOS?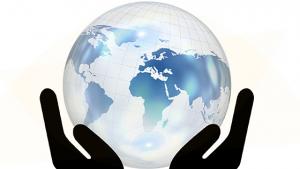 WHAT DO WE DO WHEN THE WORLD IS IN CHAOS?
I am coming from a country being occupied for five years during last world war. My mother got a wall over her back while she grabbed my ten years old sister in front of her and I was five months old in her stomach. None of us was seriously injured. I was only a few days old when I heard the sirens and I was taken to an air-raid shelter. When I hear some sirens today, I am still reacting. My body is remembering the excitement and fear connected with that sound.
I have been to Ukraine six times since 2014. I have teaching and preaching in many different churches all over the country. When I see pictures from different places on television, I recognize them. The war is therefore coming very emotionally close to me. I love the country and I love the people. I know that many people in Ukraine love their country and are very proud of it. We can today hear many stories about people that are willing to die for their country, not only men, but also women. Psalm 31 has been the psalm that many pray every day now during the war. We have also done that at prayer meetings. Christians have been standing up as shields against attacks, but bullets have fallen before they have reached them. Christians as well as non-believers have shown an enormous desire to defend their country. People have also helped each other as far as possible. Many are leaving everything they have and flee to another safe country. People there are helping with a place to live, food, clothes and medicines. I also saw an organization that wanted to take care of people's soul. Others take care of traumatized children. It is important that they get help as soon as possible.
How do we react when we see and read about the war in Ukraine? Are we afraid for another world-war? Is it necessary with the third world-war? I recently listened to a prophetess and she said that God had said that it wasn't necessary with a third world-war. Much depended on us Christians. Do we pray? Do we pray for our own country? Do we pray for the borders of our country? Do we pray for our leaders? How involved are we?
I do not think that we can take in all the sufferings in Ukraine or many other places in the world. We couldn't manage our every- day life then, but we must not become like the ostrich either and put our head in the sand.
I believe that we should cry unto God. " Cry unto Me, and I will answer you", He says in Jeremiah 33:3. I believe that we should help practically when and where there is a need. Many are giving their time, money and their homes for refugees. 20000 have travelled to Ukraine to fight for Ukraine against the Russians. Ask the Lord what you are supposed to do.
Many countries are now opening their churches and people are coming there in great numbers. Some want to talk, others want to light a candle and others want to pray. I also believe that people have a need to be together with others in such situations. I remember that I was on a mission trip some years ago. We were attacked by a mob and were almost kidnapped in Georgia. When we were fleeing, we were more than the double of the legal number in a mini-bus. We were sitting very close to each other and we began to praise the Lord. None of us got lasting wounds from this, neither physical nor mentally. I believe that this oneness that we had and other people's prayers and God's protection and love helped us.
The Lord has not said that we never will come in difficulties, but He has promised to be with us. If you get afraid, be honest about it, but you do not need to keep it. The Lord is saying: "Cast all your cares on Me, for I care for you." (1.Peter 5:7) We have enormous promises about protection during difficult situations. Psalm 91 was read every day by many during the Pandemic. It is just as important today.
Where do we have our focus during difficult times? If we are only watching news about wars and other bad happenings, we will finally get depressed. We might lose our strength and power. We must come closer to God. The joy of the Lord is our strength. (Nehemiah 8:10) The devil wants to steal our joy.
I talk to some people that are very eager in preparing practically for difficult times. They buy food for a long time, buy water tanks and aggregates in case the electricity should stop. Some buy iodine tablets in case of an atom-war. I could write a long list of preparations. Some are even buying a farm in the countryside where they can have cows, chicken and other animals and where they can grow vegetables. I think that every person should do what he or she has faith for, but do not allow fear to drive you.
I will quote some verses from 1.Peter 5: "Be sober, be vigilant, because your adversary the devil walks about like a roaring lion, seeking whom he may devour. Resist him, steadfast in the faith, knowing that the same sufferings are experienced by your brotherhood in the world. But may the God of all grace, who called us to eternal glory by Christ Jesus, after you have suffered a while, perfect, establish, strengthen and settle you." These verses are clearly saying that sufferings may come, but He will give us strength.
DO NOT FEAR, THE LORD IS WITH YOU!
Mother Else