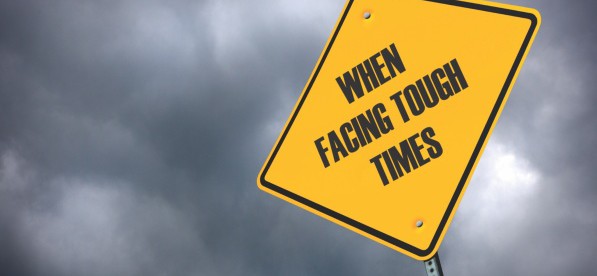 TOUGH TIMES.
I constantly meet Christians complaining and saying that the times are harder than ever before. Some are saying that the devil attacks more than ever. Others go through great physical and mental pain. Many are worried about the future. They say: "It's tough." I do agree to this, but I am not so surprised because I know the times we live in. I do know that we live in the last days, but I do not know how close and exactly when Jesus returns, but He is coming soon. We read in Matthew 24 that we will hear about wars and rumors of wars and nation will rise against nation and kingdom against kingdom. There will be famines, pestilences and earthquakes in various places, but all these are the beginning of sorrows. The Lords says that we shouldn't be scared. He is also saying that lawlessness will abound and many will grow cold. We have for centuries heard about wars and we hear about earthquakes quite often, but now everything evil is increasing in intensity and destruction. Terrorism happens everywhere and one can be scared to be where many people are gathered since the terrorists want to kill and destroy as many as possible and they are therefore attacking where there are most people. We have recently heard about airports attacked and other places where thousands of people were gathered. Some people think that the devil will win the battle. We must not forget that the devil became the ruler over the earth when Adam and Eve sinned and the close relationship between God and man was broken. We Christians are called to take back the territory that has belonged to the devil.
We have to wake up and not allow darkness to prosper. We have received weapons to fight and authority from the Lord to enter the arena and we belong to the victorious side.
I can almost hear some of you say: "Be quiet. I do not want to hear about any fighting. I want to have peace and enter the quietness of faith." I seriously do not believe that you can fight if you have not been in the quiet place with the Lord. You might easily fight in your own strength then. You must be close to the Lord, know who He is and that you yourself are on the victorious side. The devil is not afraid of you, but he is really afraid of Jesus in you. He knows that Jesus has conquered him and we can only fight darkness in the power of the Lord. We read in Colossians 2:15 that Jesus disarmed principalities and powers and made a public spectacle of them He triumphed over them on the cross. What am I supposed to fight against? You must first and foremost ask The Holy Spirit about that. He is the One to guide you and help you. You should keep the devil away from you and your family. If you are attacked by sickness, accident, death, divorce or anything else from the kingdom of darkness, it is high time to fight. I am not talking about your old mother or father dying a natural death. In reality, you should have been praying and taking authority long before these things happened. I do not believe that we fully understand that God wants us well and He wants all the best for us. We do not understand the extent of His power either. We read in Ephesians 1:18+19: "I pray that the eyes of your understanding being enlightened; that you may know what is the hope of His calling, what are the riches of the glory of His inheritance in the saints, And what is the exceeding greatness of His power toward us who believe, according to the working of His mighty power." I just talked to one attending a Christian conference where she met the unconditional love of her heavenly Father. She said: "I must get out of the religious stress," she said. None of us should be there
We are children and heirs to the Highest God and filled with His mighty power.
The Lord prepares the Bride and the Army. I hear constantly that He brings things from the subconscious into the conscious. These are suppressed material, most likely from the childhood. This is part of the preparation for the wedding. The times are also so tough and it will be tougher and we cannot afford to have entrances for the devil then. It is His grace that cleanses us even if it can be painful at the moment.
How do we react to all the negative news? How much time should we spend reading about everything that goes on? I think there must be a balance between ignoring the times and spending hours every day reading everything you can. We must all be led by The Holy Spirit. I personally watch the news at least once a day and sometimes I read some of the prophesies on the internet. We must never forget that we should first and foremost be with the Lord and then we must remember our commission from Mark 16 and Matthew 28. I recently wrote that we should go out and make all nations to disciples. Mark 16 writes about the signs following the believers. We should drive out demons, speak in new tongues and lay hands on the sick. If we spend so much time on the news and the prophesies of the time that we forget the commission, we are not in the will of God. Jesus says that we should live a normal life when He returns. He encourages us to be prepared. There are those who have forgotten to fill oil on their lamps. (The story of the ten virgins) To sleep is not the same as being in the rest of faith. Many want to sleep and they are not spiritual alert. I think that is dangerous. Timothy writes in his first letter and the second chapter that we should pray for all people, but especially for kings and everyone in authority in order to live a peaceful life. We are not only asked to preach the gospel, drive out demons and lay hands on the sick, but we are also asked to pray. Praying has saved the lives of many people and is the foundation for all Christian activity. Is it possible to stop the negative development? Abraham had a long conversation with God and asked Him save Sodom. God said that He would save the town if there were ten people praying for its salvation. I believe that we Christians should pray against the powers of darkness. I do not think that we alone should enter every war. Ask The Holy Spirit to show you what to pray for and how many that are needed to win the battle. When people are gathered to pray they should pray in one Spirit and they should know the target and the purpose. There will be no victory if we shoot in different directions.
The need for help is tremendous and many do not know how to help. Some people cannot even think of hearing about the sufferings of others. We cannot carry the sufferings, but we must not become indifferent. All of us can do something. I will again say: "Ask The Holy Spirit about what to do." Jesus says that what we do for one of the least, we do for Him.
When the pressure from outside is greater, we need more of His power. We must also use the weapons He has given us in order to protect us and also to lead an offensive war. He has not left us fatherless, but promised to be with us every day. It's time to read psalm 91. We need to live in His promises more than ever.
GOD HAS FULL CONTROL!
Mother Else