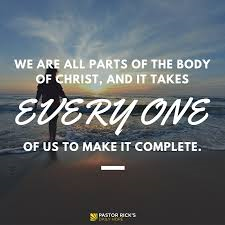 THE BODY!
Part 1
I will not write about the physical body. I am not a doctor, but I will write about the Body of Christ and that can be compared with the physical body in many ways.
I will start by referring to Ephesians 1:22-23. It is written: "And He(God) put all things under His(Jesus) feet, and gave Him to be head over all things to the church, which is His body, the fullness of Him who fills all in all." If you are born again which means that you have confessed your sins and received Jesus as your Savior and the only way to the Father, you are part of His body. Sometimes we talk about the Body as the Bride and other times we call it the Church. We are not thinking about the local churches then, but we think about all those we can call sisters and brothers in Christ. We are children of God, born by the same Spirit. We might look different and have different backgrounds and think a little different, but we are One in the Spirit, One in Christ and we have the same Father. Christ is the Head. We read in John 15:4 that we cannot bear any fruit if we do not abide in Christ. We do not automatically become part of the Body because we belong to a church or born into a Christian family. Some people think that they are Christians when they are born in a so called Christian country. Jesus is the way to the Father and we must choose Him. God wants to have a relationship to all people, but He doesn't force anybody to come to Him. He has made certain rules for a relationship and one is that sin cannot be part of the relationship. We cannot be free of sin unless we accept Jesus as our Redeemer. He was the Lamb slain for our sins and He was the perfect sacrifice. Because of His blood, we have a red carpet to the Father.
When we think about our physical body, it exists of many parts. The more I learn about my body, the more impressed I am and the more I admire the Creator, my God. In the first chapter of Genesis we read that we are created in His image. Each part is dependent on the other parts. God had a clear purpose and function for each part. He did not put a toe on the hand, but fingers. Five fingers are placed together, side by side. A lot of things in the Body has not functioned because one is placed together with the wrong members or the wrong parts. When one becomes a member of a church, one might be forced to be in a group of people going in another direction than yourself. I was in a such a group for over ten years and it wasn't good at all. Why didn't I leave? I should have done that. We were on different wavelengths. I have lately experienced that the Lord brings people together in a supernatural way. It might be for a limited time and task, but some for eternity. I can see how we together become strong. When we get together, each and everyone has something to share from the Word or from our lives with Christ. No one pushes the other to the side. Just think if the little finger should tell the thumb that he should not have that function. This has happened in many congregations. Prophets are not welcomed in all churches. Others will not talk about demons. The Body tries to function without allowing everyone to be the God-created part.
All parts of the Body functions best if they are active and in use. If one has been sick for a certain amount of time, one loses power in the legs for example and one needs some practice to walk again. The same happens in the Body as well. There are churches that make the members passive and the gifts of the Spirit cannot be used. One can become sick if one can't use what God has given them. I am not against churches, but churches where the pastor does not function as a shepherd and feeds the sheep and encourage the members to use their gifts. We can read John 21:15-19. Jesus was asking Simon Peter if he loved Him. Simon Peter answered: "Yes, You know that I love You." Jesus answered: "Feed My lambs." Jesus continues to ask him if he loved Him. Simon Peter answers yes every time. Jesus also says: "Tend My sheep." The result of loving Jesus should be to feed the lambs and tend to the sheep.
A body without food and water will finally die. The physical body needs this, but also the spiritual body. The apostle Paul is rebuking the Galatians since they could not eat solid food, but only milk. If a pastor loves His Lord, he gives solid, spiritual food to His members. He is supposed to help the members to grow in the Lord. Some pastors will rather help the members to support his or her calling. That is wrong.
It should be a balance in the body. If one only trains one arm, the rest of the body will be very weak. The same thing will happen in the spiritual body. The entire Body should function together.      
ARE YOU AN ACTIVE OR PASSIVE PART OF THE BODY?
Mother Else