TAKE CARE OF YOUR HOLY CALLING AND STIR UP THE GIFT(S) OF GOD IN YOU. PART 2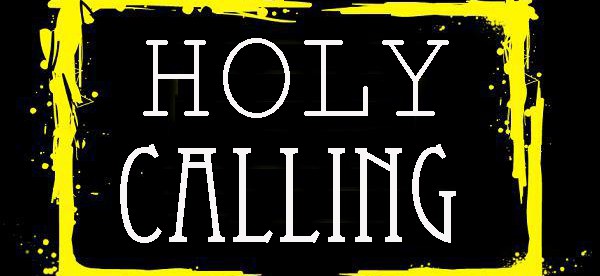 TAKE CARE OF YOUR HOLY CALLING AND STIR UP THE GIFT(S) OF GOD IN YOU!
Part 2
Last time I wrote about your calling and the gifts and your calling belong together as a theme. God is the One who has called you and He will give you the tools that you need for the calling. The gifts of the Spirit are such tools. They are given to all believers, but are extra important for those who are called into ministry. I referred to Timothy 2 and the first chapter. Paul was writing this letter to his friend Timothy. The apostle Paul said that Timothy must not forget the gift of The Spirit that was given to him when Paul was laying his hands on him. He encouraged him to stir up the gift. The next verse goes on to say that God hasn't given us a spirit of fear, but of power and of love and a sound mind. It just reminds me of the fact that fear can be a spirit.
I seriously do not believe that it is necessary for somebody to lay hands on you in order to receive a gift. God has given me gifts of The Spirit and nobody has laid hands on me for that purpose. God has given me what I need for my calling.
We can look up Romans 12. Paul says that we are one body with many parts. We all have different functions. I will recite verses from this chapter and I start with verse five: "So we, being many, are one body in Christ, and individually members of one another. Having then gifts differing according to the grace that is given to us, let us use them; if prophesy, let us prophesy in proportion to our faith. Or ministry, let us use it in our ministering, he who teaches, in teaching. He who exhorts, in exhortation; he who gives, with liberality; he who leads, with diligence; he who shows mercy, with cheerfulness." I continue with 1.Corinthians 12:7-12: "But the manifestation of the Spirit is given to each one for the profit of all. For to one is given the word of wisdom through the Spirit, to another the word of knowledge through the same Spirit, to another faith by the same Spirit, to another gifts of healings by the same Spirit, to another the working of miracles, to another prophesy, to another discerning of spirits, to another different kinds of tongues, to another the interpretation of tongues. But one and the same Spirit works all these things, distributing to each one individually as He wills." At the end of the chapter we read: "Now you are the body of Christ, and members individually. And God has appointed these in the church; first apostles, second prophets, third teachers, after that miracles, then gifts of healings, helps, administrations, varieties of tongues." These two chapters are mixing gifts of the Spirit, ministries and different duties. We are usually saying that we have nine gifts of the Spirit. In the letter to the Corinthians we read about 1) Word of wisdom. 2) Word of knowledge. 3) A special gift of faith. 4) Gifts of healings. 5) Working of miracles. 6) Gift of prophesy. 7) The gift of discernment. 8) Different kinds of tongues. 9) The interpretation of tongues. In Mark 16 we read that all believers should speak in tongues and all believers should lay hands on the sick and they will recover. We see here that we can pray for the sick without having a special gift. If you look carefully, it says gifts of healings. That means that we have different kind of healing-gifts. I have a gift for healing the soul, but I do not hesitate to pray for physical healings as well. All believers have a divine faith, but the gift of faith is something given in order for you to have extraordinary faith, maybe in cases where no human resources can help. Paul writes a lot about speaking in tongues in the 14th chapter in the first letter to the Corinthians, but at the end he writes that we should seek the prophetic gift. You are not necessarily a prophet even if you have a prophetic gift, but I do not think that you can be a prophet without that gift.
Why did I encourage you to stir up the gifts of the Spirit Don't they work automatically? Some of you might wonder if you even have a gift. Well, that you have to find out first. I really want to ask you if you desire a gift and what do you want to do with it? Some people compare themselves with others who are known in practicing the gifts.
The letter to the Ephesians says in the fourth chapter that the fivefold ministry is given for the equipping of the saints in order for them to do their work. We are not called to boast about ourselves. We are supposed to serve each other both with the gifts and with our calling. In 1.Peter 4:10+11 we read: "As each one has received a gift, minister it to one another, as good stewards of the manifold grace of God. If anyone speaks, let him speak as the oracle of God. If anyone ministers, let him do it as with the ability which God supplies, that in all things God may be glorified through Jesus Christ, to whom belong the glory and the dominion forever and ever. Amen"
The gifts are given and not produced by us and the glory and honor should therefore go back to the Giver.
If you are born again, you have the spirit of God in you and Mark 16 says that all believers should lay hands on the sick and drive out demons. You do not need a gift for that. It also says that all believers should pray in tongues and I believe that all believers should be baptized in The Holy Spirit. God is the Giver of gifts and He doesn't give the same gifts to everyone, nor do the gifts function the same way for everybody. I know that I have a gift of discernment, but I do not always see the demons, but some do. I might get like a picture of them and many times I get their name. God has taught me how they operate, but I know more in certain areas than in other areas. Since the same gift can be used in different ways, we must be careful and avoid making a book for teaching our way. I'll use one more example. Those with a prophetic gift might rise up in a church or in a group and prophesy, others predict the future in order for us to be prepared. I myself will often come with a word to an individual.
     The same gift can be used in different ways.
You can ask God if He has given you a gift and you can ask Him to give you one. Most people will know if they have a gift. The gift pops up in different situations and you might say and do things that are supernatural. I believe that it is important with a person guiding you, especially in the beginning. Some people are so afraid of making a mistake that they hesitate to use the gift. I recommend you to step out in faith in a group where you feel safe and accepted and where you can be corrected in a loving manner. God sees to your heart and He is not there to judge you. Others think that all their thoughts and pictures and dreams come from God. We all have three sources of information: God, our flesh and the devil. I think that it is important to have the Word of God as our base. What we deliver must be in accordance with the Word and The Spirit. The more I am with the Lord, the better I recognize His voice. It is a little difficult to explain how I hear His voice since it isn't audible.
I wrote that we should stir up the gift(s) given to you. They are given in order for you to use them. Many are hiding them. I want you to ask what God has given you and how and where to use them. My gifts are often, but not always activated by praying in tongues. It might be different for you. Seek to an environment where they encourage the gifts and you can also use them for non-believers. That is one out of many ways God can meet them.
THANK GOD FOR THE GIFTS OF THE SPIRIT AND USE THEM BOLDLY!
Mother Else