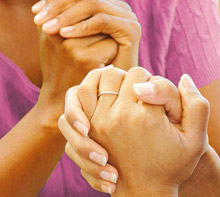 PRAYING EFFECTIVELY.
We read in James 5:16 that the effective and fervent prayers of a righteous man avail much. We read in the same verse that we should confess our trespasses to one another and pray for each other in order to be healed. In John 9:31 it says that God doesn't hear sinners, but if anyone is a worshiper of God and does His will, He hears him. It also says in the Bible that God loves us even when we were sinners, so I do believe that He hears a sincere prayer of a sinner. Many have asked God to become real to them in order for them to believe. When this cry is sincere and real, God answers. I have listened to several testimonies from people who have cried out to the Lord and He has answered them in a way that convinced them of His love and His existence. That led these people to receive Jesus Christ as their Savior. A sinner and a non-believer hasn't received Jesus into his or her spirit and isn't washed in the blood of the Lamb. They are not children of God, but actually belong to Satan. When it says that the prayer of a righteous man avails much, it doesn't mean that I am righteous by my own deeds, but only because of what Jesus has done. He took all our sins and when we accept His sacrifice and receive Him in thankfulness, we become clean and have access all the way to the Father. He looks upon just as sinless as His Son, Jesus. Since God is our Father, He will naturally listen to His children. A good father will always listen to his children.
Both James 5:16 and John 9:31 mention other important things in the same verses where we read about praying. In James it says that we should confess sins to one another in order to be healed. In John it says that we should worship and be obedient. I continue to point to the Bible. In Mark 11:25 we read: And whenever you stand praying, if you have anything against anyone, forgive him, that your Father in heaven may also forgive you your trespasses." We read in the next verse that if you do not forgive, you will not be forgiven by God. In other words: We cannot pray before we have forgiven those who have sinned against us or those who have hurt us. I do not believe that everybody hurt us consciously, but it doesn't matter, we have to forgive before we pray. In 1.Peter 3:7 it says that husbands should dwell with their wives with understanding and he should give her honor as a weaker vessel, but they are together heirs of the grace of life. If he doesn't, his prayers will be hindered.
I will add one more element that plays a vital part in praying and that is: faith. I will quote Mark 11:24:"Therefore I say to you, whatever things you ask when you pray, believe that you receive them, and you will have them." We can clearly see that praying isn't something we do casually. God isn't a coke machine. We can't just press a button and out comes the answer. I know that there might be more elements than those I have mentioned today, but I will repeat those I have mentioned this time: God's justice, confession of sins, forgiveness, love for your wife(and I believe vice versa), and faith. I am afraid that some people will hesitate to pray when they see these Bible verses. They might feel unworthy or others might wonder if they have enough faith. Others might wonder if they have forgiven enough. Those that really should think like that do not see their own sins or mistakes. They are often accusing others or even on God. Those who are super sensitive have a tendency to take the blame for everything. If you wonder if there is anything in you hindering your prayers to be answered, ask the Holy Spirit. Have you done anything against the Word of God? Didn't you forgive or didn't you confess sins? Do you have anything against anyone? If the Holy Spirit doesn't pint at anything in your life, thank God for the answers to your prayers. If you have prayed according to His will, you will get an answer.
It says that we should be persistent in our prayers. We should not give up. There might be spiritual resistance against the answers to your prayers. If there is, you might have to enter spiritual warfare. When we pray, we pray to God. We ask Him to help us in different ways. We might intercede for others or pray for different projects. When we enter into war, we fight the devil, never people. We must never fight in our own strength. We have not conquered the devil, but Jesus. He did that on the Cross. Read Col.2:14+15. We must be conscious of the fact that Jesus lives inside of us and He has given us His power and authority. We read in Ephesians 2:6 that we are raised up together with Christ in the heavenly places. The resurrection power lives in us and works in us. Jesus conquered the devil and the death and He live in us. I have victory over the devil through the name of Jesus, the name that is above every sickness, every demon and problem and even over death.
If we want our prayers and spiritual warfare to be successful, we must know who we are in Christ. We must have a revelation of the covenant we have with God through Jesus Christ. We can read a lot about this in the Bible, but I recommend you to read the letter to the Ephesians. The first chapter describes who we are in Christ. Many letters say that we are heirs with Christ. That means that we have the same rights as Christ. The devil has no legal right over our lives. He has no right to come with sickness, death, unemployment and poverty. We read in John 10:10 that the devil came to steal, kill and destroy, but Jesus came that we may have life and life abundantly. If we believe that God wants us sick, we are wrong. Isaiah 53:5 says that by His stripes we are healed. Jesus took our sicknesses with Him on the Cross.
The devil wants to make us worried and full of fear, but Jesus says in John 14:27" Peace I leave with you. My peace I give to you; not as the world gives do I give to you. Let not your heart be troubled; neither let it be afraid." If we do not understand that fear comes from the enemy, we will not be able to fight it by using the name of Jesus and the Word of God.  Do you remember what happened when Jesus had been in the desert for 40 days? He was weak and hungry and the devil came to tempt Him. What did Jesus do? He answered him all the time by saying: It is written! He knew what was written and we should also know the Word of God and answer the devil with the same words.
We read in Revelation 12:11 that they overcame him(the devil) by the blood of the Lamb and by the word of their testimony. We can also have victory over the evil by the power of the blood of the Lamb and the words we are saying. If we proclaim defeat, we will get defeat, but if if proclaim victory, we will have victory. You might say: "Maybe" No, quite sure. We might be tested and will have to repeat the truth several times, but there will be full victory in the end.
Jesus says in John 14:13+14: And whatever you ask in My name, that I will do, that the Father may be glorified in the Son. If you ask anything in My name, I will do it." We have a very clear promise given by Jesus here. We can't say maybe or I hope then. What we ask must naturally be in accordance with the will of God. If you do not know His will and you do not have a clear revelation about it, you should give the problem to the Lord and pray: Thy will be done. The Lord does always have the best answers.
I believe that the Lord has shown me that we will get a lot of answers to our prayers this year. The prayer vessels will be emptied and made to answers.
BE BOLD AND PRAY IN FAITH!
Mother Else