LIGHT A CANDLE IN THE DARKNESS OF FALL.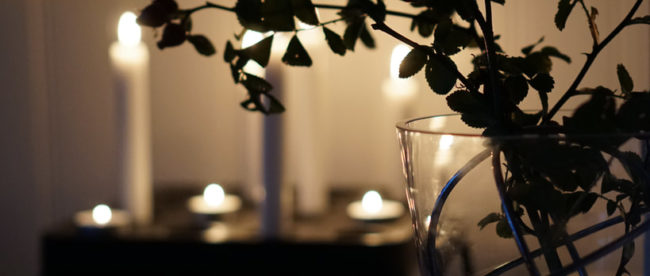 LIGHT A CANDLE IN THE DARKNESS OF FALL.
I am living in a country with four seasons and everybody has their own favorite season. Many love the spring when everything comes back to life. Ice and snow have covered the life underneath, but now it starts to bloom. I have a daughter loving winter. She can enjoy her skis then. Some love the fall when all the leaves change colors and the trees stand there in their beauty before everything falls off. I have the summer as my favorite season. It is warm and I can enjoy the sun. I do not need to use time and energy for a lot of clothes. It is also a time for vacation.
Now we are in the middle of fall and it gets darker and darker day by day. The days are getting shorter and shorter. This is the situation outside, but inside we start lightning candles and electrical lamps. We must make a cozy atmosphere.
We are often connecting darkness with something negative and light with something positive. We are no longer under a curse, but under blessings. This is a fact no matter how dark it is on the outside. How much are you influenced by the fact that it gets colder and darker outside? Many are under the influence of different kind of weather. Some become depressed. What do you do about it? We must not forget who is living in our spirit. Jesus lives inside of us and He has given us His life and authority. Read the first chapter of the letter to the Ephesians. You will see what you have received in Christ and who you are in Christ. I believe that it is important to have right focus. Some people talk all the time about the negative things that are happening in the world and in their family. They talk about all the things that fail more than the good things. This is stealing both their joy and their energy.
We sing a song that goes like this: "This little light of mine should shine clearly." The fact is that we have a big light inside of us, in our spirit. We read in Matthew 5 that our light should shine clearly so that everyone could see it. We should not hide under it under a basket. When I was working in the community, I was not allowed to preach about Jesus. I worked with both physical and mentally sick people. At the end I couldn't work there anymore. I knew that the answer to their problem lived inside of me and that was Jesus. Some knew that I was a Christian and they asked me for prayers. I do believe that the light in me came through in different ways, but it could not shine clearly. Today I work in a counselling center and Jesus is presented to everyone coming for help. The Holy Spirit is our Helper and Jesus is the Answer to all our problems.
We are not just living in the middle of fall, but also in the middle of a corona epidemic. It has increased in many places. How can we Christians allow our light to shine through us during such times? I do believe that we first and foremost should show our trust in God and not to worry. We should live in psalm 91 and psalm 23. I do not mean that we should behave in a stupid way, but we should be secure in God. We could smile to others and show people that they are important even if we need to keep a certain distance. We might help those in need and we can ask Jesus to show us how we can spread His light around us. I, myself, am using the phone and skype a lot during these times. I haven't been able to get out of the country since March, but I see my daughter in Norway weekly on skype.
We are recommended to use reflex during the darkness and that could save us from being hit by a car or bicycle. We should reflect Jesus in us and He should be visible. Before we used to write that we were Christians when we were applying for a place to live. That should mean that we didn't smoke and that we were honest. Today this might not be the case. So much of the world have crept into the church and Christians might live a double-life. Sin is creating darkness. It is therefore very important that we confess our sins and repent and change behavior in order for the light to shine.
Let this fall be a time when the dark spots in you are deleted so the light can shine forth.
It is good when your own light can shine more clearly, but you can also light a candle in others. When you tell others about Jesus, you bring light into the dark. Jesus is the Light. Some people say that our faith is private, but I think that is very selfish. "I have the solution for all the problems of the world, but I do not want to share it with anybody." If you really understood the tragedy of being lost, you would do anything to share Jesus with others. Just think of all the people longing for love. Jesus is loving all people and He has given His life for everybody and we are free to receive Him and all what He offers to us. Jesus has wiped away our sins and carried our sicknesses. We really cannot keep this knowledge to ourselves. We must get rid of the darkness in our own lives so that we can bring the Light to others.
LET US BE CLEAR LIGHT-BEARERS THIS FALL!
Mother Else