HOW DO WE KEEP TO THE TRUTH DURING A TIME OF CONFUSION? Part 2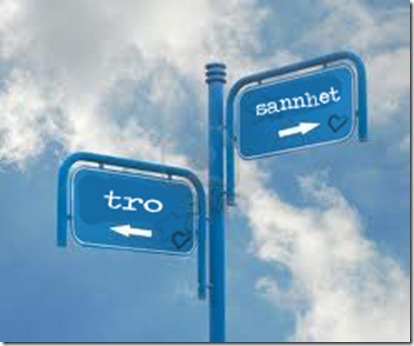 HOW DO WE KEEP TO THE TRUTH DURING A TIME OF CONFUSION?
Part 2
I want to explain the arrows on the picture to the English readers. On the arrow to the right it is written truth and on the one to the left it is written faith.
I finished the first part by saying that the Word of God is our highest authority. The Bible represents the truth. I know that the Bible is open for interpretations since everything isn't quite clear. We must really pray that the Holy Spirit is with us when we read the Word of God. I know that many people get saved when they read the Bible and the Word is not supposed to return void. I wrote last time that some known preachers from the faith movement become Catholics. Many of their supporters do the same. They cannot be founded in the Word then.
Many countries have had a discussion about marrying homosexuals and many countries have accepted laws that force pastors to perform marriages of two people of the same sex. I am not against homosexuals. They are highly loved by the Lord. He actually gave His life for them, but the Bible writes against homosexuality. You can read Rom.1:27 and 1.Cor.6:9. I think that it might be quite chocking to discover that one is sexually attracted to one of the same sex. I believe that the reasons can be many, but do not come and tell me that they are created in this way by God. He created them as male and female and the two of them shall become one. I believe that there are demons behind homosexuality and I know that God can help people who want to come back to the original. One has to see that God wants a man to marry a woman. He hasn't changed His mind. First step out of it is to confess homosexual practice as sin. One can be delivered, but cognitive therapy might also be helpful in the healing process. God's healing power will there and if God can create, He can also restore. We must make a distinction between the sinner and the sin. No one needs to be met with condemnation, but with love and respect, but not accept. I know that certain churches have given up their right to marry people in order to avoid marrying homosexuals. There is a wide range of heterosexual sins so we cannot compare one with another.
God's Word says that sex belongs to the marriage between a man and a woman. He wants healthy families where a child is surrounded by a mother and a father.
Many who call themselves Christians are today living together without being married. How does this differ from being married? Marriage is ordained by God. (Heb.13:4, Ef.5:5) 1.Cor.7 talks a lot about marriage. It is a covenant between two people promising each other faithfulness under any kind of circumstances. Living together is less binding and it is not part of God's ordinances. Many people are getting divorced today and quite a few are married both three and four times, but that was never God's plan. God said that what He has put together should not be broken by men. As Christians we should seek the Lord and ask Him to guide us to the right partner and we should avoid sex before marriage. Sex is not a mere physical connection, but we become one in all aspects. I have broken many ties between people who have had several sexual relationships.
We as Christians must keep to the Word and be good examples in this time of immorality.
I know that some of you think that I am harsh and pietistic. I have really not lived right all the time, but I cannot avoid keeping to the truth during this time of confusion. One doesn't get happy by playing with it.
Can a Christian abort a child? My answer is no. God is the Creator. He has created life and we cannot kill life. That is written already in the Ten Commandments. An embryo has life from the very beginning. An embryo is not a lump of dead cells. When you enter a hospital here in Sweden, you can see a doctor killing a baby who is just as old as the premature child being cared for in the next room.
       We are not allowed to kill.
The Bible writes that there will be deceiving spirits and you can read Matthew 18:6. It says that whoever causes one of His children to sin, would be judged harder than if a millstone were hung around his neck to drown. I get nauseated when I listen to a pastor saying that a little baby is saved through baptism. In my Bible it is written that those who believe and are baptized, will be saved. (Mark !6:16). In my homeland, Norway, the Lutheran church was a state-church until recently. The main population of Norway is therefore taught to believe that they are saved through the baptism of a child. Nothing is written in the Bible about baptizing small children. It is written in Acts 10 that Cornelius and his household was baptized and there might have been some children in his household. I believe that those who believe in Jesus and are baptized as small children are saved, but those who live outside the will of God, might be surprised the day they die. I want to save those.
Jesus blessed the small children and we are supposed to do the same.
Many of you might say that these themes are not new in the Body of Christ. That is correct, but I have noticed that known faith preachers have changed their view on baptism. The question of abortion comes up frequently. We must keep to the Word of God.
The Bible is full of warnings about the last days. We can read 2.Timothy and the third chapter. I recognize quite a few things from his writings. There will be perilous times, men will be lovers of themselves, lovers of money, boasters, proud, blasphemers, disobedient to parents, unthankful, unholy, unloving, unforgiving, slanders, without self-control, brutal, despisers of good, traitors, headstrong, haughty, lovers of pleasure rather than lovers of God. There will be an outward form of godliness, but there is no power. Women will be used for sinful lust. I have heard about pastors in India telling women to have sex with them and the result would be a son of God. These women are ignorant and they might not be able to read and write.
We read in 2.Timothy 4:2"Preach the Word. Be ready in season and out of season. Convince, rebuke, exhort, with all long suffering and teaching." We can continue to read that we should not only accept that which is itching to our ears. How do we react to all of this? One way is to act as we are not part of this. Another way is to enter a lot of discussions. I believe that each and every one of us must seek the truth in the Word of God. We must live close to the Lord and allow His life to change us from the inside out. It is written that we should not have any idols and we must obey God more than people. We must be willing to be unpopular among people. We cannot compromise with the Truth. We are supposed to pray constantly. Those who are praying in tongues, should use the heavenly language a lot. What is getting your attention? With whom do we associate? How do we use our time? My advice is:
TURN YOUR EYES UPON JESUS!
Mother Else