CAN YOU SING JOYFUL CHRISTMAS, HOLY CHRISTMAS?KAN DU SYNGE GLADE JUL, HELLIGE JUL?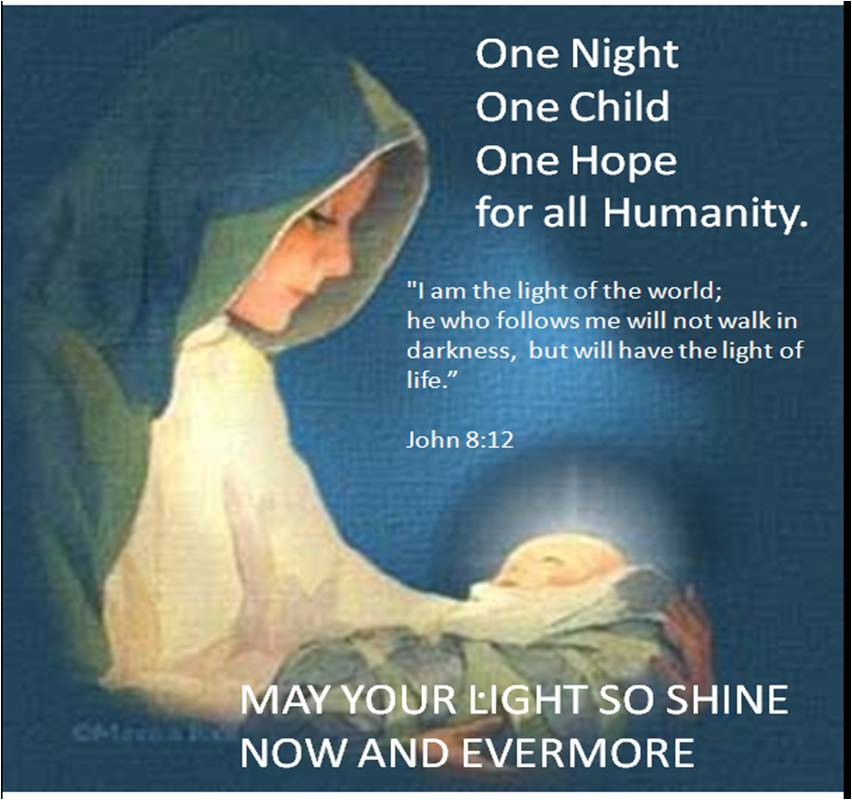 CAN YOU SING JOYFUL CHRISTMAS, HOLY CHRISTMAS?
This title is a little strange since "Silent night, holy night" has another translation in Norwegian. We sing: "Glade jul, hellige jul." "Glad" means merry or happy and "hellig" means holy. I guess you understand that I am not asking for your ability to sing, but I want to share some thoughts about the words: Happy and holy.
What is making you happy? I can't answer for you, but I can answer for myself. I get happy when I wake up well and sound in the morning even if I am a little slow in the beginning. I do invite the Holy Spirit to be with me and I want Him to reveal the Word for me. When I do not ask for revelation, the Word doesn't taste quite the same. I want fresh bread from heaven. They got daily manna in the desert. The Lord doesn't give us anything old. He will always give His children the best. He is like a good daddy and I know that I get happy when things go well for my children. That goes for all areas of life. The Bible says that we should rejoice with those who rejoice and cry with those who cry. The joy of my children and others around me, make me happy.
I get full of joy when my prayers are answered.
I pray quite a lot and I get full of joy when I get answers. That can be on a personal level or when I have prayed for others or for special issues. That encourages me to keep on praying.
I get happy when I can praise and worship the Lord and especially when we are many praising His name. When the Holy Spirit comes in a strong and special way, I am really blessed. I love to be together with others allowing the gifts of the Spirit to flow and where we can talk about the Lord and what He is doing.
I am also an ordinary human being and I appreciate being invited out for a good meal. I am always exited when I am out travelling. Once and awhile I appreciate a good movie or a concert. As a woman I also enjoy buying clothes or buying gifts for others. I also like to receive gifts, especially flowers. Some people think I am funny when I like to play games or participate in a competition. I love to laugh and to be around people with a lot of good humor. I am thankful for having a roof over my head, a monthly pension and enough food every day, but have to admit that I take that too much for granted. I am really glad when someone comes and tells me that they appreciated what I had been saying or what I had been writing.
I want my life to bear fruit.
This was a little list over the things that make me happy. You might think and make your own list. We read in Nehemiah 8:10 that our joy in the Lord is our strength. The devil wants to steal our strength. Do not allow him to do so.
A lot of people have a difficult time being happy during the season of Christmas. There is a real chaos all over the world. We hear and see wars and a lot of tragedies and people are running away hoping to find a shelter and some food. We can see catastrophes and people are losing other family members and their homes. Poverty is common in many parts of the world and people are lacking food and water. I know that quite a few people get more loving and giving during this season of Christmas. I think that you should ask the Lord what you should give, to whom you should give and whom to help this Christmas. Some of us live in abundance and we can reduce that by sharing with us. I love to give small gifts and cards to family and friends, but I do not want to forget the need of other people. I usually ask Jesus what He wants for His birthday. I wouldn't be surprise if He wants me to give something for somebody who really needs it and someone who can't give anything in return. When my children were small, we sang a song that goes like this: Give to others and you will get happy, give to others and you will get happy. I am so childish that I enjoy receiving gifts as well.
Holy.
We are singing "Holy night", meaning the night that Jesus was born. When I think of the word holy, I think of something that is pure and something that I do not want to play with. I have great respect for that which is holy. Only the High Priest could enter the most holy in the temple of the Old Testament and he had to go through a strict cleansing process. Jesus is our High Priest today. He has carried our sins and He intercedes before the Father for us. He was the perfect sacrifice without any spots. Why do we sing about holy Christmas? The reason is that Jesus was born and that changed the history of the world. It was a holy moment. Mary, the mother of Jesus was pregnant by the Holy Spirit. It was absolutely supernatural and a great miracle. The night when she gave birth to Jesus, the divinity moved from heaven down to earth through a human being Who was God and man. During this time of the year we can see a stable with Jesus in a manger surrounded with sheep and shepherds in thousands of homes, offices and supermarkets. Many are thinking of Jesus as a sweet little baby, just like a fairy-tale. He is not real to them as the living Son of the Almighty God.
Wake up! This is the most important thing that ever happened in history. Jesus left the glory of heaven and came down to us in a form of a human being. He wanted to identify with us. He lived as a son of two earthly parents, but later He entered into ministry. He was teaching, healing and performed miracles. He cast out demons and people followed Him everywhere. The most important miracle was when He was hanging on a cross and took our sins and our infirmities. He rose again on the third day after Hid death and we can therefore say that He won a victory over death.
Jesus is so much more than a sweet little baby in a manger.
He is the Savior of the world!
The world is today dirty both concrete and spiritual. I have been a lot to India and it is quite common to throw dirt everywhere. The atmosphere is marked by a huge number of idols. They are having a great influence over the way people are living. Here in Sweden there is also a lot of uncleanliness. I entered a building today and I brushed off the dirt on a math lying there at the entrance. A young boy came behind and pushed me almost down and looked at me with contempt since I tried to protect others from my dirt. What are we doing with the concrete dirt and what are we doing with the spiritual uncleanliness? My experience is that these two go together to a certain extent. Many people are crying loudly about pollution, but some of these people are smoking, drinking and watching satanic movies. I seriously believe that God wants us to take care of His nature, but He doesn't want pollution in any areas of life. Tomorrow we are celebration "the life" in Sweden. One of the themes that is common to talk about is the protection of unprotected children in the wombs of their mothers. Thousands are killed through abortion.
A human being is created in the image of God. He and she are holy and worth being protected.
Some animals are more holy than human beings in some countries. Animals are created by God, but they are not created in His image. We are sinners in need of salvation and this Christmas we can say: Yes to Jesus and accept Him as our Savior.
LET US CELEBRATE THE SAVIOR OF THE WORLD!
BLESSED CHRISTMAS!
Mother Else
KAN DU SYNGE GLADE JUL, HELLIGE JUL?
Dette er tittelen på en julesang og de fleste av dere synes jeg kommer med et tåpelig spørsmål. Selvfølgelig kan vi denne sangen sier du. Vi har lært den som barn. Det var ikke det jeg tenkte på når jeg skrev overskriften til denne prekenen. Jeg vil filosofere rundt de to ordene «glad» og «hellig».
Hva gjør deg glad? Jeg skal ikke svare for deg, men jeg kan svare på hva som gjør meg glad. Jeg blir glad når jeg våkner frisk på morgenen selv om det tar litt tid før jeg våkner ordentlig. Jeg tar tidlig kontakt med Den Hellige Ånd og jeg blir glad når Han åpenbarer Ordet for meg. Det er dessverre dager hvor jeg leser uten å be om åpenbaring av Ordet og da blir jeg mindre glad. Det blir som å lese uten å få mat. Ordet skal være som ferskt brød. I ørkenen fikk de manna hver dag. Herren vil ikke gi oss noe som er gammelt. Han gir alltid det beste til Sine barn. Han er som en god pappa og jeg blir veldig glad når det går godt for mine barn. Det være seg åndelig, praktisk eller på det menneskelige plan. Det står i Bibelen at vi skal glede oss med dem som gleder seg og gråte med dem som gråter. Både mine barns og andres glede gjør meg glad.
Jeg blir veldig glad for bønnesvar.
Jeg ber mye og når jeg får svar på bønnene mine, blir jeg veldig glad. Det kan gjelde meg personlig så vel som andre. Jeg står i gapet for en del mennesker og stor blir min glede når de og jeg får svar på det vi ber om. Det oppmuntrer en til å fortsette å be.
Jeg blir glad når jeg kan lovprise Herren og spesielt når vi er mange sammen og kan opphøye Hans navn. Når Den Hellige Ånd kommer på en spesiell måte, blir jeg helt salig. Jeg elsker å være sammen med troende venner og dele tanker omkring det Herren gjør og der våre nådegaver kan flyte fritt.
Jeg er også et vanlig menneske som setter pris på å bli buden ut eller bort til god mat. Jeg blir glad når jeg skal ut å reise og jeg kan en sjelden gang glede meg over en film eller en konsert. Jeg er kvinne og jeg gleder meg over å kjøpe klær eller gaver til andre. Enkelte gaver gjør meg glad og jeg elsker å få blomster. Jeg kan more meg over et spill eller en konkurranse. Jeg liker å le og jeg blir glad sammen med mennesker som har mye humor. Jeg er takknemlig over å ha tak over hode, mat på bordet og en månedlig pensjon, men jeg tar dette altfor mye som en selvfølge.
Jeg blir glad når noen sier at det jeg har sagt eller skrevet, har betydd noe for dem.
Jeg vil jo at mitt liv skal bære frukt!
Dette var en liten liste over det som gjør meg glad. Du kan jo tenke over hva du blir glad for. Det står i Nehemia 8:10 at gleden i Herren er vår styrke. Djevelen vil stjele vår styrke. Ikke tillat ham å gjøre det!
I julen er det dessverre mange som ikke kan glede seg. Det råder fryktelig kaos over hele verden. Det er krig og elendighet og mennesker er på flykt i håp om å redde sitt liv. Det er naturkatastrofer og mennesker mister både familiemedlemmer og hus og hjem. Det råder fattigdom over store deler av verden og mange mangler mat og vann. Jeg vet at vi ofte blir litt mere gave-milde i juletider og jeg vil anbefale deg å spørre Herren hva du skal gi, hvem du skal gi til og hvem du skal hjelpe denne julen. En del av oss lever i et samfunn med overflod og vi kan minske vår overflod ved å dele med oss. Jeg liker å gi små gaver og kort til slekt og venner, men jeg skal ikke glemme nøden der ute. Jeg bruker å spørre Herren hva Han vil ha i julegave og det kan jo hende at Han ber deg gi til noen som virkelig trenger det og som ikke kan gi igjen. Når barna mine var små, sang vi en sang som lød så her: «Gi til andre, så blir du glad, så blir du glad …….» Noen sier at en blir saligere av å gi enn å få, men jeg synes det er morsomt å få noen ganger også.
Hellig. Vi synger om hellig jul. Når jeg tenker på ordet hellig, så tenker jeg på noe som er rent. Jeg vil ikke leke med det som er hellig. Jeg har ærefrykt for det som er hellig. I det aller helligste i tempelet i det gamle testamentet, så kunne bare ypperstepresten komme og han måtte gjennomgå en renselses-prosess før han gikk inn. I dag er Jesus blitt vår yppersteprest. Han har båret våre synder og går i forbønn for oss til Faderen. Han var nemlig syndfri og uten flekk og lyte. Hvorfor synger vi om hellig jul. Det som skjedde når Jesus ble født, skulle forandre hele verdenshistorien. Jesu mor, Maria, ble gravid med Jesus gjennom Den Hellige Ånd. Det var helt overnaturlig og må sees på som et mirakel. Den natten da hun fødte Jesus i en stall, kom guddommen i menneskelig skikkelse. Jesus var både sant menneske og sann Gud. En kan se et lite barn liggende i en krybbe omringet av Maria og Josef og mange dyr i millioner av hjem og forretninger over hele verden. Mange tror dessverre ikke på denne historien, men mange synes det er koselig å se på det lille Jesus barnet. Det virker så ufarlig. Det er som et koselig eventyr. Våkn opp! Dette er det viktigste som skjedde noen gang. Jesus forlot herligheten hos Sin Far og ikledde seg en menneskelig skikkelse for å identifisere Seg med oss. Han levde som sønn av jordiske foreldre og tjente og betjente menneskene rundt seg ved å undervise og utføre tegn og under. Mange demoner måtte forlate mennesker når Han befalte dem å gå. Det viktigste var likevel det Han gjorde når Han hang på et kors. Det var da Han ble et offerlam for deg og meg. Han oppsto den tredje dagen og derfor kan vi se: Han overvant døden. Ingen verken før eller senere har gjort det.
Jesus er så mye mer enn et lite søtt barn i en krybbe.
Han er verdens Frelser!
I dag er verden skitten, både konkret og åndelig. Jeg har vært mye i India og der er det helt vanlig å kaste søppel overalt. Atmosfæren er preget av et enormt stort tall av avguder og det preger også menneskenes måte å leve på, men her i Sverige er det også mye forsøpling av ulike slag. Jeg gikk inn i en bygning i dag og jeg tok av skitten på matten som lå ved inngangen. Bak meg kom en ung gutt og nesten dyttet meg ned uten å ta bort skitten og i forakt for at jeg ikke ville ta med meg skitten inn. Hva gjør vi med den konkrete skitten og hva gjør vi med den åndelige urenheten? Jeg har erfaring for at dette til en viss grad hører sammen. Mange skriker veldig høyt om forurensing, men noen av disse både røyker og drikker eller ser på sataniske filmer. Jeg tror absolutt at Gud vil vi skal forvalte naturen på en gudommelig måte, men det gjelder alle områder av livet. I morgen skal vi i Sverige ha en dag der en feirer «livet». Et av de emnene en da tar opp, er beskyttelse av barnet i mors mave. Her drepes tusentalls barn ved abort.
Mennesket et skapt i Guds bilde og det skal sees på som noe hellig som vi beskytter.
I noen land er dyr mere hellig enn mennesket. Dyrene er skapt av Gud, men de er ikke skapt i Hans avbild. Vi er syndere som trenger frelse og denne julen kan vi si: Ja takk til Jesus. Jeg vil ha deg som min Frelser.
LA OSS FEIRE VERDENS FRELSER.
VELSIGNET JUL!
Mor Else