GO OUT AND MAKE ALL NATIONS TO DISCIPLES.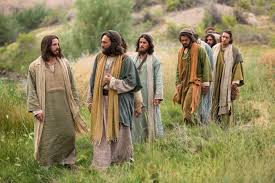 GO OUT AND MAKE ALL NATIONS TO DISIPLES.
The headline is taken from Matthew 28:16-20. I start from verse 18: "And Jesus came and spoke to His disciples saying: "All authority has been given to Me in heaven and on earth. Go therefore and make disciples of all nations, baptizing them in the name of the Father and of the Son and of the Holy Spirit, Teaching them to observe all things that I have commanded you; and lo, I am with you always, even to the end of the age." Amen. I have lately talked to people that are busy making disciples. Jesus chose His first disciples. They accompanied Jesus. They received His teaching and they observed how He lived and what He did. When they didn't understand, they could ask Him and they got the best answers. Jesus also sent them out to practice what they had learned. Theory and practice belong together. They got more and more disciples and Jesus said that we should make all nations to disciples. What was the commission? We should baptize them and teach them everything that Jesus taught the first disciples. This is ending with a fantastic promise. Jesus will be with us all our days till the end of this world.
I do not think that we seriously understand how we can make nations to disciples. We are still having quite a few folk groups that haven't heard about Jesus and many more are not made disciples. The disciples were close to Jesus. Many Christian leaders keep people on a distance and some are even having guards around themselves. They might stand in a pulpit or far away from the audience. If the congregation is big, the pastors might not even know the members of their church. The church might be built on smaller cells and the local leader might be the one making disciples. What is happening with a person when he or she gets saved? Maybe a person is raising his hand at the end of a meeting, but no one is taking care of him or her. What is happening to a new-born baby? One is very careful and treats the baby with great love and care. If that isn't the case, the baby might die. That could also happen to a spiritual new-born baby. Our responsibility is to make that person to a disciple, a disciple of us? No, a disciple of Jesus. It's good if we are a good example of a "Jesus-disciple", but they should first and foremost become like Jesus. One needs to get close to Him. What did He say and what did He do? His first disciples lived very close to Him. They had a very close relationship with Him. I do not believe that Christianity is primarily a religion, but a relationship with a living God and Savior. Jesus wants to move into everybody's spirit. "May I come into your heart?", He asks. If we say yes, His spirit will move into our spirit. A normal birth might be very painful, but what a joy when the baby is out. As a mother, I can assure you that you soon forget the pains of the birth when you see your child. Is it just as painful to be born again? No, because Jesus has born that pain for us. It might be painful to realize that we are sinners in need of redemption for our sins. It might also be painful to turn our back to our former sins and our face towards Jesus. Our spirit became free of sins right away, but our soul and body might need time, maybe the rest of our life. That's what we call sanctification.
What do we do in order to make disciples? Jesus is saying that we should baptize the new-born to the name of the Father, the Son and The Holy Spirit. All three parts of the Divinity are important. Some people emphasize the Father, others Jesus and some only talk about The Holy Spirit. We are baptized to all of them and should be taught to have a relationship to all three. The Father sees us through the blood of Jesus. Jesus is our Savior and our Brother. The Holy Spirit is here on earth and is our Helper. If we do not baptize people, we are not biblical according to Jesus and His commission. When that is said, I do believe that those being baptized should get a biblical base for their baptism. That's another theme.
Jesus lived and had contact with His disciples all the time. I want to emphasize the close relationship Jesus had with His disciples. A small child needs the security of a father and a mother and a new-born spiritual baby is also in need of that. They need to be part of a spiritual family in order to see how a spiritual family should function. In a family we have many different age groups and many different personalities. We are also having different gifts and tasks to perform. A spiritual mother or father should see the needs of the baby, but also its potentials and hopefully its calling. It is important that a child is lead in the right direction. Love and protection is important, but be careful. The child needs to practice what he has learned. Give him or her a chance to share a testimony, have a short devotion, maybe to pray for somebody. Too big tasks might be detrimental, but too small ones are not healthy either. Give encouragement! Some people have a lot of Biblical knowledge before they are saved and others have none. You should teach them from their level. Allow them to ask questions and do not give them a feeling of asking stupid questions. Do not give the new-born baby too much information at the time. I have made that mistake.
The apostle Paul says that we see in parts and no one can understand everything or know everything. I can only share what I myself have received. Sometimes I say things that is a revelation there and then and I thank The Holy Spirit for that. I have lately thought that I must teach others what I have learned myself. What I have started will continue through somebody else then. I have heard others saying the same. We really need mentors in all areas of the Body in order for it to continue. Some things might be achieved through teaching, but I think that your disciples should be with you for some time.
Jesus elected twelve disciples and in Colombia they built a G12 system. When people get saved, they are sent on a retreat where generational curses might be broken, they deal with the past and they are healed and delivered. They get a chance to enter into a deeper relationship with Jesus. After some time, they are sent to a training school where they are taught to win others for Jesus. They build on groups of twelve You might be part of a group where you yourself can grow. At the same time, you might lead a group of beginners. It's great to have systems hindering you to become introvert. It's healthy to give birth to new children coming to Jesus.
We Christian might be quite self-centered and that is egoism. God has given us a commission, a mission to go to nations, but also those around us, in our family, school and to our working place and neighbors. Our commission is not only to lift them over the gate to heaven, but to lead them all the way to the Throne. We are supposed to teach them all what Jesus has taught us. One thing is to know, but another to do.
MAY GOD SHOW YOU HOW YOU CAN MAKE AND TRAIN DISCIPLES!
Mother Else
 NO NEW TEXT BEFORE JULY.