DO WE MAKE IT POSSIBLE FOR GOD TO HELP US?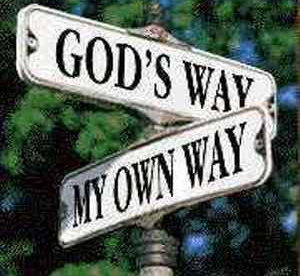 DO WE MAKE IT POSSIBLE FOR GOD TO HELP US?
You might really wonder why I come with such a question. Both you and I know that He says that nothing is impossible for Me and that's really true. He has created heaven and earth and He has created us and everything that is alive on this earth. Men have wrongly interfered with some of His creation. God is called The Almighty and He is known for signs and wonders. I really do not ask if anything is impossible for Him, but if we allow Him to do what He desires. Do we give Him free access to our lives? Does He have freedom to move?
The next question might be if we can stop God and my answer is definitely yes. We must always remember that He has given us a free will and God will never overrule our will. We might not receive answers to our petitions because we do not follow the prescriptions from the Bible. Explain! Explain! I will do as well as possible. I will start with saying that fear can be a hindrance and today more than ever due to the situation in the world. I really do not want to condemn anybody with fear, but give you hope. God is for you and not against you. He desires only good things for you. You might look up Isaiah 41:10. It says: "Fear not, for I am with you; be not dismayed, for I am your God. I will strengthen you, yes, I will help you, I will uphold you with My righteous right hand." Fear is really a distrust, not relying on Him. It is the opposite of faith. I know that fear might come from inheritance and bad experiences in the past. Fear doesn't come from God. Remember He is for us and with us. When we fear, we might try to find our own solutions. Some seek it in alcohol and drugs as a comfort. Others seek people instead of God. Matthew 6:33 says that we should seek the kingdom of God and His righteousness first and then we will get the rest afterwards. If we seek other solutions than Him, He will not interfere. I do not believe that He will leave us, but He will not stop us in our choices. I do not say that it is wrong to go to doctors or to seek other professional and spiritual helpers, but we should be guided by the Holy Spirit when we seek help.
I often meet people looking like big question marks, Isaiah 41:10 says that we do not need to be dismayed. Do you know the Lord? Do you know that He is good and that He will fight for you? It is difficult for Him to fight when you are so busy fighting for yourself. I am not saying that you shouldn't pray, but do you pray in faith, expecting an answer? The Bible is full of promises and He will keep His promises. People are not always reliable, but God always keeps His promises. In the first chapter of the letter of James, we read that we do not receive because we are doubting. When we doubt, we are like a wave of the sea driven and tossed by the wind. Our doubt can hinder God and the answers to our prayers might not come.
I want to mention another area where we can stop God from finding solutions. You might read the letter to the Romans 12:19. It says there that we should not revenge ourselves.  "Vengeance is Mine, I will repay, says the Lord" It does say that we should give room for wrath. We shouldn't allow ourselves to be treated badly or unjustly. (Titus 2:15) I have been very much involved in communication lately. We must be clear and direct, especially to our sisters and brothers in the faith. I haven't always thought that to be easy. If I do not say anything when I am hurt, I might allow the words or the incident to go around as a mill in my thoughts and emotions. I do choose to forgive, but the words and emotions might need quite a lot of time. A barrier has arisen between the person and I and I do believe that the atmosphere is polluted. I have lately dared to talk about these kind of emotions and when both of us humble ourselves, something very positive comes out of it and my soul is peaceful. I might even have misunderstood the situation. I recommend us to be honest towards each other and say things that are difficult to talk about, but in love.
I want to mention a story told by a well- known preacher. He had been exposed to bullying and false rumors. These rumors were widely spread since he was well-known. One of his colleagues from his own church had treated him in a very wrong way and he was very hurt and had a need to defend himself. He was making up many letters in his thoughts and these letters were full of anger and wounded emotions. He made a short prayer before he was actually going to write them. When he prayed, he got an inner picture. He saw that God had His hands behind His back. He asked Him what that should mean. The Lord said: "When you are doing everything to justify yourself, I can do nothing." He never wrote any letters and he left the case to the righteous God.
The Lord is a righteous God and He is saying: "Who can be against you when I am for you?"
Somebody has written a book about God's ideas and good ideas. The difference between these two can be very small, but it could be a matter of life or death. I have read a story about a man. He was called to become a missionary. He met his wife. They god married. Got children. He had a very good job and was active in his church. They gave money to the church and to others and they spoke about Jesus to neighbors and friends. You might think that this was very pleasing to God. They had received Jesus as their Savior and he probably comes to Heaven, but he had been disobedient. He hadn't done what God called him to do. Some people think that God will bless them in their doings as long as they do not live an immoral life. Are you doing what God has called you for or do you do what He wants you to do? We should ask the Holy Spirit for guidance. Whatever that is born of Him, gives good fruit. The fruits coming from our flesh, will fall to the ground and die. The fruits coming from the devil will be satanic. (Read Romans 8)
Ephesians 2:10 says: "For we are His workmanship, created in Christ Jesus for good works, which God prepared beforehand that we should walk in them." When we are in Him, we can walk in what God already has prepared for us.
I will summarize a few things that might stop God from moving in our lives. I will start with sin, rebellion and disobedience. I will mention disbelief and doubt. Fear and worries are actually signs of not trusting God. If we do not seek the Lord first, our own will might take over. We might say: I will, I shall. It is good to have one's own will, but it should come under His will. Self-justice might easily lead to the fact that we defend ourselves in a wrong way and God cannot come with His righteousness. Vengeance belongs to the Lord. If we seek demonic help, God cannot help us. I am thinking about different occultism and alternatives that look good, but have a demonic source. You, yourself can think of more points.
ALLOW GOD TO HELP YOU. HE IS COMING WITH ANSWERS TO ALL YOUR PETITIONS!
Mother Else