WE ARE SUPPOSED TO BE LIGHT AND SALT.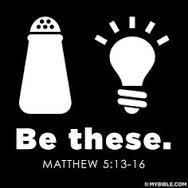 WE ARE SUPPOSED TO BE LIGHT AND SALT.
Part 1
I think that Jesus is so good in using symbols and pictures from real life. It is so much easier to understand the message that He wants to convey then. I often receive that myself and that is so helpful in making people understand. When I am in India I receive stories from their culture or environment and the same happens in other countries. God has created us and He knows best how we can receive from Him. We human beings are not quite alike and that's why God has to speak in different symbols to different people, but now back to the title.
We are supposed to be light. I want to refer to different scriptures in the Bible. I always like to start with the beginning. It says in the very beginning that darkness was on the face of the deep and the Spirit of God was hovering over the face of the waters. Then God said: "Let there be light!" There was light and God saw that the light was good and He divided the light from the darkness. Even a very small light can break total darkness. I am quite sure that you have been in a dark room, but when you light a small candle, the darkness was broken and you could see things that you couldn't see when it was dark. The light makes us see.
The word light is mentioned several times in the book of Job, but I will only mention one. You can look up Job 29:3. This was part of his discourse where he referred to previous blessings and happiness. He said: When His lamp shone upon my head, and when by His light I walked through darkness." He described how he was blessed and therefore could be a blessing to others. When I read that God's lamp shone upon his head, I remembered something that happened to me many years ago. I was sitting right under a lamp that was hanging on the wall. Then the Lord said to me: "You are now sitting right under the lamp and the light is covering all of you. Nothing is in the dark. Move a little to the side and you will see what happens." Some parts came into darkness then. The same thing will happen in the spiritual. 91st psalm starts by saying that we should dwell in the secret place of the Most High and abide under the shadow of the Almighty. We have to be very close then. We cannot move to neither left nor right then. I believe that when we live very close to Him, we are both protected and will receive blessings. He is both in us and over us and we will reflect His light.
I will now go to the psalms. They are writing a lot about light and I will start with psalm 27:1. It starts by saying that the Lord is our light and salvation and therefore we have nothing to fear. In psalm 36:9 we read: "For with You is the fountain of life, in Your light we see light." I think that it is interesting that it is written that it is in His light that we see light. It reminds me of what is written in James 1:17 that every good gift and every perfect gift is from above, and comes down from the Father of lights. We will not find any variation nor any shadow of turning there. I was recently attending a lovely praise and worship concert. One of the songs was about seeking His face. In psalm 89:15 it is written: "Blessed are the people who know the joyful sound! They walk, O Lord, in the light of your countenance. When we seek Him, we can rejoice. True joy comes from the Lord. Religion wants to kill our joy, but the joy of the Lord is our strength. Religion will stop people from coming to God, but I believe that when people hear our joy and laughter and when we shine in His light, they will come running. I laugh loud and people have come running asking why. This laughter was not caused by foul jokes, but from my heart.
A couple of times ago I wrote about the Word and will once again refer to psalm 119 and verse 105: "Your word is a lamp to my feet and a light to my path." His word will enlighten us if we walk on the right path. I think most of you have walked on paths in the forest. We are not supposed to walk on the wide road where we have to be politically correct and be liked by the world. We are walking in the light of His countenance or His word then.
It is interesting that the Book of Proverbs also mentions the connection between a path and the light. We read in chapter 4:18 that the path of the just is like the shining sun, that shines ever brighter unto the perfect day. This is exactly what I have been praying lately. I want that Jesus in me will be so visible that people would stop me and ask what I have. Jesus must get more room in me then and more of the darkness out. This is the process I am in right now.
In the Proverbs 6:23 we read: "For the commandments is a lamp, and the law a light; reproofs of instruction are the way of life." Psalm 89 put light and joy together. The Proverbs 13:9 is also doing that. It says: "The light of the righteous rejoices, but the lamp of the wicked will be put out." In another translation it says that the light shines merrily. I presume that it can both be seen and heard then.
We will continue in Isaiah. I only mention a couple of scriptures from the different books, but there are many more. In Is.2:5 we read: "O house of Jacob, come and let us walk in the light of the Lord." This was written under the headline: The Day of the Lord. This verse is referred to in Ephesians 5:8 where it says that we are light in the Lord and we should therefore walk as children of light. That means that all of us Christians should walk in the light. The only time that we should have anything to do with darkness is when we deliver people or push the forces of darkness back. To walk in the light actually means to walk in the Spirit.
We should live out the Jesus life in us.
This is what is written in Isaiah 58. We read there about a holy fast and a fear of the Lord. In verse 6-9 we can read about the fast that the Lord wants. "Is this not the fast that I have chosen: to lose the bonds of wickedness, to undo the heavy burdens, to let the oppressed go free, and that you break every yoke? Is it not to share your bread with the hungry, and that you bring to your house the poor that are cast out; when you see the naked, that you cover him, and not hide yourself from your own flesh? Then your light shall break forth, like the morning, your healing shall spring forth speedily, and your righteousness shall go before you, the glory of the Lord shall be your rear guard." Here we read about conditions for the light to come. It is obvious that the Lord doesn't want us to be passive, but actively helping others. Then we will see the light.
Chapter 60 starts with following verses: "Arise, shine, for your light has come! And the glory of the Lord is risen upon you." In verse three we read that Gentiles shall come to our light and kings to the brightness of our rising. I know that it is written to those in Zion, but we might as well apply these words to us. At the end of the chapter it is written that the Lord will be our everlasting light.
We can read several places in the Bible that there will come times when the light will turn to darkness and vice versa. That must mean that there are people walking in the light that choose darkness later in life. I have seen this more and more often right in front of my eyes. One hears quiet often about Christian leaders falling either in sexual or economical sin. There are those who desire power and might and they might even misuse it. I know wonderful Christian leaders who have taught a living faith, but later they left their faith and entered into religions with rules and regulations, religions that do not teach the full Gospel. The Bible is full of warnings about deceptions in the last days. We see that in front of our eyes every day and I am very sorry. Today it is very difficult to hide one's sins anymore. It looks like the Spirit is exposing them and brings them into light.
LET US LIVE IN THE LIGHT!
Mother Else