THE RESURRECTION POWER LIVES IN US BELIEVERS.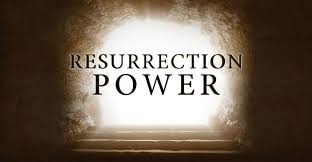 THE RESURRECTION POWER LIVES IN US BELIEVERS.
I do not seem to finish the message about Easter. On Easter morning I was praying and The Holy Spirit came and made the resurrection message alive. It went from being head knowledge down to the heart. Jesus had prophesied for the disciples that He should rise on the third day, but they didn't really understand what he was talking about.
On the first day of the week after the Sabbath some women came to the tomb. They had watched the tomb of Jesus. A huge and heavy stone had been placed in front of the tomb and many guards were placed there. They were afraid that the disciples should steal the body. We read that the entire earth was covered with darkness for three hours when Jesus was crucified, but this time there was a great earthquake. An angel of the Lord came down from heaven, rolled back the stone from the door and sat on it. His countenance was like lightning and his clothing white as snow. The guards shook for fear of him and became like dead men. When the women came to the tomb, it was empty. They saw two men in white saying: "Why do you seek the living among the dead? He is not here. He is risen." The women ran to the disciples to tell them, but they didn't believe the women. Peter was the one to run to the tomb and he found the linen cloths lying by themselves. He was very surprised. The soldiers around the tomb received money to keep quiet about the happening of the resurrection. They said that the disciples had taken Jesus.
Jesus met the women and revealed Himself to them. He asked them to tell the disciples to meet Him in Galilee. There Jesus revealed Himself to them. They first though He was a ghost, but when they saw His wounds on His hands and feet, they believed.
JESUS CONQUERED DEATH!
I believe that the death is our last enemy. I cannot think of anything greater than death. That could not keep Jesus and since the same resurrection power raising Jesus from the death is living in us, no enemy can conquer us either, unless we allow him.
THE RESURRECTION POWER LIVES IN US!
I seriously do not believe that we understand the greatness of the power living in us. We know about it, but if we really understood how great it is, we would live accordingly. I wrote at time that Jesus bore our sins and sicknesses on the cross. That doesn't mean that we should not confess our mistakes. Read 1.John 1:9, but we can cry out:
                            PURIFIED AND JUSTIFIED!
We shouldn't deny the symptoms of sicknesses we are suffering from either. We do not go around with a running nose and a bad cough and say that we are fine. We could easily be accused of lying. When that is said, we should remember that we do not need to carry what Jesus already has carried for us. We can therefore boldly say:
BY HIS STRIPES WE ARE HEALED!
In Mark 9:23 we read that all things are possible to those who believe. Believe what? It must mean that we believe the Bible. It is actually written that without faith we cannot please God (Heb.11:6) We must believe in Jesus as the Son of God and our Savior. Jesus is saying to us: "All that is Mine, belong to you." Jesus has opened a way to the Father, but as long as we are here on earth, we can use His name, His authority and we can cover ourselves with His blood. Life and death is in our mouth and we can talk to the mountain and it will be removed. (Matt. 21:21) We cannot do this in our own strength, but using the resurrection power living in us. If we seriously believed this, we could talk to sicknesses and the symptoms and command them to leave us and others in the name of Jesus. We could also command other problems to leave us and others in the same name. We can continue to do this until a visible result. We can go against everything hindering an answer to prayers. Jesus conquered the devil on the cross and he is forced to leave when we go against him in faith. Some of you might say: "I have tried, but it doesn't function." In has to be done in faith and we should never give up. The devil might not leave immediately, but I should be more persistent than the devil.
DO NOT GIVE UP. THE DEVIL HAS TO FLEE IN THE NAME OF JESUS!
There are times when we must ask if there are sins or lack of forgiveness or other reasons for the devil to stay. If hindrances have been removed, you can boldly command the evil one to flee.
START USING YOUR RESURRECTION POWER!
Mother Else