PRAYERS AND PRAYER-MEETINGS, PART 2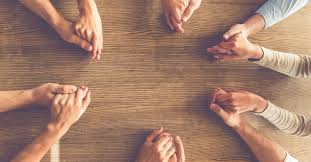 PRAYERS AND PRAYER-MEETINGS.
Part 2
When we pray alone, we have a personal relationship to God. We are first and foremost together with Him whom we call our Father. We are also together with Jesus, our Bridegroom, with whom we shall celebrate a wedding. Since we are children of God, we are allowed to come to Him as children, pouring out our heart to Him. We do not need to pretend to be different. Masks can fall off.
When we come to the Lord with our petitions, it might be that we need personal needs to be met or we come with the needs of others. Sometimes we are also asked to pray for bigger things, like our church or our country. Paul is asking us to pray for kings and leaders of our country before we pray for anything else. When we do that, we can live a peaceful life in all godliness. (1.Tim. 2) I have recently prayed a lot for Sweden and Norway. They have both been in a political crisis. I have prayed alone and with many others.
When we pray together with others, there are certain elements that should be in order. I believe that there should be a leader. That doesn't mean that only that person should pray, but he or she should tell the group the prayer requests. We should all be in one accord. If the purpose of the meeting is worship, one focus on God, Jesus and the Holy Spirit. One thanks Him for all He is and all that He has done. When we come with our requests, we are also focusing on Him. The Bible says that we should thank Him before we see the answers to our prayers. If we should be in one accord, we all must know what we pray for. It says that when the 120 people were waiting for The Holy Spirit to come, they were all in one accord. I have been to many prayer meetings where a person is whispering a prayer request and only those close to the person knows what we pray for. The rest of us pray in tongues or others walk around looking a little confused. We read in Matthew 18:19 that what two of us agree on, we shall receive. That's why I like to have a leader saying: "Can we all agree on praying for this?" I have been to prayer meetings where one prays for the knee of their mother and another one prays for China. We are not in one accord then.
God gives different prayer groups different tasks. Some people pray mainly for your country. Others are gathered to pray for each other and for our families. In churches there are groups praying for the leaders, the economy and the different activities in the church.
         In all prayer-meetings one should pray for one thing at a time.
I am a prayer partner in a mission organization spreading Bibles and Christian literature all over the world. We pray for one country at a time and everybody can pray, but one at a time. We have received a lot of answers to our petitions. God is interested in spreading His own Word to as many as possible.
Some people have a book where they write down the prayer requests on one page and the answers on the opposite page. They are thanking for the answers during the period of waiting. That means that they expect an answer to their prayers. I quote Matthew 7:7 "Ask, and it will be given to you, seek, and you will find; knock, and it will be opened to you." I believe that we should share the answers to our prayers with each other. That will increase our faith. I have been to churches where they always had a time of testimonies. I really liked that. God is honored and we are all encouraged to expect answers to our prayers.
Praying can be hard work. Some praying will not focus primarily on God, but go against the devil. In James 4:7we read that we should resist the devil and he will flee from us. Jesus was answering the devil by saying: "It is written!" When we are attaced by sickness, we can say: "You devil, take your hands off my body. I have healing in the wounds of Jesus." You can point to Isaiah 53:4+5 and 1.Peter 2:24. You must be convinced that God doesn't send you sicknesses. Are you making your children sick when they are disobedient? No. Jesus nailed our sickness to the Cross.
We read in James 1:17 that every good gift and every perfect gift comes from above, from the Father of lights. The devil is evil and he cannot give us anything good. He might snare us into alternative medicine with roots in the occult. That might give us a short-term help, but the purpose is to make you more dependent on the devil and to lead you deeper into the kingdom of darkness.
The Lord has asked me to reveal the devil and all his deeds. Why? In order to reveal his schemes so that I and others can be protected and avoid deception. God is calling us into spiritual warfare, but we must know what we are doing and whom we are dealing with. The devil has been conquered by Jesus, but he is a real enemy and we do not play with him. I will write about spiritual warfare next time. I ask all Christians to first and foremost come close to God, Jesus and the Holy Spirit before we enter spiritual warfare.
SEEK GOD, JESUS AND THE HOLY SPIRIT WITH ALL YOUR HEART!
Mother Else