THE DEVIL IS USING THE WORD OF GOD.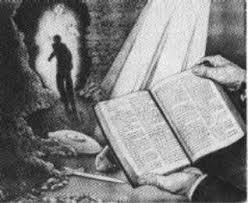 THE DEVIL IS USING THE WORD OF GOD.
This is a theme that I haven't written about before, but I have a lot to say about it. We know that the devil knows the Word of God. I seriously believe that he knows it better than most of us, but he never uses it for a good purpose. On the contrary, he is an expert in twisting the Word in order to use it against us. He did that to Jesus as well, but not without a counter-answer. We might read Matthew 4:1-12, Mark 1:12-13 and Luke 4:1-13. I will repeat some of this story here. Jesus had been lead out in the desert by the Holy Spirit and He fasted and prayed for 40 days and nights when He became hungry and thirsty. He got a little weak and that was the perfect time for the devil to tempt Him. My experience is that the devil usually comes when we are weak. He said to Jesus: "If You are the Son of God, command that these stones become bread." Jesus then did what all of us need to do. He said: "It is written, Man shall not live by bread alone, but by every word that proceeds from the mouth of God. " The devil then took Him up on the pinnacle of the temple in the holy city and asked Jesus to throw Himself down. The devil recited the Bible saying: "He shall give His angels charge over you, and in their hands they shall bear you up, lest you dash your foot against a stone." Jesus answered him back saying: "You shall not tempt the Lord your God." The devil didn't give up so easily and he took Jesus with him to a very high mountain and showed Him all the kingdoms of the world and their glory. "He said: All these things I will give you if you will fall down and worship me." I am so glad that Jesus didn't do that. No, He answered him saying: "Away with you Satan! For it is written, "You shall worship the lord your God, and Him only you shall serve." The devil left Jesus then and angels came to minister to Him. I must be honest and say that I do not understand everything in this story. I do not understand how Jesus could allow the devil to lead Him to these places, but God did allow the devil to tempt Jesus. This is really a token of Jesus as a sinless lamb. The devil was willing to give away what he owned. He is the ruler over this world. He received that power after the fall of men. I find it interesting that the devil is more eager to be worshipped than owning the world. He wants to be bigger than God. This was the very reason why he was cast out of heaven. He is still continuing with his tricks in order to get attention. James 4:7 says that we should resist him and stand steadfast in faith. He has to flee from us then. When we are tempted, we should say the same as Jesus: "It is written."
I have contact with people suffering in their soul. Some of these do not dare to read the Bible. It seems like the devil leads them to words that are difficult to interpret or words that are turned against them. One example is from Matthew 5 where it is said that it is better to cut a part of your body away than ending up in hell. This can be very concrete for some people and they might have a bad conscience for not doing so. Our body is a temple for The Holy Spirit and we should resist the tempter with the Word of God instead of destroying the temple. It is better to close the computer if you get tempted to watch pornography or to stay away from the beach if you can't see women in bikini. Don't destroy your body, but shun away from whatever triggers you to sin.
The devil loves to come with half-truths. I can use Matthew six as an example. It says that we should not serve both God and Mammon. Some people interpret that to mean that we are not supposed to have money. How do you interpret 3.Joh:2 then saying that we should prosper in all things, just as your soul prospers? God wants us to have money, but it should never become an idol. We need money here on earth in order to function. The kingdom of God needs a lot of money and we need them in order to give. I look upon money as a blessing and I am happy when I have enough to bless others.
All my life belongs to the Lord, including my money.
I can point at another word that some find difficult and that is Matthew 10:34-36. We read there that Jesus hasn't come to bring peace, but sword. Some people think that He didn't love His mother since it says that one shouldn't love your mother and father more than Him. The Ten Commandments are saying that we should honor our father and mother in order to live long in the land that God has given us. There are times when parents try to push their daughter or son away from Jesus. One such example might be when a Muslim becomes Christian. The child can still honor one's parents for giving them life, but should not deny Jesus. It is possible to honor without having physical contact. The Bible does not say that we should hate our parents, on the contrary; we should love them.
I am counselling and when I do so, I am often forced to go back to the past. Many people are warned to do so and the two scriptures that are used is 2.Cor.5:17 and the story about the wife of Lot. 2.Cor.5:17 is saying that if anyone is in Christ, he is a new creation  and old things have passed away. It is true that we are a new creation in Christ. When we are born again, God's spirit is moving into our spirit and we receive a completely new nature, but we do not receive a completely new soul and body. Romans 12:2 is saying that we should renew our mind. I didn't reduce my weight that day I was born again either.
The wife of Lot wanted to go back to the place she was told to leave. When The Holy Spirit leads me or others to go back to the past, the purpose is not to live there, but to get rid of whatever hindering you to live as a Jesus-person today. That might include healing and deliverance. I do not believe in going back to the past unless the past is bothering my present and future life. The devil might use known preachers in order to stop people from being healed and delivered.
The devil has twisted the word grace around these days. We are all saved by grace and none of us deserve it. We cannot add nor withdraw anything of what Jesus did on the Cross. Some of us have lived under religious preaching about the law and good deeds and then some people want to come with the opposite. Someone said that we Christians go from one ditch to the other. Some preachers are now preaching that because Jesus has taken our sins, we do not need to confess our sins. Everything is done on the Cross and we do not need to do anything. It's all grace. It has unfortunately led to sinful living in some circles. The truth is that Jesus has paid for our sins and nothing is too big nor too little, but 1.John 1:9 says that when we sin, we should confess them. It also says in Mark 11:26 that if we do not forgive, our Father in Heaven will not forgive us either. Jesus has forgiven us, but we have to forgive others. We cannot live a careless life because Jesus did everything on the Cross. We must not allow the devil to come with half-truths.
The devil can actually take everything in the Bible and turn against us. We must always remember that Jesus didn't come to judge the world, but save it. If you sin, it is normal to have a bad conscience, but after it is confessed, the devil has no right to keep on accusing you. Condemnation doesn't come from the Lord. When the devil tries to turn the Word against you, ask the Holy Spirit who is speaking. The devil is a liar and he uses the Bible as a weapon to turn against you.
GET CLOSE TO THE LORD. IT IS EASIER TO REVEAL THE SCHEEMES OF THE DEVIL THEN.
Mother Else