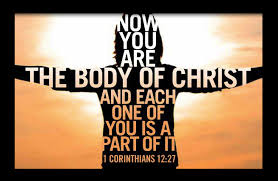 THE BODY OF CHRIST.
Last time I wrote that our body is a temple for The Holy Spirit. Today I will write about the Body of Christ. All of us who are borne again belong to that body. I will start by quoting the first verses of John 15. "I am the true vine, and My Father is the vinedresser. Every branch in Me that does not beat fruit He takes away, and every branch that bears fruit He prunes, that it may bear more fruit. You are already clean because of the word which I have spoken to you. Abide in Me, and I in you. As the branch cannot bear fruit of itself, unless it abides in the vine, neither can you, unless you abide in Me. I am the vine and you are the branches"
I might come back to this chapter later. In Colossians 1:18 we read that Christ is the head of the Body which actually is the church. He is the Origin. We read other places in the Bible that Christ is the Bridegroom and we are the Bride and one day He will come for His bride and there will be a wedding in heaven. We have something to look forward to.
Some people think that life circles only around themselves, but none of us can live only for oneself. As a Christian we are a member on the Body and we have Jesus as the head. Some are saying that their life has only to do with them and the Lord and nothing else, but look at the body. Does a toe or a finger live its own life? No, every member in the body is connected with another part of the body and we cannot say that we should only be connected with the Head. I want to take you to 1. Corinthians 12. We read in verse 12: "For as the body is one and has many members, but all the members of that one body, being many, are one body, so also is Christ. It continues to say that the hand cannot say to the eye or wise versa that it doesn't need each other or the head to the feet. The members of the body which we think to be less honorable, on these we bestow greater honor and we dress the more intimate parts with honor. Can you see that we belong together?
I believe that we Christians have lived too isolated way too long and many feel very lonely. I write about this in order for you and me to understand that we belong to something much bigger than ourselves. In Scandinavia we have an individualistic way of thinking and that might be far from divine. Some other countries are thinking much more in a "we" form instead of an "I" form.
It was recently a prayer conference where I live. It had focus on unity and reconciliation. People came from many different parts of the country and from many different churches. A lot of pride had to be confessed as sin and many had to ask each other for forgiveness. It was focus on spiritual unity and not a false unity where we say that it doesn't matter if we worship Allah, God or Buddha. We should love all people, but everybody doesn't belong to the Body of Christ.
I will take you back to 1.Corinthians 12:25+26. We read there that all the members should care for each other and if one is suffering, all the others should also suffer. The opposite should also be the case. If one member is honored and blessed, all the others should rejoice. Is it like this? I am sorry to say that my answer is no. We have a little more love for each other if one member is suffering than when he or she is honored, especially if it is a well-known person. If you are not famous, many do not care. One can send a prayer request to a Christian meeting, but do they continue to pray until there is a positive change? I thank God for all the prayer centra.  Some of those pray for you at least two weeks. If God has blessed you and honored you, many might start gossiping about you. They get jealous. I was met with contempt by some pastors when God gave me grace and people got saved and healed. I am sure that many Christians have experienced the same and that is sinful and must be confessed and we have to repent from jealousy.
When we look at our body, we see that the different parts belong together. A hans has five fingers and they are placed beside each other. An arm is connected to a shoulder and the shoulder to the neck. The blood runs through our entire body. The Blood of Christ unites us Christians. I do not know which part you are on the Body, but I believe that you are drawn to people that have the same or similar gifts of the spirit as you have yourself. I can teach on different subjects from the Bible, but I really love to train people to become good counsellors. I love to talk to people that have a prophetic gift or the gift of discernment. I feel one with them and we belong to the same part of the Body. A toe and a finger are important parts, but they are not tightly connected.
What will happen with the body if one removes the head? It will for sure eventually die. The Lord is called the Head of the Body and the Body is dependent on the Head. We do not function without the brain and we do not function without Him who gives life. What does our body needs daily? Food and drink. The Word of God is our food and we become weaker and weaker if we do not feed ourselves with the Word of God.
FIND YOU PLACE IN THE BODY AND KEEP CONTACT WITH THE HEAD AND THE OTHER MEMBERS!
Mother Else