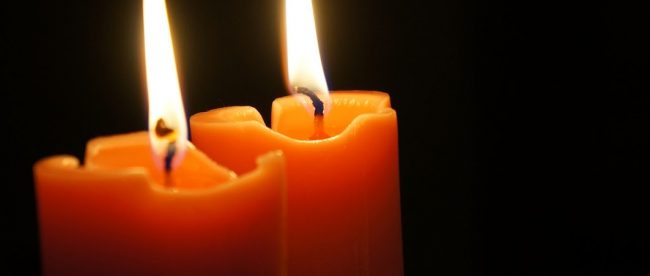 Here in Scandinavia we are in a season of darkness right now. In the far north there is no light at all and further south the days are very short. The few days with sunshine make everything seem brighter and lighter. It is like an injection of vitamins. I do not like to admit that the darkness affects me, but it does. I am fortunately so busy with positive activities that the outside world stays outside.
The day that Adam and Eve committed sin, sin entered the world and the world came under the influence of the devil. If we Christians hadn't been here, the world would have been in complete darkness like a solar eclipse. We are here to bring light into this world. I will recite Matthew 5:14-16: "You are light of the world. A city that is set on a hill cannot be hidden. Nor do they light a lamp and put it under a basket, but on a lampstand, and it gives light to all who are in the house. Let your light so shine before men, that they may see your good works and glorify your Father in heaven." Many Christians are making Christianity into a private affair. I do not believe that no one should know that we are Christians. What is private is the personal relationship between me and Jesus, but others should see and know that we have been with the Lord. I recently met a former Muslim. He was eager to say that I have been in darkness, but now I have come into the Light and I have chosen the Light.
I was out driving in the dark a few nights ago. It was quite foggy and difficult to see. It can be the same in our lives. If the light isn't shining clearly, many things can seem unclear in our lives. We sometimes meet people and it is difficult to know if they are Christians or not. They have adapted so much of the world that Jesus isn't quite visible. The Bible says that we should be light and salt in this world and the salt must not loose its power. The light must also shine clearly.
We do not need a lot of light to break the power of darkness. You can imagine being in a dark room. It is totally dark, but then somebody with a candle or a flashlight and the darkness is broken. One might not see all the details in the room, but one can see enough to move around and find the most important things.
When I went to school, I was the only Christian in my class. It can be tough, but I had to trust in Him, living on the inside of me. He is greater than the one in the world. None of us are insignificant. I have heard many stories about people being saved because of that one girl or boy, man or woman. "They had something giving me the desire to know what it was." I have lately met people giving me a sense of something good around them. I think: "Jesus must live there." I am not saying that there are many good non-believers. There are. The light isn't always shining clearly enough in us Christians. We must shake off the dust and deal with sin and darkness in our lives. It could also be inheritance, old wounds or something in the unconscious. When we become purer and more filled with Jesus, we will shine more clearly.
We read in psalm 119 and the 105th verse that God's Word is a lamp to my feet and a light to my path. That means that the Word of God shows me where to go. When I walk in darkness, I see nothing. I haven't developed the other senses like a blind person has. I compare the Word with a flashlight. It might not give light to a huge area, but enough to take the next step. When I follow the Word of God, I cannot fall. I will also be able to detect snakes or other harmful animals that I can step on. We also need to see the enemy spiritually speaking. Otherwise we might be fooled. A hunter is often dressing in clothes similar to the surroundings. The enemy might try to do the same. He wants us to believe that he doesn't exist. We must be spiritually awake.
I was out driving through my city a couple of nights ago. I saw a lot of Christmas candles and I got glad. We are often using candles to make a cozy atmosphere. Light candles are used together with good music, good food, an interesting book or good friends. Candles should always be available where the electricity is cut off often. Light candles make us happy and the the joy of the Lord is our strength. The light makes us happy!
We read in John 8:12: "Then Jesus spoke to them again saying: "I am the light of the world. He who follows Me shall not walk in darkness, but have the light of life." We Christians are often called the children of Light. Yes, we do belong to the One saying: "I am the Way, the Truth and the Life. It doesn't say that He has, but that He is. We read in the Bible that He is in us and we in Him. The Light is within us.
I have heard some prophesies saying that in the last days the darkness will become darker and the light will become lighter. I do think that I see some of these tendencies today. The deeds of the devil are very clear, but that makes the Christians pray more than ever. We need to seek the source of Light where we get heated up and get inspired to bring the light to others.
BLOW AWAY THE SPIRITUAL FOG AND LET THE LIGHT SHINE!
Mother Else