DO YOU KNOW THE SHEPHERD?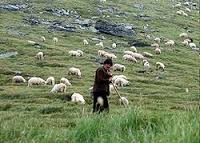 DO YOU KNOW THE SHEPHERD?
I will be writing about Jesus as the Shepherd and I will be writing about him or her being your earthly shepherd. I think about one of the five gifts of the ministry. We can go to Ephesians 4:11 where Paul is saying that the Lord gave some to be apostles, some prophets, evangelists and others to be pastors or teachers. In a lot of translations we see the word shepherd instead of pastor. Today we talk about the shepherd.
You can go back to Genesis 48:15. Jacob, also called Israel was blessing his son Joseph and his grandsons. In my Bible Jacob was calling God, his Shepherd, but same places it says that God had fed him all day long to that very day. God was compared with a shepherd, feeding him at all times and all his life. Many people have a wrong picture of God thinking that He is angry and judgmental, punishing as soon as He sees an opportunity. I, myself, have had a picture of God waiting for me to sin in order to punish me. I am so thankful that I have a completely different picture today.
                                     God is today my Shepherd.
We read in psalm 23 that the Lord is our Shepherd. We do not lack anything. Jesus says in John 10:11: "I am the good shepherd. The good shepherd gives His life for the sheep."
Jesus loved us so much as to give His life for us. He wanted to save His sheep. We read in the Old Testament that David had fought against both a bear and a lion in order to save a lamb. (1.Samuel 17:36) David was a shepherd when he was young and he was willing to sacrifice his own life, not for a human being, but a lamb. This was far away from being a game, but his love drove him. Do we understand how much our heavenly Shepherd loves us? I cannot think of any greater love than giving one's own life for somebody else.
I want to quote Romans 8:31-32. "What then shall we say to these things? If God is for us, who can be against us? He who did not spare His own Son, but delivered Him up for us all, how shall He not with Him also freely give us all things?
You never need to feel rejected or left alone. People might leave us and be against us, but the Lord has promised to be with us all of our days and He says that He is for us. Both psalm 23 and the letter to the Romans 8:32 say that we should not lack anything, but we should have everything in Him. We must more and more proclaim the truth. We can remind the Lord of His promises and they will come to pass, not only in heaven, but here on earth.
I could write about all the times that the Lord showed up as a shepherd, but I will mention only a few examples. My two children were very close to drowning when they were young. My husband and I had allowed them to go down to the beach a few minutes before us while were preparing the food. They had walked into the water, but were driven out and couldn't get their feet to touch the ground. A man had saved them and taken them on shore. This man talked to us and scolded us for leaving our children. He spoke another language, but we understood every word. When we turned around to show our gratitude, he was gone. We really believe that this was an angel. My sister saw a big angel standing between her and a car that almost drove over her. She was six at the time. I was almost kidnapped in Georgia together with some other people once, but we were miraculously saved. I was also saved many years ago when I tried to commit suicide. The Lord stopped me when I stood with a lot of pills and a glass of water. He showed me an inner movie speaking directly to me about my situation and His plans for my life. I understood that He wanted me to be a blessing for others and I was not allowed to end my life. I got help to come out my despair. God has saved us in many other situations as well as healing us. We have never really lacked anything. I have gotten to know my Savior better and better and all my old religious lies about Him are gone. I want to get even closer and more intimate. The more I know, the less I think I know Him.
What does a shepherd do? He feeds his sheep. He leads his sheep to green pasture. God has left His word to us through the Bible. That is our spiritual food. A shepherd keeps the enemy away from the sheep. We occasionally read about sheep being torn apart by either a wolf or a bear. No shepherd was there to defend them. A shepherd watches over the sheep and takes care of their well- being. If something is wrong, he corrects that. A shepherd knows his sheep. You can read John 10: 27-30. Jesus says that His sheep hear His voice and He knows them and they follow Him. He also says that no one can snatch them out of His Father's hand. Some people wonder if they have heard the voice of the Shepherd. If the Shepherd contradicts the Bible, it is for sure not Him. If He says one thing one day and another thing next day, it's for sure not Him either. If we stay close to the Shepherd, live in the Word and keep company with the others belonging to the flock and are willing to obey and follow Him, I think we will recognize the voice from heaven more and more.
Shepherds are also needed in the congregations. We look upon the pastor as the shepherd. In big churches they have many pastors since no one can watch over too many. You might remember the father-in-law of Moses. He advised Moses to have a leader over thousand, hundred, fifty and ten. In order for a local shepherd to be a good shepherd, he must really live close to Shepherd over all shepherds, Jesus. Paul taught Timothy how a leader in the church should live. He must not drink too much vine, have one wife, should not be greedy nor should he be violent. He should not be covetous, but rule his own house well. A leader should not be new in faith unless he becomes puffed up. The shepherds should treat the members with great respect.
         A shepherd is not controlling, but a servant watching over his flock.
The fact is that many pastors have looked upon themselves as people belonging to a higher rank and thinking that they have a right to control other people's lives. Do you know your local pastor? Have you talked to him? Does he know you? Do you get nourishing food, food that builds you up? Does your shepherd stand in the gap for you and your family? I am not saying that you shouldn't do that yourself. Each and every one of us are responsible for our lives, but we need a shepherd. If you can't answer yes to some of my questions, you should consider changing congregation and shepherd. If you are a shepherd, ask yourself if you are like the main Shepherd. Are you a shepherd for the sake of the sheep or for your own position? The right motives are important. How do you rule your own family? "Oh, I have a lot of problems there", you might say. I seriously believe that you should sort out the problems there before you become a shepherd over others. Some people flee from their own problems and run into ministry. Some might even think that is spiritual.
                                         To flee is never spiritual.
Just think what would have happened if Jesus had run away when He was nailed to a tree? What drove Him to continue? Love. God is love. Jesus is love and I also want a loving pastor standing in the gap as David did. If you do not have one, ask the Holy Spirit to lead you to one.
THANK YOU JESUS FOR BEING MY GOOD SHEPHERD AND HELP ME TO BE A GOOD SHEPHERD FOR THOSE I MINISTER TO.
Mother Else