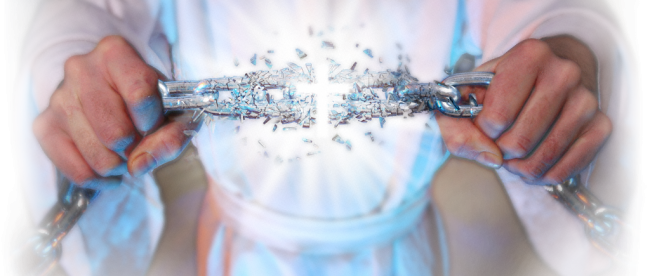 BREAK THE CHAINS!
Part 1
I just arrived from Ukraine where I have been for two weeks. I have had seminars five different places in Ukraine. I was teaching partly from my book about healing and deliverance, but had also other themes in connection with this. I arrived home happy and inspired to teach more and to help many more to become free. It was fantastic to see how many getting revelations about the roots of their problems and their joy when they understood that they could be helped.
The Lord is longing for a healed and free bride.
It doesn't make any difference where I am and where I go, God is busy restoring His children. He is doing everything He can in order to equip people who can help others beings free, healed and restored.
One of the things helping many in Ukraine was the teaching on generational curses. Deuteronomy28 writes about curses and blessings. When you go to a doctor with a physical or psychological problem, he might ask you if anybody else in the family has the same problem. When you start thinking, you might see that both your mother and grandmother had the same problem or anybody else in the family. In Ukraine many families had a problem with alcoholism. It was mostly on the male side of the family, but a few women were also suffering with this. Others were dependent o drugs. We see different sicknesses running in families, poverty, inferiority, rejection, fear and a lot more. I recommend you to think about your own family and what are the common traits? Ask The Holy Spirit to reveal to you the sicknesses and problems that need to be broken. What can I do for the different families? I want to start by reading 1.Peter 1:18-19: "Knowing that you were not redeemed with corruptible things, like silver or gold, from your aimless conduct received by tradition from your fathers. But with the precious blood of Christ, as of a lamb without blemish and without spot." Jesus broke all curses on the Cross. We can also break all curses in His name. Since Jesus lives in you, you have His power and He has given you authority to trample on serpents and scorpions and over all the power of the enemy. It continues to say that nothing shall harm you. (Luk.10:19)
When my children were small, The Holy Spirit was teaching me about generational curses and The Spirit showed me the negative things in my and my husband's family. This was done over a period of time. I wasn't allowed to see everything right away and I was careful not to dig in my own power. When I broke a curse in the family, I covered myself and every person in the family with the blood of Jesus. I was very much aware of the fact that we entered into a spiritual war. I asked for assistance by angels. I broke the curse in the name of Jesus. Where I "saw" demons, I cast them out in me and my children and bound them in the other family members. I cannot just cast out demons without the cooperation of the person. God has given us a free will. When I had broken the curse of sickness, I prayed for healing. When it came to fear, I asked for cleansing with the blood of Jesus and I to be filled with love and peace. 1.John 4:18 says that perfect love drives out fear. The more I can receive the Father's love, the less fear. If the broken curse requires a change of thinking and behavior, I have to talk to the person. An alcoholic has to make a decision to stop drinking. His thoughts must circle around other things than how he can get hold of alcohol and drug addicts must stop thinking on how to get money for the next joint.
You can't just break something. There is a job to be done both for the one who breaks the curse and the one who has been prayed for.
I have written so much about generational curses since this is the base for your inheritance. You are born with them.
You can be free from the bad inheritance. You are born into a new family now.
We must never forget that we Christians are children of God now and has a new Father and has inherited the DNA of Jesus in our spirit.
I got a picture from The Spirit many years ago. I saw a forest full of trees. A person was bound by thick ropes to every three. I saw myself coming with a thick garden scissor and I was cutting them loose. I asked for an interpretation and the Lord said that the tree represented the family and the ropes represented the curses. I should set them free. I am busy doing so and you can do it I your family.
There are may reasons for being bound. The devil is a liar and he can come with lies from the very day you are born and even before. Your mother and father can come with lies to you and if these words are repeated often enough, you will believe them. You might hear that you are stupid or you can never accomplish anything. Some are compared with others. You might hear: "Look at the rest in your class, they are so clever, but you are just sitting here without concentrating on anything."  I would really ask why my child couldn't concentrate. Is it afraid? Do I encourage it enough? I really meet people quite often with  low self-esteem. They might have an inferiority complex. I believe that a demon might be behind such a problem. I have by the help of God broken this over many people. I feed them with the truth. It is important to tell them what God says about them. They have to continue to do that themselves. It is the truth that sets them free. It doesn't help so much to drive out a demon if one doesn't fill the empty space with the truth. People feeling worthless, will often talk negatively about themselves and will say to others that they are worthless.
This negative self-image might stop you from entering into God's plan for your life. You are set free for your own sake, but also for God's sake.
Some people think they are humble when they go with a down-bent head and talk negatively about themselves, but that's a lie. The Lord says that we are queens and kings and we belong to a royal family. I do not believe that the king in my country would be very happy if his children would go around saying that they are nobody and they don't have anything. The King of kings is not very happy when we say so either. We belong to One who is saying: "All Mine is yours." I really want us to be secure in our position in Christ and what we have in Him. The more we look at him, the more we become like Him. Jesus is free and He wants children who are free.
If you have gotten any revelation while reading this, you should invite The Holy Spirit to help you to break chains and bonds. You can do it yourself or ask a sister or brother to stand together with you.
CHRIST HAS SET YOU FREE!
Mother Else